Tiny Tea Kids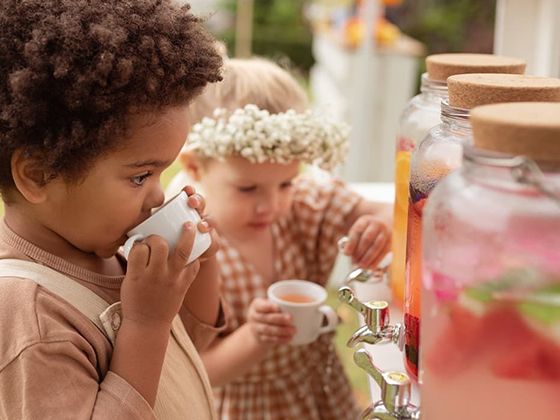 More Images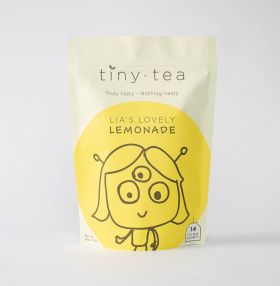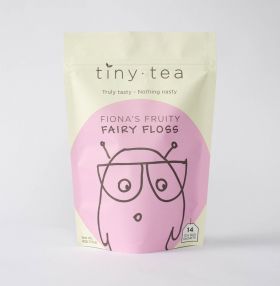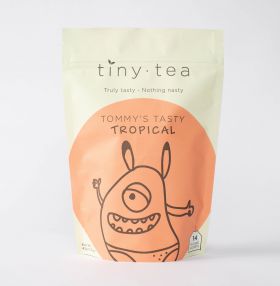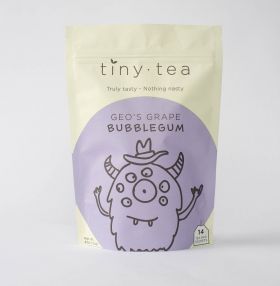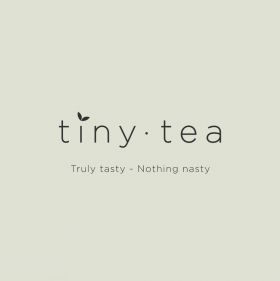 Service Area Australia Wide
Tiny Tea Kids
Wholesale Kids' Tea Beverages
Truly Tasty, Nothing Nasty
Tiny Tea Kids is a healthy, nutritious, low sugar drink for kids that mums and dads can trust to be hydrating, clean and utterly delicious. It's the kids' beverage alternative you've been waiting for but didn't know could exist! Developed in conjunction with one of Australia's leading child nutritionists, Tiny Tea Kids takes only the highest quality ingredients and blends them into fun, zero-nasty drinks your tiny tots will adore and ask for time and again.
Australian-owned
Guilt-free treat
Natural flavours
Convenient and quick to brew
14 tea bags per pack
Enjoy cold or warm
Low sugar
Healthy and nutritious
Zero nasties
Nutritionist-developed
How to brew Tiny Tea
Simply add one tea bag to a cup and cover with 150ml of warm or cold water. Brew for 30-60 seconds to enjoy warm or 2-3 minutes to enjoy cold or sparkling. (Avoid brewing with hot water as it can make the tea taste too bitter.)
Having fun with Tiny Tea
For a fun, colourful twist, add your child's favourite fruits such as orange slices or berries and maybe even some mint leaves.
At kids' parties and playdates, fill up big glass drink dispensers with any Tiny Tea Kids flavour, add ice and colourful fruit pieces and let the kids pour a cup for themselves whenever they're thirsty.
Children's tea parties will never be the same again! Introduce the little ones to the cute Tiny Tea characters and they'll love including them in their fun.
The range
Lia's Lovely Lemonade
Tiny Tea's Lemonade flavour provides the luscious lemonade taste your kids will love but without any of the extra sugar! Infused with natural lemon peel and lemon myrtle, it has a fresh citrus taste which is perfect for enjoying in the warmer weather. Ingredients: Olive leaf, maple flakes, lemon peel, lemon myrtle, calendula, natural lemonade flavouring, natural Tahitian lime flavouring.
Fiona's Fruity Fairy Floss
A wonderfully healthy sweet treat for your little ones with the favourite flavour of the fair! Tiny Tea's Fairy Floss is infused with maple flakes and rose petals and contains zero nasty additives. Ingredients: Olive leaf, maple flakes, hibiscus, rose petals, natural raspberry flavour, natural French vanilla flavour.
Tommy's Tasty Tropical
For a delicious burst of fruity flavour featuring orange, pineapple and blood orange, Tiny Tea's Tropical is the trick. Subtly tangy and delightfully fresh tasting, it'll quickly become a favourite in your family. Ingredients: Olive leaf, maple flakes, pineapple pieces, orange peel, natural pineapple flavouring, natural blood orange flavouring.
Geo's Grape Bubblegum
Tiny Tea's Grape Bubblegum boasts no mess, no nasties and no added sugars, with natural grape and blueberry flavours that will satisfy those sweet tooth cravings. Ingredients: Olive leaf, maple flakes, blue pea flower, natural grape flavouring, natural blueberry flavouring.
Retailers
Tiny Tea Kids gives you a new and exciting range to show off in your supermarket, health food store, delicatessen, pharmacy or other retail outlet. Position it at eye level where kids can meet the characters on the packs and identify a fun, enticing drink to try. Consider offering taste tests and set up gifting stories with companion products as Tiny Tea Kids goes beautifully in gift hampers.
Foodservice
With Tiny Tea Kids, you can now include a healthy, non-sugar-laden beverage on your kids' menus. When mum or dad buy their latte, they can purchase a low-sugar, deliciously flavoured Tiny Tea for their little ones.
To find out more or to place an order, get in touch with Tiny Tea Kids today.
---
More information about Tiny Tea Kids
Interview - Tiny Tea Kids - Tegan Carakitsos
Imagine a drink your kids would LOVE – at home, at cafes and at parties – that doesn't contain loads of sugar but is still fun and flavoursome. We spoke with Tegan Carakitsos about her cool brand, Tiny Tea Kids and discovered that tea bags for little ones are 'the new juice'. Click here