Tonicka Kombucha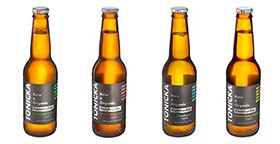 Service Area Australia Wide
Tonicka Kombucha
Raw, organic, unpasteurised & low fizz - but shelf stable!
Tonicka Kombucha was born of a passionate desire to stay true to the ancient brewing methods of this fermented beverage. In fact, the crew are such purists that they handcraft every bottle and won't release any for a minimum of 7 weeks but don't worry you don't have wait that long to be supplied. Tonicka is one of the only laboratory tested, shelf stable booches in the world, more evidence that this company takes what they do very seriously indeed! "We want to ensure the most amazing flavours and experiences are being made for you without compromise."
The brand began with a presence at the Bondi Beach Farmers Market. The brewing is done in New South Wales, however the bottles can be shipped right across Australia and in fact, if you would like to serve Tonicka Kombucha from the tap, this will be available by March and be serviced almost anywhere as well (register interest now as we will have a limited first release)
The 'alternative' drink
This elixir of life is the perfect substitute for sodas and soft drinks, sugary beverages, alcohol, ciders, coffees and even cocktails. As a 'living' beverage, it provides more of an experiential drink, knowing that so much is going on inside the bottle or glass that can never be known, a mystery even as it goes down. Deliberately made with lower fizz than other brands, Tonicka Kombucha is naturally carbonated. No CO2 is added so you only get natural, non-forced bubbles which results in a superior taste.
Lower fizz
Shelf stable (9 months shelf life)
Unpasteurised
RAW and organic
With 'Mother'
Improves with age
Twist top glass bottles (330ml)
The range of flavours
Traditional & Original
The all-time favourite Tonicka brew, Traditional & Original is the base line for all other flavours. It holds its own as a refreshing, easy-to-drink, low fizz hero beverage. Be sure to have this one on hand at all times.
Mixed Berry & Spice
The ideal social brew, Mixed Berry & Spice has a little more fizz and a sweeter undertone. It's most popular at barbecues and to enjoy at night. You can even warm it up like a mulled wine in winter. Serve in a tall glass over ice and garnish with freshly sliced orange and apple.
Lemon, Lime & Ginger
A luscious morning brew, Lemon, Lime & Ginger kick starts the metabolism and provides the zing your tastebuds need to get moving. Don't hesitate to add a twist of lemon or lime peel to your glass or poked down the neck of the bottle.
Elderflower
The crowd favourite, with a light but sweet flavour. Garnish with plump strawberries or strawberry puree or create a Kombucha Float by adding a scoop of coconut 'nice cream' or your favourite clean sorbet.
Chai Fusion
The latest in the Tonicka range, Chai Fusion is an intriguing blend of traditional chai spices that can be enjoyed any time of day.
Retailers
Stock Tonicka Kombucha for your Paleo, vegan, vegetarian, alcohol-free, sugar-avoiding, health-conscious customers and for anyone who is looking for an alternative to the usual, run-of-the-mill beverages. You may like to offer taste tests to customers to remove the barrier of not being sure if they'll like it. Customers from all side of society are becoming aware of Kombucha and it's benefits, so getting in early will mean staying ahead of the game, especially with a premium brand like Tonicka Kombucha
Foodservice
Aside from the 330ml bottles, Tonicka Kombucha is also available on tap. After years of events using their keg system, the company are now able to make it available to selected venues around Australia. Simply make contact to discuss what you are looking for and the solutions that would be most suitable for your establishment.
To discuss your requirements or to place your first order, contact Tonicka Kombucha today.
---
More information about Tonicka Kombucha
Interview - Anthony Stevenson - Tonicka Kombucha
Kombucha is in increasing demand right across Australia and is appreciated for its health benefits, unique flavour profiles and the fact that it's a lifestyle beverage that can be enjoyed in lieu of alcohol. Anthony and Jodie, the co-founders of Tonicka Kombucha enlightened us as to what makes their brand so popular among a growing number of consumers. Click here