Bodhi Organic Tea®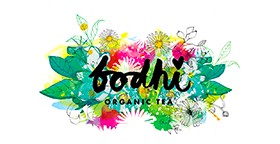 More Images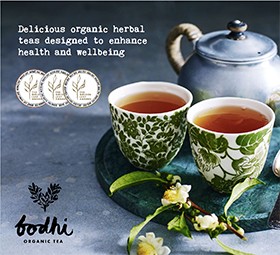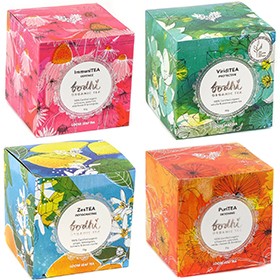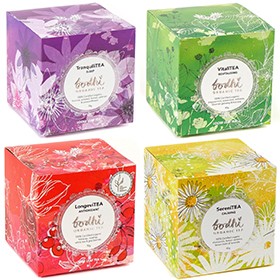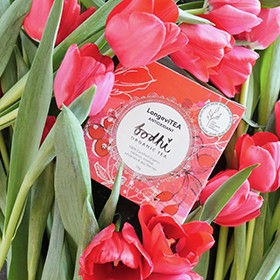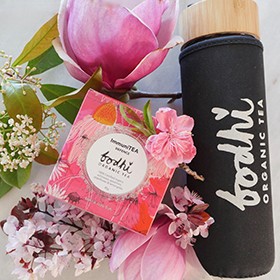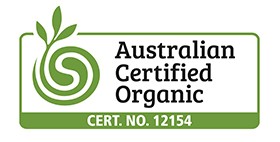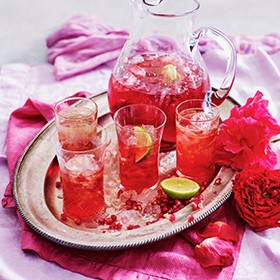 Bodhi Organic Tea®
"Exceptionally beautiful organic teas for the health conscious tea drinker"
Bodhi Organics is an Australian owned, certified organic herbal tea company specialising in delicious, unique, naturopathically formulated blends by well-known Sydney naturopath and herbalist Lisa Guy.
Our award winning teas are made with the highest quality, whole loose leaves which deliver a fuller, richer flavour.
Lisa has designed this wellness tea range with the aim of enhancing people's health and wellbeing. Each of our teas not only taste delicious, they have specific healing and therapeutic qualities.
Bodhi Organic Teas don't contain any added flavours or sweeteners. Just the clean pure taste of the carefully chosen teas, herbs, and spices that make up our delicious blends.
All Bodhi teas are Australian Certified Organic, so they carry the well-respected bud logo. The ACO is the most respected and thorough food regulatory organic program here in Australia and internationally. Buying organic tea is extremely important because the tea plant and herbs absorb pesticides and herbicides readily. So buying organic means that you're not going to get any hidden nasties in your healthy cup of tea. Buying organic is not only better for your health, but that of the farmers and the planet.
Bodhi Organic Teas are made and blended in Sydney Australia. Our teas, herbs and spices used in our blends are all sourced from certified organic farms here in Australia and around the globe.
OUR RANGE
We're not your average tea company. Not only will you find all your traditional favourites in our range but we've supercharged our teas with fabulous health promoting herbs and spices.
ViridiTEA (PROTECTIVE): Made from 100% certified organic sencha green tea and jasmine green tea. Our beautiful award winning green tea blend has a hint of jasmine to give it a unique freshness and vitality with no bitter after taste. This tea is packed with protective antioxidants which help reduce the risk of of chronic disease.
SereniTEA (CALMING): 100% certified organic chamomile, spearmint, lemon verbena, lavender and lemon balm. This is a wonderfully soothing chamomile tea with delicate, earthy and oral notes. This lovely calming tea is made with herbs that calm the nervous system and allow the mind and body to relax.
ImmuniTEA (DEFENCE): 100% certified organic Echinacea, spearmint, elder flower, ginger root, elderberry and lemongrass. This protective and rejuvenating tea has a lovely light earthy flavour with hints of mint and lemongrass. This tea contains immune strengthening herbs that help bolster our immune defences.
ZesTEA (INVIGORATING): 100% certified organic ginger, lemongrass, lemon peel, turmeric, and lemon myrtle. This fresh ginger and lemongrass tea is vibrant and uplifting with a delightful harmony of lemon myrtle and zesty lemon. This tea contains the super herbs ginger and turmeric, both powerful anti-inflammatories and antioxidants.
VitaliTEA (REVITALISING): 100% certified organic peppermint, spearmint, ginger, sweet orange peel, withania, Siberian ginseng and bacopa. An invigorating tea, exceptionally uplifting with its fresh minty taste and soft orange and ginger undertones. This fabulous minty tea contains powerful adrenal tonic herbs that support adrenal function and boost vitality.
PuriTEA (DETOXING): 100% certified organic schisandra, calendula flowers, dandelion root, nettle, and cleavers. This fantastic cleansing tea with delicate floral and berry undertones is made with liver tonic herbs which enhance liver detoxification and assist with removal of toxins from the body.
LongeviTEA (ANTIOXIDANT): 100% certified organic hibiscus, rosehip, apple, white tea and goji berries. This is our super award winning antioxidant tea, made with herbs abundant in powerful antioxidants and vitamin C, which promote healthy skin, and reduce the risk of premature ageing. This delicious ruby red tea has the perfect mix of sweet and tartness to delight and enliven the senses. Perfect served hot or as an iced tea with fresh lime or citrus fruits.
Masala Chai (SPICED TEA): 100% certified organic cinnamon, black tea, ginger, cloves, cardamom, and aniseed. A delicate blend of medium-bodied black tea and rich aromatic spices, with earthy cinnamon highlights. This really is the perfect chai. This beautiful chai contains lots of cinnamon chips and other warming herbs that help stimulate circulation, support healthy digestion and help balance blood sugar levels. We also have our Masala chai available in a sugar-free powder (350g wholesale pack), which is convenient for cafes.
HonesTEA (ENGLISH BREAKFAST): 100% certified organic Sri Lankan black tea. A beautiful classic full-bodied black Ceylon orange pekoe tea blend, made from the highest quality whole leaf Sri Lankan tea. A delightful breakfast tea that can be enjoyed anytime of the day, on its own or with milk or lemon.
Black BeauTEA (FRENCH EARL GREY): Certified organic Earl Grey, mango, sweet orange peel, rose petals, and corn flower blue petals. A fragrant, French inspired Earl Grey of traditional bergamot infused with fruity and floral notes. Made with herbs high in protective antioxidants that destroy damaging free radicals in the body, while having a calming and mood balancing effect.
For our entire range please go to our website or contact us for more information. We would love to hear from you!
WE OFFER
All of our premium loose leaf teas are available in beautiful retail boxes. Our stunning boxes have been designed by a prominent Melbourne artist. Our teas are packed in 100% biodegradable plant-based bags and recyclable boxes.
We also offer our teas in larger 150g and 250g wholesale café packs. Our top selling teas are available in 100% natural biodegradable pyramid tea infusers (in wholesale packs of 100).
Our teas make gorgeous healthy iced teas and ice tea cocktails. We provide our customers with a range of fabulous iced tea and iced tea cocktail recipes, along with offering unique custom designed recipes for bars, cafes and restaurants. Our Bodhi Organic LongeviTEA received a GOLD for best iced tea in Australia at the International Tea Expo 2017.
RETAILERS
We supply our premium organic teas to health food stores, gourmet grocers, cafes, restaurants, day spas, health retreats, high tea establishments, gift stores, and catering companies. Our beautiful retail boxes and tea flasks make a perfect addition to hampers and gift boxes.
---
More information about Bodhi Organic Tea®
Interview - Lisa Guy - Bodhi Organic Tea
Bodhi Organic Tea is a brand of health and wellness teas created by naturopath Lisa Guy. She established the business to promote the benefits of tea and actually prescribes the appropriate products to assist clients in feeling better. We spoke with Lisa about what makes Bodhi so special. Click here