Cuppa and Co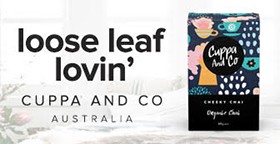 Service Area Australia Wide
Cuppa and Co
Cuppa and Co is a totally Aussie brand that offers organic loose leaf teas. Every beautiful box contains completely natural, no-nasties tea and other lovely ingredients including fruits, spices and flowers. Founded in 2011 by a brother and sister duo, Cuppa and Co is all about organic, 100% natural and ethical. The tea itself comes from the highest mountains of Sri Lanka, where it is grown and processed without any pesticides or artificial fertilisers and the workers on the plantations are treated fairly. The other exotic ingredients are imported from Egypt, Germany and Madagascar.
Cuppa and Co's tea blends are packaged in gorgeous, gift-able boxes. They can be added to hampers and baskets or used to accompany floral bouquets such as for 'get well soon' or new baby arrangements.
The Cuppa and Co Range
Breakfast in Bed Tea
An organic, full-bodied black tea with a smooth and robust flavour, perfect to enjoy morning, noon or night. Ingredients: organic black tea.
Little Earl Tea
Classic Earl Grey aims to please and as such, is one of the most popular of the black tea varieties. Ideal as a morning wake-up call or to warm up on those chilly days. Ingredients: organic black tea with bergamot.
Berry Bang Tea
A delightful profusion of flowers and fruit that is wonderful served hot as a fruity tea or chilled as a thoroughly refreshing iced tea to turn down the summer heat. Ingredients: organic hibiscus, strawberry, raspberry, blueberry, berry leaves, cornflower, rosehip, apple cut and sultana.
Happy Hippie Tea
An organic loose leaf blend boasting two strong flavours that will relax both your mind and your body. Enjoy hot and steamy or cold and refreshing. Ingredients: organic chamomile and mint.
Cheeky Chai Tea
A sweet, spicy organic chai that makes an ideal afternoon treat to warm the soul and awaken the body. Utterly delicious with a spoonful of honey stirred through. Ingredients: organic black tea, ginger, vanilla pieces, cinnamon, peppercorns and cardamom.
Belly Blend Tea
A lovely earthy herbal blend to calm and soothe digestive upsets. This lovely healing green tea is blended with anise for refreshing relief. Ingredients: green tea, anise.
Retailers and gift businesses
Stock Cuppa and Co in your delicatessen, supermarket, convenience store, pharmacy, newsagent, gift store or food hall. Create vibrant displays using the colourful boxes as inspiration and pair with tea wares for added interest. Gift businesses, create tea, gourmet or wellness-themed hampers or offer Cuppa and Co as goodie bag inclusions or corporate giveaways.
Foodservice
Serve ethically-produced, zero-nasties organic tea and tea blends from Cuppa and Co and your customers will appreciate not just the flavours and quality but also the love and care that goes into the products. Consider adding the story or listing the ethical virtues on your beverages menu.
To find out more, place an order or discuss your requirements, contact Cuppa and Co today.