Inspirational Tea Co.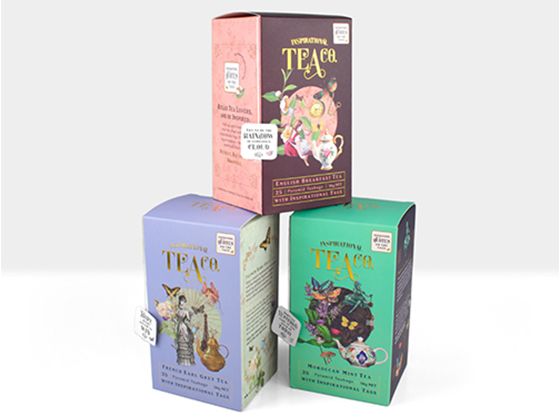 More Images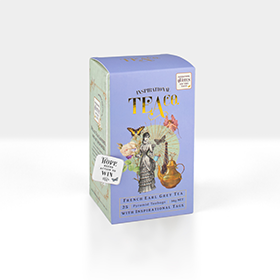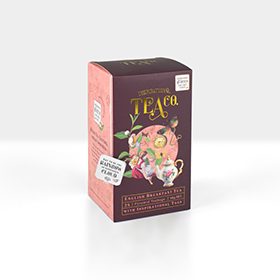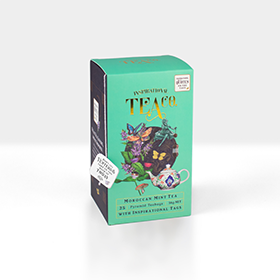 Inspirational Tea Co.
Wholesale Pyramid Teabags with Inspirational Tags
Tanya Boots, the creator of the Inspirational Tea Co. is obsessed with good quality tea. A self-confessed 'hug-loving-word-nerd', she wholly believes in the superpowers of tea and wanted to add something extra special. She has worked with artists and women's shelters and learned about how people cope with the challenges everyday life throws at them. Ultimately, the Inspirational Tea Co. welcomes you to an inclusive circle; it's a brand that offers inspiration with every sip of tea.
Inspirational Tea Co. benefits: Getting more out of teatime
The heart and soul of Inspirational Tea Co. is to help tea lovers handle whatever the day throws at them with calm and positivity. That starts with taking small, consistent breaks throughout the day. Breaks help you to process and retain information, resulting in a day that is more creative and productive.
Combine that with the fact that tea contains both caffeine and a compound that relaxes the mind without bringing on drowsiness. So tea will both invigorate and calm you down at the same time!
Inspirational Teabags
Sometimes you just need to stop and have a cup of tea, and these inspirational teabags will motivate you to take that much needed break. You'll be inspired by one of the twenty tag messages, each one chosen to motivate, encourage or uplift. Simply pick your tag at random - the right words will find you!
English Breakfast – A fragrant, full-bodied black tea blend from Assam.
French Earl Grey – A sophisticated and fragrant bergamot-infused black tea sprinkled with beautiful rose petals. Naturally high in antioxidants, it's a soothing and refined blend.
Moroccan Mint – A revitalising tea that blends exotic green tea, spearmint and peppermint leaves. It's boldly refreshing, high in antioxidants and has a lively flavour.
Be sure to visit the website to view all tasting notes and to also take a look at the range of matching teawares and gifts available.
Proudly Australian owned and made!
Retailers
Stock Inspirational Tea Co.'s English Breakfast, French Earl Grey or Moroccan Mint Pyramid Teabags in your supermarket, health food store, specialty tea outlet, delicatessen or gift store. Your customers will adore the concept and embrace the warmth behind it.
For more information, contact the Inspirational Tea Co. today.
---
More information about Inspirational Tea Co.
Interview - Tanya Boots - Inspirational Tea Co.
How do you take tea from a beverage to an experience? Tanya Boots, founder of Inspirational Tea Co. discovered that applying a little mindfulness in the form of lovely Daily Tips on her teabag tags is extremely well-received. We spoke with her about the personality behind the brand and what gives Inspirational Tea Co. its heart. Click here