Original Chai Co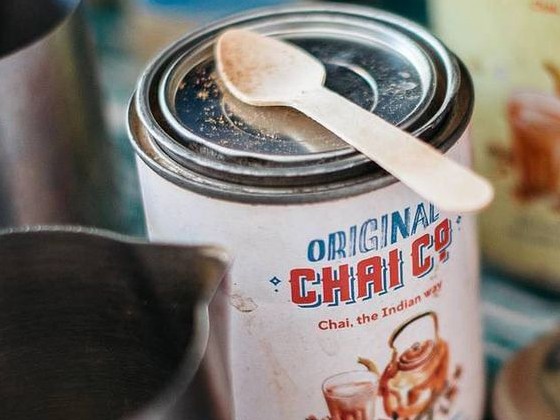 More Images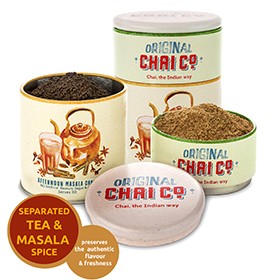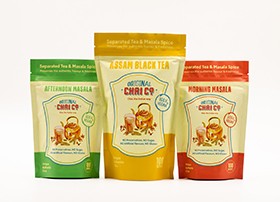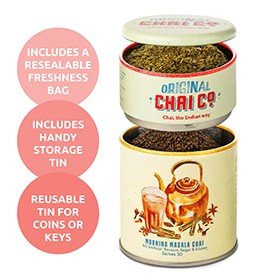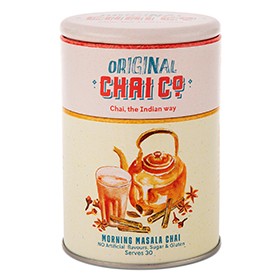 Original Chai Co
Old-School, Authentic Chai
Original Chai Co's founders and Chief Chai Brewers Apoorv and Gauri grew up in India enjoying a cup of steaming chai at home, every morning. Upon moving to Melbourne, they continued to crave the familiar comfort of their chai and found that they didn't enjoy what was available in Aussie shops. They wanted chai, "as it's meant to be". Apoorv and Gauri set about brewing authentic masala chai themselves and it has turned into a successful business.
They say each and every cup is brewed with "smothering amounts of nostalgic love" for their childhood. Original Chai Co chai is a sweet, aromatic blend of black tea leaves, ginger, cardamom, milk and more. The recipe is as close to their mother's as possible, and as old school as it gets.
People-loving, planet-friendly folks
A portion of Original Chai Co's annual profits are donated to Asha, a charity that transforms lives in the slums of Delhi. The company also works towards being 100% sustainably sourced, planted and harvested.
Original Chai Co chai
Naturally low in caffeine (around one third of that of coffee), no hidden sugar or gluten and no chemical nasties. It's simply good, honest chai made with old fashioned just masala goodness and bold Assam tea leaves. Enjoy for a morning kick start to your day or to feel revived during the afternoon energy slump.
Each 100g tin contains enough to prepare 30 cups.
Morning Masala Chai – Wake up to a cup full of energy. Warm and invigorating, it's a wakeup call your body will look forward to daily. Ingredients: Cardamom, cinnamon, cloves, ginger, pepper, assam black tea.
Afternoon Masala Chai – A hug in a cup because it's so soothing and relaxing. Consider it the ultimate mantra to unwind and feel calm. Ingredients: Fennel, cardamom, mint, tulsi, assam black tea.
Retailers
The beautiful packaging of Original Chai Co chai is sure to draw the eye of your customers. Create displays with companion items such as teaware, linens and complementary food products. The tins look gorgeous in gift hampers too. Stock Original Chai Co in your delicatessen, greengrocers, supermarket, food hall, health food store or market stall.
Foodservice
Treat your customers to a true, authentic chai experience with Original Chai Co. You can prepare as directed or create iced chai beverages and even use the blends in baking recipes. Ideal for cafes, restaurants, hotels, pubs and dessert outlets.
Each Wholesale Chai pack prepares 100 serves.
For more information or to place an order, contact Original Chai Co today.
---
More information about Original Chai Co
Interview - Apoorv and Gauri - Original Chai Co
Chai has become incredibly popular in Australia and consumers are diverting more of their hot beverage attention towards it. Original Chai Co founders, Apoorv and Gauri have brought the true taste of Indian Chai to Aussies. We chatted with them about its origins and why it's good for you. Click here