Pine Tea & Coffee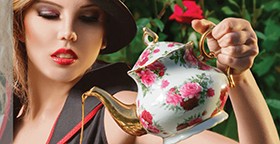 Pine Tea & Coffee
Award-Winning Loose Leaf Teas, Herbal Teas and Pyramid Teabags
Pine Tea & Coffee offer an extensive array of wholesale teas including black, green, flavoured black, flavoured green, white and oolong tea, chai, exotic fruit teas, rooibos and herbal teas. Their Silvertip tea blends are crafted and blended by tea master Clayton Pine and his sister and business partner, Lesley Pine. With more than 66 years of experience between them, the pair have won multiple awards and medals for their outstanding teas which are all blended in Sydney.
Offer something different
In addition to the usual tea classics like English Breakfast, Earl Grey, Rooibos and Green, cafes and restaurants are more and more stepping into more exotic tea blends as customers become increasingly aware and discerning. Japanese Matcha is extraordinarily popular and chai is a favourite of a huge proportion of tea-loving customers. Pine Tea & Coffee can help you determine the best teas to add to your tea menu, to suit your customer base and their tastes.
The range
Black Tea
Choose from a wide array of quality black teas, expertly blended to perfection.
Premium English Breakfast; English Breakfast; Devonshire Breakfast; English Breakfast Organic; Breakfast Tea; Irish Breakfast; Scottish Breakfast; Yorkshire Breakfast; Afternoon Tea; Australian Bushfire Breakfast; Australian Bushfire Caravan; Ceylon Aislaby Pekoe; Ceylon Kelliville OP; Ceylon Kenilworth BOP; Ceylon Orange Pekoe Highgrown; China Golden Yunnan; China Keemun Black; China Lapsang Souchong; China Yunnan Pu-Erh High Grade; Decaffeinated Ceylon CO2; Indian Assam Estate (Multiple Varieties/Grades); Indian Darjeeling Autumnal (Multiple Varieties/Grades); Kenya Kamosi; Mah Jongg China Breakfast; Prince of Wales; Russian Caravan; St Petersburg Silver Tips.
Flavoured Black Tea
Explore delicious infusions, some with fruit, others with flowers, for a decadent tea drinking experience.
Early Grey; Earl Grey Blue Flower; French Earl Grey; Rose Grey; Monk's Grey; Earl Grey Organic; Arctic Fire; China Rose; Chocolate Treasure; Coconut Cream; Copenhagen; Ginger Black Tea; Imperial Spice; Mexican Mango; Peach Delicacy; Raspberry; Rhubarb Cream; Truffle; Vanilla; Caramel; Pomegranate & Raspberry.
Green Tea
Known for its health benefits and lower caffeine, green tea is in increasing demand so be ready when your customers request it.
China Green Sencha; China Green Sencha Organic; China Gunpowder Gr 1 ('Temple of Heaven'); China Gunpowder Organic; China Oolong Fujian Mtns; China Premium Wu-Long 'Fujian A'; Japan Bancha; Japan Genmaicha; Japan Matcha Powder Ceremonial; Japan Matcha Powder Classic; Japan Matcha Powder Culinary; Japan Matcha Powder Premium; Japan Sencha.
Flavoured Green Tea
Add an extra dimension of palatability to green tea and keep various flavours on rotation for your customers to taste.
China Jasmine; Coconut Truffle White Tea; Lime & Coconut Green Tea; Moroccan Mint Green Tea; Oriental Bliss; Peach Dream; Strawberry Blush Green Tea; Sunshine Green Tea; Sweet Curcuma (Turmeric).
White & Oolong Tea
Beautiful to look at and vibrant to drink, white and oolong teas have their very own personality.
China 'Buddha's Tears' Jasmine Downy Pearl; China Fujian Bai Hao Yin Zhen 'Silver Needles'; China Pai Mu Tan; China Pai Mu Tan Organic; China Premium Ti Kuan Yin Oolong; China Premium Wu-Long 'Fujian A'; China White Tea; China Yunnan 'Silver Needles'; Dan Gui Bai He Blooming Tea (White Tea & Red Lily); Jasmine Love Blooming Tea (Triple Pink & White); Spring White Pai Mu Dan Beeng Cha; Triple White Chrysanthemum Blooming Tea (Jasmine).
Chai Tea
Mouth-watering spices and other flavours bring these teas alive. Each brings something different to the palate.
Punjabi Chai Gold Medal; Rooibos Chai Massai Bronze Medal; X-Press Chai Latte; Bengali Chai; Australian Bushfire Chai; Delhi Chai Green Tea Gold Medal; Mystical Herbal Chai; Shakra Chai (Turmeric).
Organic Tea
When your customers insist on organic, Pine Tea & Coffee are ready to assist.
English Breakfast Organic; Earl Grey Organic; 7th Heaven Calmness Organic; Chamomile Organic; China Green Sencha Organic; China Gunpowder Organic; China Pai Mu Tan Organic; Peppermint Organic.
Fruit Tea Exotic
Even the names are tantalising! Try a couple of different fruit teas to discover how truly satisfying they are to the tastebuds.
Candied Ginger; Fruit Symphony; Strawberry Cream; Sunny Dew; Turkish Apple; Wild Berry; Wild Cherry Gold Medal; Granny's Garden; Hot Pumpkin Cake (Curcuma); I Feel Strong with Added Vitamin C; Lemonade Silver Medal; Lime Strawberry; Peach Melba Gold Medal; Pina Colada; Raspberry Lime.
Rooibos
A must-have on any discerning tea menu, rooibos is available in a range of intriguing, must-try flavours.
7th Heaven Nightime; Rooibos Original Red; Rooibos Hot Chocolate Gold Medal; Rooibos Cream Caramel; Rooibos Vanilla; Rooibos Chai Massai Bronze Medal; Rooibos Raspberry Vanilla; Rooibos Kalahari (Choc Orange); Rooibos Mango Passion.
Herbal Tisanes
Perfect for the wellness market, these herbal teas are popular among health practitioners and can be retailed as well as served at appointments.
Chamomile; Chamomile Organic; Dandelion Root; Ginger Root Cut; Ginseng Siberian; Hibiscus Cut Blossoms; Lapacho; Lemongrass; Liquorice Root; Peppermint (Various Cuts); Peppermint Organic; Rose Hips (Wild Rose); Spearmint Leaf; Yerba Mate Gree.
7th Heaven Blends: Nightime; 7th Heaven Calmness Organic; Clarity; Energising; Evening Star; Excitement; Fitness; Fresh Breeze; High Noon; Lemongrass & Ginger Organic; Magic Punch; Morning Star; Purity; Ratatouille; Temple of Spices; Women Power.
Pyramid Teabags
The elegance of a beautiful pyramid teabag enhances the service of these fine teas.
English Breakfast; English Afternoon; Earl Grey; French Earl Grey; Rose Grey; Punjabi Chai with Tea Flowers; Organic Chai; Peach Melba; China Jasmine; 7th Heaven Calmness; 7th Heaven Fitness; 7th Heaven Fresh Breeze; 7th Heaven Lemongrass & Ginger Organic; 7th Heaven Morning Star; 7th Heaven Nightime; Organic Chamomile; Wild Berry.
Retailers
With such a vast range of teas and tisanes available, it can be mind-boggling to decide which products to stock in your store. Pine Tea & Coffee can assist in curating the ideal range for you to offer your customers, according to your existing product lines and your customers' tastes. Suitable for supermarkets, delicatessens, health food stores, specialist tea outlets, greengrocers and other retailers.
Foodservice
Pine Tea & Coffee has prepared a couple of Café Starter Packs to make it easy for café owners to purchase complementary products at reduced prices.
Café Loose Leaf Teas Starter Pack – Includes English Breakfast, China Jasmine Green Tea, Punjabi Chai & Tea Flowers, Rose Grey Black Tea, Organic Lemongrass & Ginger and Organic Peppermint. You also receive 6 x Silvertip Tea caddy tins with ingredients and brew times on both sides of the tin. With this pack, you will be able to serve around 1,000 single cups of tea or 500 single serve pots. The tea range can be customised to suit your café's requirements.
Café Pyramid Teabags Starter Pack – Receive 6 of the best-selling café range leaf teas, presented in elegant pyramid teabags. Includes the same flavours as the Loose Leaf Teas Starter Pack however the range can be customised to suit your requirements. From this pack, you can serve around 600 single cups of tea or 600 single-serve pots.
For more information or to place an order, contact Pine Tea & Coffee today.
---
More information about Pine Tea & Coffee
Interview - Clayton Pine - Pine Tea & Coffee
Pine Tea & Coffee are true specialists in the beverages market. Their family history through Bushells stood the brother and sister team in good stead and today, they own their own vibrant tea and coffee business that continues to innovate in order to delight the customer. Click here