Tea for She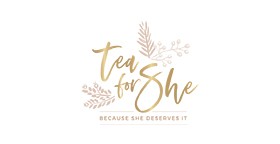 More Images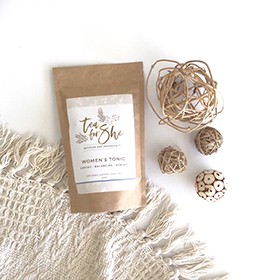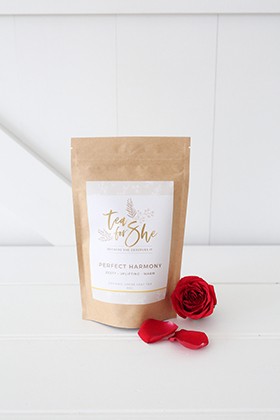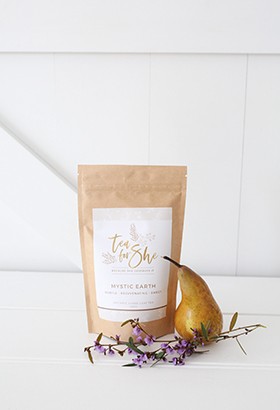 Service Area Australia Wide
Tea for She
Healthy Tea Blends for Women
Tea for She offers a range of healthy teas and tisanes that have been created with women in mind. Founder Beth is on a mission to make women feel treasured, nurtured and worthy. Her way of doing that is through beautiful, nourishing teas. Beth encourages and inspires women to prioritise their own self-care and to show love and care to the women that surround them.
The range
Organic loose leaf tea
Select the tea that delights you the most. To do the range justice, you really should try them all!
Peppermint Twist – Premium peppermint leaves have been combined with lavender and rose petals for a hint of sweetness. Gorgeous to look at and wonderfully refreshing. Ingredients: organic peppermint, organic lavender, organic rose petals.
Green Temptation –Green tea is known for its many health benefits. Here, jasmine flowers are intertwined in large leaves of green tea making it beautifully floral as well as earthy. Ingredients: organic green tea, jasmine flowers.
Mystic Earth – A heavenly rooibos blend that brings you the perfect balance of sweet, floral and earthy flavours. It's caffeine free also delicious iced. Ingredients: organic green rooibos, organic rooibos, jasmine flowers, organic rose petals, organic pear flavour, organic vanilla cream flavour.
Perfect Harmony – This luscious lemongrass and ginger blend delivers zest and warmth but the gentle floral and sweet notes are what make it extra special. Ingredients: organic lemongrass, organic ginger, organic lemon myrtle, organic rosehip, organic rose petals.
White Paradise – White tea is known for its delicate, smooth flavour. In this one, apple delivers a subtle sweetness and ginger brings a little warmth. Ingredients: organic white tea, organic ginger root, organic apple pieces.
Secret Garden – A perfect blend if calming, soothing and a good night's rest is what you are after. An understated and elegant gathering of flavours, not to mention very pretty to look at. Ingredients: organic chamomile, organic lemon balm, organic lavender, organic spearmint, organic passionflower.
Women's Tonic – This caffeine free blend helps to balance hormones during pre-menstrual and menopausal stages. It has a bold fragrance but once brewed it is delightfully subtle and refreshing. Ingredients (all organic): shepherd's purse, nettle, don quai, horsetail, valerian root, yarrow, lemon myrtle.
Nursing Mama – Created with breastfeeding mothers in mind, Nursing Mama is a beautiful caffeine free blend that helps to promote and maintain milk supply. It also soothes and calms, making it the perfect go-to for any mum. Ingredients (all organic): aniseed, fenugreek, fennel, alfalfa leaf.
Retailers
Stock Tea for She in your gift store, delicatessen, greengrocer outlet, fine food hall, tea specialty store, gym, fashion boutique, day spa, or other retail space. The Tea for She range extends to gorgeous essential oils and scented candles, all of which can be combined to create covetable gift hampers and parcels.
Hospitality and foodservice
Serve Tea for She with pride in your café, restaurant, hotel, wellness retreat, hair salon or other hospitality venue. Your customers will appreciate the quality, freshness and flavours as well as the genuine messages of love and care that underpin.
For more information or to place an order, contact Tea for She today.