Tease Tea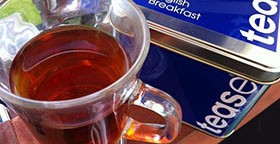 Phone 03 9798 8830
Service Area Australia Wide
Tease Tea
Loose Leaf Teas & Pyramid Tea Bags
YES we do Loose Leaf tea & YES we do Pyramid Tea Bags, we even make the Pyramids ourselves, right here in Melbourne! Our little company is 100% Aussie owned & operated. We love tea & we put our heart & soul into our blends to make sure our tease takes the cake!
Offer your customers a little luxury…
Food Service: Loose leaf - 500g & 1KG wholesale service packs
Food Service: Pyramid Tea Bags – 100pc & 250pc wholesale service packs
Retail Size: Loose leaf - 50g, 100g & 200g Clear front re sealable packaging
Retail Size: Pyramid Tea Bags – 20pc & 100pc Clear front re sealable packaging
TEASE TEA BLENDS:
Black Tea:
English Breakfast - Our classic Ceylon English breakfast is one of our most sought after blends. A true all rounder that continues to please.
Earl Grey - It is said that Bergamot oil flavoured tea AKA Earl Grey tea, can help reduce fever & the severity of colds & flu, it is also said that it will aid in weight loss, boost immunity & get you out of a bad mood! We love it & so does everyone that tries it.Our secret blend will have you craving more.
Irish Breakfast - A hearty strong rich flavoured tea. The perfect morning wake up call, full rich malty flavour. If you like your tea strong then this is right up your alley. Great with milk, if you like it black, try a squeeze of lemon.
Chai Rocks - Chai means spice tea; Our spice tea has some beautiful characteristics and changes in flavour the longer you brew it, as well as how you brew it. Chai can be enjoyed with soy or dairy milk. It has been known as the tea drinker's coffee! Some people just like a delicate spiced tea while others like the full spiced chai flavour.
Chilli Rush -Velvet rich chilli infuses with black tea, ginger, cinnamon and cloves to bring a smooth, rich rush to the tongue. This is a tough tea to blend, constant sneezing (not in the blend!) eye watering & a scratchy throat BUT you want it so we blend it!
Orange Pekoe -Orange Pekoe is a name given to the grade of the tea, it has NO 'orange' flavour to it all... It is a black tea that is mild in flavour and is perfect any time of the day. Its large leaf allows it to steep for longer to produce a more rich full flavour without the bitter tannins. A great alternative to English breakfast.
Strong Russian - Super Smokey strong black tea. Our traditional blend of Oolong, Keemun & Lapsang Souchong teas won't disappoint.
Cocolicious - This blend does taste as good as it smells whether you drink it black or white. This delicious blend of coconut flakes & black tea will give you an energy boost right when you need it. Coconut has amazing health benefits & you can enjoy them all in your favourite cup of Cocolicious. A great afternoon cravings buster!
Green Tea:
Jasmine Pearls - Also known as Buddha's tears or Dragon Pearls, a lovely delicate flavour.
Oolong - Tie Guan Yin is one of the most famous Oolong tease also known as - Iron Goddess of Mercy & wulong. This high grade Oolong has a wonderful nutty floral flavour Tie Guan Yin is well known for its health & weight loss benefits.
Green & Jazzy - Jasmine flowers infused with green tea in our delicate prized blend. Green tea is full of anti - oxidants that reduce levels of damaging free radicals. It is a fantastic boost for the immune system.
Genmaicha - A delicious nutty taste adding a new dimension to Japanese Green tea. Roasted rice & popcorn added to the mild Green tea, gives a strong roasty aroma & flavour.
Green Sencha - This popular green tea is mild, with an almost 'grassy' flavour.
Pure Green - Organic Classic Gunpowder Green tea. Tightly rolled with a hint of smokiness. It is recommended that you drink at least 3 cups of green tea a day to benefit from its wonderful health properties
Herbal Tea:
Pure Sleep - The most requested blend of tea... Have you got something that will help me sleep? Yes, Yes we do... Specially designed by our Naturopath to help you rest & relax before going to bed. The herbs that make up this special blend of sleep tea have been used for over thousands of years as natural healing, sleep inducing, stress relieving tonics.
Pure Detox - The herbs that make up this detox tea are all used to help cleanse & restore your body. Dandelion leaf, Peppermint, Nettle, Ginseng, Ginger
Pure Peppermint - An all-round perfect tease, this Organic Peppermint infusion is fabulous. Not only for your health but it tastes wonderful.
Pure Ginger Lemongrass - Ginger is a powerful digestive, provides great relief for motion sickness, nausea, dizziness just to name a few. When these two meet & are brewed with hot water, they give off a beautiful intense aroma, so before you take your first sip take in a deep breath.
Red Berry - Schisandra Berry, Elder Berry, Juniper Berry, Rosehip, all blended together with Hibiscus to give sweetness to the sour berries. Perfect hot or cold.
Licorice - A sweet blend of licorice root, aniseed, lemon balm & Organic rooibos. There is an impressive list of health & wellbeing uses for this delicious herb Licorice root.
Love - A heavenly romantic blend with Rose petals, Camomile and Calendula flowers. This blend is wonderfully sweet & very good for you. It will help promote sleep, aid with fatigue, insomnia, depression as it has an uplifting effect on the nervous system.
Pure Camomile - Certified Organic Camomile is a wonderfully healing herb, it aids in soothing and calming the nervous system & it can boost your immunity.
Organic Rooibos - Organic Rooibos or Red Bush tea as it's also known as is full of health benefits. It can help aid in High blood pressure & help reduce stress levels. It's high in iron, calcium, and potassium, copper, Fluoride, manganese & zinc.
Wholesale service packs:
To make the selection easy for you, we have put together our most popular café/restaurant blends:
LOOSE LEAF wholesale pack:
1x 1kg English Breakfast
1x 1kg Earl Grey
1x 1kg Pure Green
1x 500g Pure Peppermint
1x 500g Pure Ginger Lemongrass
1x 1kg Chai Rocks
Plus complimentary serving tins (with your first order)
PYRAMID TEA BAG wholesale pack:
1x English Breakfast 100pc
1x Earl Grey 100pc
1x Pure Green 100pc
1x Pure Peppermint 100pc
1x Pure Ginger Lemongrass 100pc
1x Chai Rocks 100pc
Plus complimentary serving tins (with your first order)
---
More information about Tease Tea
Interview - Katie Seskis - Tease Tea
Devoted tea lovers Katie and Phil Seskis established their own company, Tease Tea as an outlet for their creativity and passion for the lovely leafy beverage. The brand offers a range of green, black and herbal teas blended in-house using the finest quality ingredients. We had a chat with Katie and Phil and learned more about their business, tea and why their fathers make such great guinea pigs! Click here
Tease Tea
Tease Tea is a boutique tea company specialising in quality wholesale loose leaf tea and pyramid tea bags. Read more about the company and its range of luxurious teas. Click here