The Original Hot Chocolate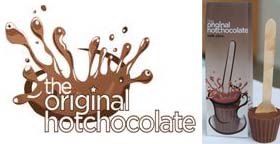 More Images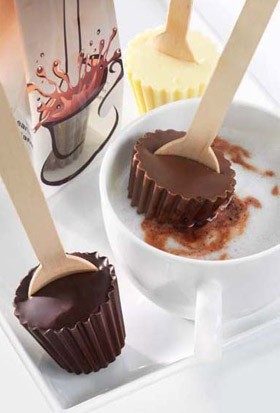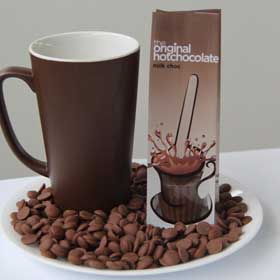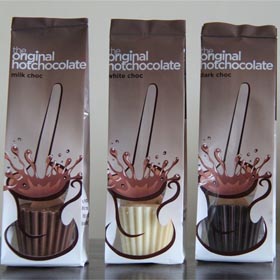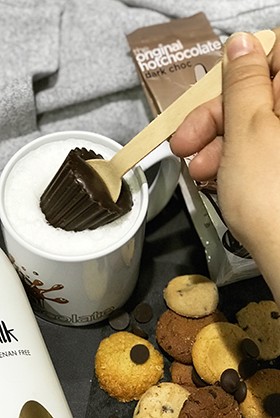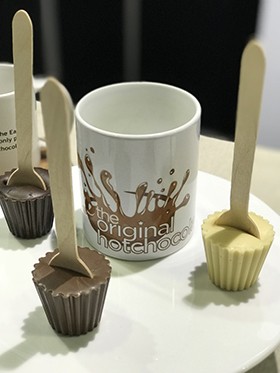 The Original Hot Chocolate
Belgian Chocolate Chunk on a Spoon
Hot Chocolate, there are few hot drinks for which people feel such a passion for.....
This dazzling and mouth-watering handmade creation is a chocolate chunk on a spoon, available in three luscious varieties: Milk, Dark and White chocolate.
How to make hot chocolate with The Original Hot Chocolate
The recipe is simple. Combine 200ml of hot steamy milk with your stirrable chocolate chunk.It mixes through the milk, melting into a sensational drinking experience and the product actually entices you to "Sip & Lick". Its flavour and richness is reminiscent of the intense, polished drinking chocolate experienced in European cafes for centuries. Not only is it delicious, but it's fun and super indulgent.
Weight 50 grams
Gluten free
Nut free
Products are all barcoded and carry nutritional information.
Distributed throughout Australia, the product, packaging and marketing of The Original Hot Chocolate is aimed at providing cafes with an upmarket, affordable option for those customers who don't drink other hot beverages or who may be avoiding coffee later in the day or in the evening.
Anne Doyle from The Original Hot Chocolate says "This form of hot chocolate is an established classic overseas. Typically, Australian cafes have served hot chocolates made with powder and in the huge hospitality market there's room for both, being able to offer consumers options for their hot chocolate drinks is an advantage to any business and will only expand the market."
Retailers
The retail on-sell element to this product is the big catch for businesses, it can be purchased and given as a corporate gift, at weddings, events, as a fundraising product and always purchased in multiples to be shared with friends. Add to gift hampers, event goodie bags, hotel welcome gifts or use as pillow turn-down treats. Use them as a special item that will create delicious memories.
Foodservice
Hot chocolate is experiencing a major revival in the speciality drinks industry throughout our cafes and restaurants; hot chocolates typically throughout winter will give most businesses an 18% increase in turnover. Give your customers a choice of ready-made hot chocolate or a fun way to enjoy mixing their own hot chocolate at the table, to their liking. Being able to choose between milk, dark or white is another point of difference they will appreciate too.
To enquire further about these intriguing chocolate spoons or to place your first order, contact The Original Hot Chocolate today using the form below.
---
More information about The Original Hot Chocolate
Interview - The Original Hot Chocolate Company
They say that no matter the problem, chocolate is the answer. And at The Original Hot Chocolate Company, it seems that answer is available upon any whim or craving, even without getting one's fingers covered in oozy, gooey, delicious chocolate! This handmade creation is a stirrable chocolate with spoon, offered in several varieties. All that's required is to add 200ml of hot steamy milk, insert the chocolate chunk, stir then sip and lick. Click here
Belgian Hot Chocolate on a Spoon!
This handmade creation is a chocolate chunk with spoon.
---