Tielka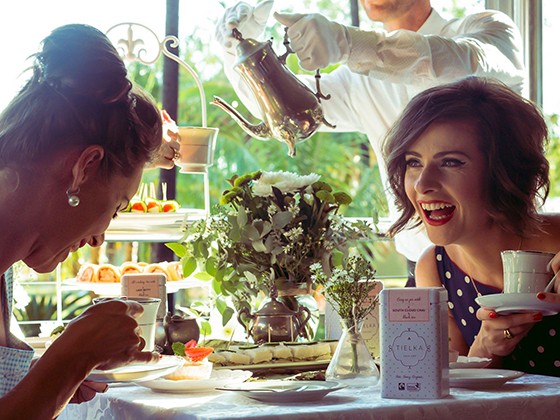 More Images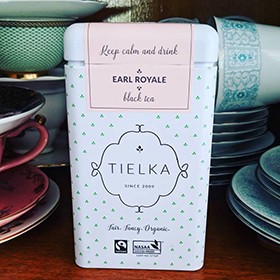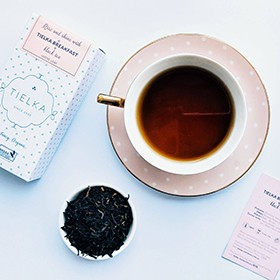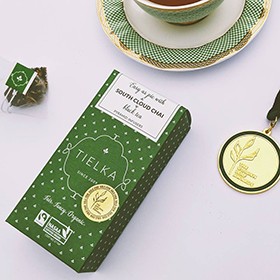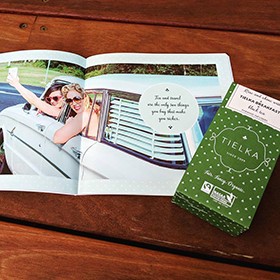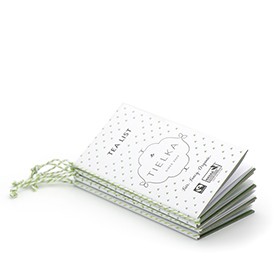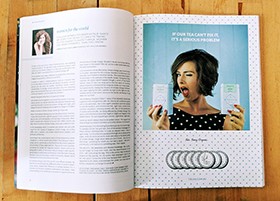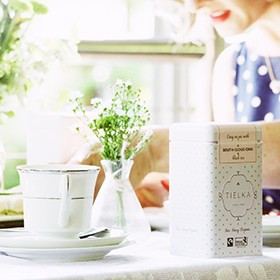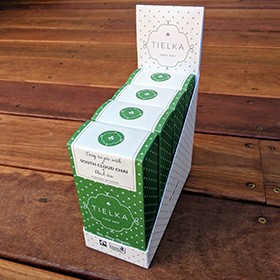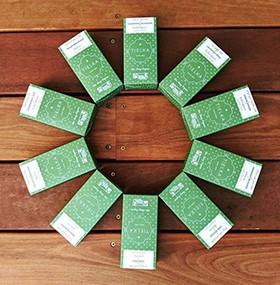 Tielka
At Tielka, we get what you're looking for. You want something to capture the eye. You want something your customers will adore. That means organic, ethical. It means plastic-free. It means finding a small business to fall in love with. And when it comes to tea, it means wellness with a beautiful flavour experience. Tielka's multi-award winning organic tea collection is Fairtrade certified and curated by a family who passionately believes in the incredible power of a beautiful cup of tea.
"..no other brand comes close to offering the unique complexities and depth of flavour captured in each mouth-full of Tielka tea..."
Organic Tea | Ethically Curated | Award-Winning
Tielka is a Queensland based, certified organic, multi-award-winning specialty tea company.

Certified Organic Fairtrade
In 2009 Tielka was the first in Australia to release a fully certified organic Fairtrade loose leaf tea collection. To date, Tielka's entire tea collection still holds the double certification.

Award-Winning
In 2018 and 2019, Tielka's tea collection received an incredible 17 awards, including 12 gold, three silver and two bronze at The Golden Leaf Awards. 13 of these awards were given to Tielka's pyramid tea bags, making it the most highly awarded tea bag collection in Australia.

Sourcing
Tielka selects the finest ethically grown certified organic teas and herbal teas directly from the best growing regions around the world, including Yunnan and Hubei Provinces, China, Egypt, Italy and Queensland Australia.

Packaging
Tielka's tea collection is sustainably packaged in Queensland in plastic-free, plant-based tea bags. The collection is beautifully presented and designed to capture the attention of tea lovers looking for the perfect treat for themselves or a loved one.
Testimonials
"Tielka Tea produce a beautiful, flavour-filled tea range that has become increasingly popular with our customers. Rebecca has educated us about the intricacies of serving organic leaf tea correctly, so that our customers benefit from full enjoyment of the experience. As a result, our tea sales have steadily grown under Rebecca's guidance. We are very proud to offer award winning, high quality, organic tea and even prouder that we are supporting a local business by doing so." - Judy Plath, owner, Nourish Cafe
"When we started the cafe we wanted to find a tea that would hold its own against the coffee enthusiast. Tielka has done that and so much more. From the flavour right down to the packaging, we can all tell Rebecca and her team are genuine and passionate about delivering the best that tea can be." - Ailin Gay, Baker et Chef
"Black Mocha Café is proud to serve Tielka Tea. We love the fact that Tielka is a specialty Fairtrade organic tea company and is 100% Australian. We have been serving Tielka for over 5 years because no other brand comes close to offering the unique complexities and depth of flavour captured in each mouth-full of Tielka tea. Our customers love the selection of teas. The sampler jars and the table tea lists provide staff the opportunity to engage customer senses providing a talking point and inviting them to try the different teas on offer. Customers keep coming back for the delicious aromatic experience offered with cup of Tielka tea." - Claudette Koya, owner, Black Mocha Cafe
"Sbriga Espresso Bar takes it's coffee very seriously, being an Roman inspired espresso bar – and we are just as fussy about our tea, which is why when we came across Tielka we knew we didn't need to look any further because of their beautiful, delicious, high quality, responsibly sourced teas. We aren't the only ones who are big fans of Tielka, our customers are too!" - Mario Simeone, Owner, Sbriga Espresso Bar
"There are many brands of tea on the market today and trying to find one that stands apart from the rest of the cafes is always a challenge. However Tielka has a local history for us, it's organic, made with a romance that only someone with true passion is prepared to give. You won't be truly in love with tea until you indulge in Tielka." - Brett Wright, Owner, High Thyme Cafe
"It's such a pleasure receiving our organic Tielka teas, we love that they ethically sourced and hand-crafted. Our customers at Wild Canary love their unique taste and delicious aromas and we love supporting local businesses." - Sasha Lloyd, Wild Canary Bistro
What Tielka Offers
Multi-award winning specialty Fairtrade organic tea
- loose leaf
- pyramid plastic-free tea bag
Video training for correct tea brewing
A dedicated webpage to your business on the Tielka website which showcases your tea selection, including tea descriptions, origins, ingredients, flavour notes, harvest and the Tielka story
Gorgeous storage tins for display
Adorable promotional postcards which engage customers in the Tielka story and display a link to your customised tea menu
Tielka - The Founder's Story
I fell in love with tea in the northern winter of 2002 when visiting a friend's café in Kielce, Poland. Everything about her café was stunning, so carefully and lovingly put together – she was an artist with impeccable style and she captured the vintage feel with finesse and ease. Amongst all the gorgeous trinkets, old pictures and good coffee was an extensive tea list of well thought out descriptions of flavours and origins. It was love at first sight – and taste – and I'm sure I got through a good portion of her tea while I was there.
In 2008 I was inspired to create my own tea company. As I asked around, the response echoed everywhere. Frustrated tea lovers at cafes had been forgotten behind a barrage of espresso shots and latte art and they were craving something special. They wanted a tea that stood out from the rest, that would give reason to come back for more. They were either underwhelmed with the tea brewed or settled for coffee instead. The joy of fresh, specialty organic loose leaf tea, ethically sourced, lovingly handcrafted, blended and brewed to perfection was not yet reality.

On hearing the hearts of these countless tea lovers, my mission became set in stone. I wanted to capture this undiscovered beauty in a teacup and deliver joy. I wanted tea-lovers to know their worth and this was no small task! After months of searching, I finally discovered two Fairtrade organic tea gardens in the high-mountain tea growing regions of China. These communities had tea crafting skills that went back thousands of years and the tea was divine: fresh, hand-harvested, crafted, beautiful with complexities and depth of flavour that were nothing less than intriguing.

Every other tea faded into insignificance alongside them.

There was no turning back— teas were selected and recipes created and perfected. In 2009, Tielka released Australia's first specialty certified Fairtrade organic loose leaf tea collection.

Since launching Tielka in 2009, my love for tea and heart mission has not changed. I am inspired by cafes and retailers that defy being swept up in the status-quo but rather, find joy in discovering and sharing Tielka with their customers. Their stories enrich my journey and I am driven to spread the Tielka tea-joy far and wide.

Indulge in Life.

Rebecca Domorev
---
More information about Tielka
Tielka Tea Catalogue
The Tielka Tea catalogue is full of inspiring images and comprehensive information about each product. Click here
The Tielka Tea story
Tielka Tea's MD Rebecca Domorev tells how the brand came about and why tea is such an important product for consumers today.
---