Basketcase Gourmet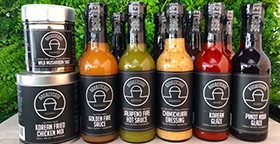 More Images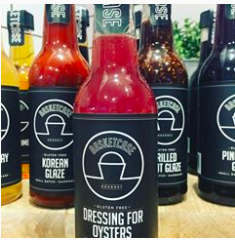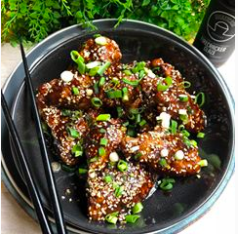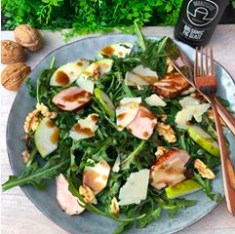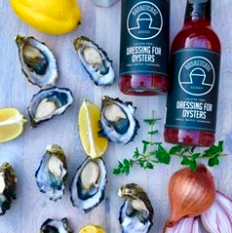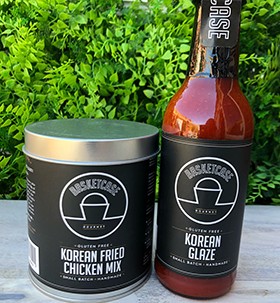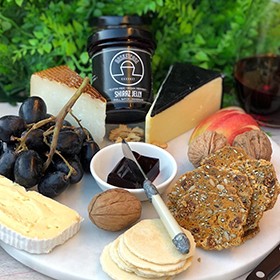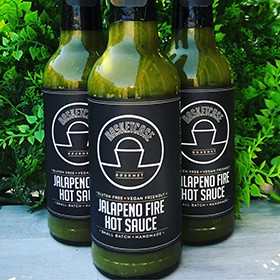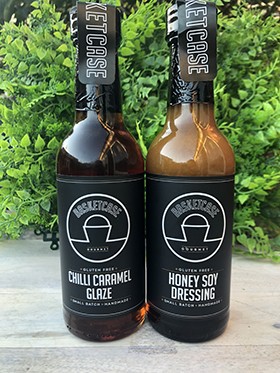 Basketcase Gourmet
Wholesale Glazes, Dressings and Sauces – All Gluten Free!
Basketcase Gourmet's wholesale glazes, dressings and sauces bring out the gourmet in even the least confident cooks. Simply add a splash, a drizzle or a spoonful of any of their products and you have a wonderful, flavoursome dish. And with all products being gluten free, you can revel in infinite possibilities without having to be mindful of the gluten content of your meals. Many of the products are also vegan-friendly.
Get creative and try Basketcase Gourmet's glazes on your roasted meats, barbecued chicken or Christmas ham. Marinate seafood, baste a roast or deglaze the pan juices while the meat is resting. Take a Basketcase Gourmet dressing and use it to pep up any kind of salad with new flavour accents. There are dressings for seafood, noodles and rice dishes. Or, grab a Basketcase Gourmet sauce and try and stop yourself from licking your fingers! They can be used to marinate, dress, coat or finish. In fact, the whole range is so versatile, you'll keep coming up with new ways to use the products.
The Chilli Sauces range is sure to knock your socks off! Count on not just heat but FLAVOUR! In fact, there is a Basketcase Gourmet Chilli Sauce to suit your heat preferences and each one brings something different to the table.
Basketcase Gourmet aims to inspire all cooks – from home food lovers to cooks in commercial kitchens – to elevate their dishes to new heights of creativity and flavour.
Glazes
These sticky, sweet glazes are the perfect addition to any pantry. Use them to finish meats, to enliven vegetables and to enrich cheeses. They can be served as dipping sauces for bread or used to add a glossy, luscious touch to cooked meats.
Balsamic Fig Glaze – A sweet, sticky, black glaze that loves cheese, meat and salads. Vegan-friendly and fat free!
Pomegranate Glaze – Sharp and sweet, excellent with pan-fried duck breasts. Deglaze the pan juices and make an instant sauce. Try it with fried halloumi, roasted cauliflower salad or even try glazing your Christmas ham.
Grilled Meat Glaze – One of Basketcase's most popular sauces, it's really versatile and can transform even a ho-hum chicken into a superb meal. Marinate fish or meat, baste a roast, barbecue chops or rotisserie meats.
Korean Glaze – A lovely warm, red glaze with a touch of umami heat. Use with Basketcase Gourmet's Gluten Free Korean Fried Chicken mix, or as a finishing sauce for anything!
Chilli Caramel Glaze – Liquid gold! It's sticky, golden and fragrant. Goes beautifully with crispy pork and is fantastic as a dipping sauce. Add lime juice to create a fat free dressing.
Pinot Noir Glaze – Ruby red Pinot Noir glaze made from Australian grapes. Make an instant red wine sauce by deglazing the pan after roasting meats. Drizzle over a perfectly good roast or steak. You can even try this one drizzled over red berries and ice cream. Vegan-friendly.
Firecracker Glaze – A little hot, a little sweet, with a central umami flavour and a hint of tang. Use to glaze ribs and chicken wings. Dress some steamed rice or add to a stir fry. Vegan-friendly.
Chardonnay Glaze – Rich white wine glaze made from Australian chardonnay. Drizzle over cheese and serve with crackers or add a little crushed garlic and extra virgin olive oil for a fabulous salad dressing. Vegan-friendly.
Dressings
Salads need never be boring with Basketcase Gourmet's delicious dressings. Made with all-natural ingredients and no unnecessary additives, every dressing is multifunction and jam-packed with incredible flavour. Experiment with them and you'll soon find new ways to enjoy old favourite dishes.
Korean Dressing – A blend of spicy, warm Korean chilli paste, soy and sesame. Dress noodles or rice or use as a dressing for coleslaw.
Honey Soy Dressing – Sweet and luscious, it can be used as a stir fry sauce, salad dressing or marinade. Vegan-friendly.
Dressing for Salad – This salad dressing will go with any vegetable or leaf, whether hot, cold or warm. It has a mild tanginess and lovely aromatics and can be used with all cuisines.
Dressing for Oysters – Simply splash over freshly shucked oysters for a flavour explosion. A bit sharp, a bit tangy, all with a hint of sweetness. Try it as a fat free salad dressing too. Vegan-friendly.
Sauces
Forget your regular old tomato or barbecue sauce; Basketcase Gourmet's chilli sauces are the bomb! They pack a serious flavour punch and as much heat as you desire, and you don't need much to produce mouth-watering results.
Smokey Bourbon BBQ Sauce – The mildest of the sauces, Smokey Bourbon BBQ is a rich and tangy barbecue sauce with a hint of bourbon and woodsmoke and no heat. Baste your roasted meats or add a sticky slick of this sauce to chops or sausages. Vegan-friendly.
Chipotle Sauce – Enjoy smokey heat with rich tanginess. Made from four different types of chillies including smoked jalapenos and a little Carolina reaper for a hit of heat. Match it with Mexican dishes or your hot smoked meats off the barbecue.
Golden Fire Sauce – Ginger, turmeric and chilli come together in a golden sauce that can be used as a marinade, condiment or stir fry sauce. Try it on a poke bowl. Vegan-friendly.
Hot & Sweet Chilli Sauce – Add to anything that requires a kick of heat such as a stir fry, fried rice or a sweet chilli dip. Hotter than average. Vegan-friendly.
Fireball Hot Sauce – Sugar-free and onion-free hot chilli sauce. You still get the heat from the combo of chillies including habaneros. Loads of flavour and you can use it just like Tabasco, on everything! Vegan-friendly.
Jalapeno Fire Hot Sauce - Jalapeno chillies blended with lime and coriander make this a deliciously tangy and mild sauce that is the perfect addition to chicken or fish tacos. Try it over baked potatoes with some sour cream, or even as a salad dressing. Vegan-friendly.
Firestarter Hot Sauce - Basketcase Gourmet's hottest sauce which is a blend of habanero, cayenne, birdseye, Carolina reaper, red jalapeno and ghost chillies. This blend of chillies allows the different heat levels to hit all parts of the mouth, leaving a deliciously addictive after-burn. Vegan-friendly.
Retailers
Basketcase Gourmet's wholesale sauces, dressings and glazes are all gluten free which makes them ideal for health food stores and gluten free outlets. They're also suited to supermarkets, delicatessens and food halls as well as butchers, greengrocers, cheese retailers and seafood mongers. Position them next to companion foods to entice customers to try them at home.
Foodservice
Use Basketcase Gourmet's wholesale dressings, glazes and sauces in your steak restaurant, burger outlet, fish and chip shop, sandwich shop, hotel, pub or club. Perfect for carveries! Caterers will also find a thousand uses for these quality products.
To find out more or to place an order, contact Basketcase Gourmet today.