Flavours of the World by The Spice People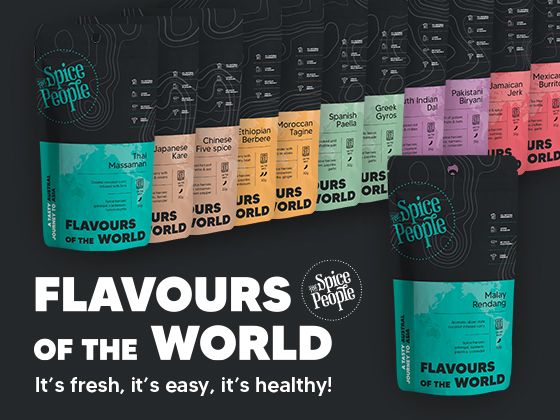 More Images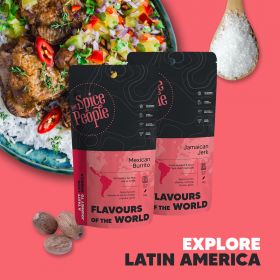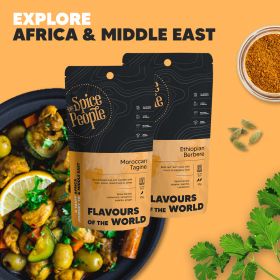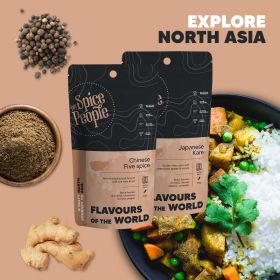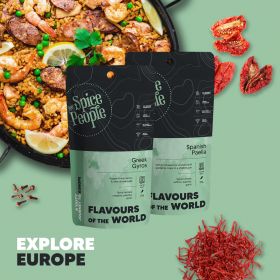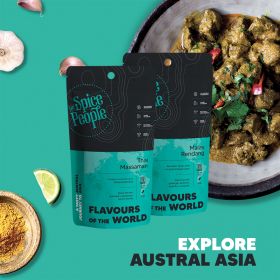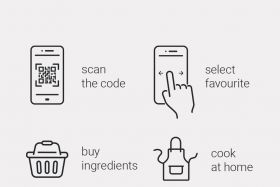 Flavours of the World by The Spice People
Gluten Free Spice Flavour Foundations
Its food, reimagined. Flavours of the World by The Spice People offers extraordinary flavour foundations for home cooks to discover and explore the dishes of some of the world's most loved cuisines with simple, easy to use recipes, and loads of ingredient choices to suit personal preferences.
Shoppers simply choose a destination, grab a FOTW flavour base and get cooking!
With a massive range latitude - 12 unique spice blends across 12 counties and 36-plus recipes to choose from, your biggest decision will be where you would like to dine tonight.

The starting range includes well-known cuisines such as Moroccan tagine and Greek Gyros to the lesser-known but just as amazing dishes from Jamaican jerk and Ethiopian berbere.

Flavours of the World unlocks the cuisines of the ancient spice route of the world classified into six unique culinary regions:
Latin America - red
Africa & the Middle East - yellow
South Asia - purple
Australasia - turquoise
North Asia - caramel
Central Europe - green
Each region is a different colour, offering an eye-popping shelf presence and is sure to be a category amplifier. With new additions already being planned and tested, homemade meals will never be boring again.
Founder Liz Edgecombe is a spice evangelist and has been sourcing rare and exotic and blending spices for over 25 years with their well-established brand. The Spice People. The Flavours of the World is their newest offering, inspiring home cooks to explore and try cuisines that they have only tasted in restaurants or overseas. She has made it super easy with her range of flavoursome pure spice blends, helping to unlock new flavour destinations in a simple, affordable way. Liz created this range with love and respect to the traditional cultures they have been sourced from, using only the finest herbs and spices.
"One of the secrets to making a great spice blend," Liz has observed, "is that when herbs and spices are well balanced they create something magical which results in a flavour greater than the sum of its parts. When people truly understand this, the resulting dish is well balanced, full of flavour and does not need sugar or salt or other condiments to make it taste okay."
Our unique range comes with an industry-leading online game-changer portal offering iconic recipes of some of the world's most loved cuisines. Each packet comes with a complete recipe on the back and our unique QR code. Shoppers can scan the QR code with their phone, which goes straight to the recipe portal on the website where they can select pantry-friendly swaps, protein choices, and simple meal prep options, giving the choice to the consumer in an easy and accessible way.

FOTW offers a one-stop shop to explore and discover recipes and dishes from across the world, providing cooks with the know-how and simple tools to do so.

FOTW offers a generous and flexible serving size (up to 8) with a handy resealable pouch for easy pantry storage and zero wastage. The whole range is:
100% natural ingredients
Gluten Free
Vegan friendly
No preservatives or fillers
Zero nasties
Sugar-free
Locally made in Melbourne, HACCP certified
Packaging is suitable for Red Cycle recycling program
Committed to the 2025 Sustainable Packaging Target
Aromatic Spice foundations
Take your pick of Flavours of the World's quality flavour bases and turn out exceptional dishes at home.
Malay Rendang– Intense tropical aromatics of coconut, chillies and spice.
Thai Massaman – A mild, creamy curry with spices, lemongrass and coconut.
Moroccan Tagine – The true taste of Morocco with sweet nutmeg, cassia, sweet paprika, allspice, sea salt, fennel, caraway, cumin and more.
Ethiopian Berbere – Paying homage to the Horn of Africa, bold and earthy, sweet and fragrant with a hum of peppery heat.
Pakistani Biryani – An explosion of flavour - a masala made up of allspice, cardamom, turmeric, cinnamon and more, to pep up your rice dishes.
South Indian Dal – A mild blend of spices from the Southern Kerala region of India.
Jamaican Jerk – A sweet-scented and spicy blend of pimento, allspice and nutmeg, with garlic and thyme.
Mexican Burrito – A zesty blend of smoky sun-dried chillies and paprika with aromatic cumin and oregano.
Greek Gyros – The scent of Greece, with oregano, garlic and sweet paprika.
Spanish Paella – Sweet and smoky paprikas, pungent clove, garlic and punchy sundried tomato.
Chinese Five Spice – The ubiquitous Chinese combination of cinnamon, garlic, star anise, ginger, fennel, pepper, cloves and orange peel.
Japanese Kare – A delicious, sweet and mild melange of peppery flavours with sweet hints of allspice and fennel.
Retailers
FOTW introduces winning flavours, edgy alternatives which are innovative and exciting. Home cooks just can't get enough of it, the irresistible variety and chef-worthy recipes will keep shoppers coming back for more.
Stock Flavours of the World in your supermarket, convenience store, delicatessen, butcher shop, greengrocer, fruit and vegetable store or other quality food retail outlet. Encourage customers to discover new cuisines. Hold cooking demos, offer taste tests and talk about how easy it is to create delicious home meals with FOTW's products.
For more information or to place your first order, get in touch with The Spice People today.
---
More information about Flavours of the World by The Spice People
Flavours of the World Catalogue
6 regions to explore, 12 countries to travel through, 36+ exciting and tasty recipes to cook! Click here
Interview - Liz Edgecombe - Flavours of the World
Flavours of the World brings wonderful spice and versatility to home cooks. We spoke with Liz Edgecombe about the principles behind the brand and how it's encouraging even inexperienced cooks to try exciting new flavours at home. Click here