Jack Daniel's BBQ Sauces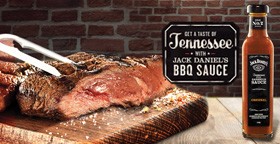 More Images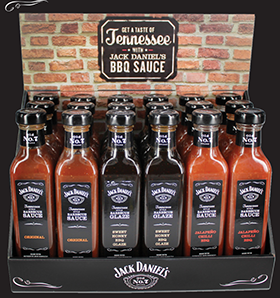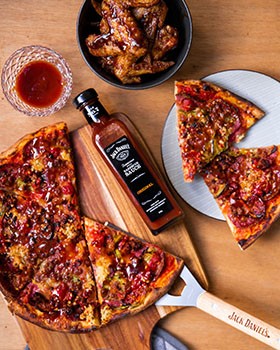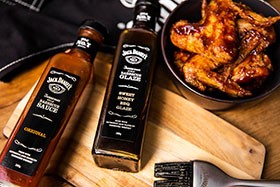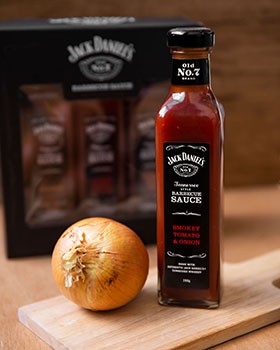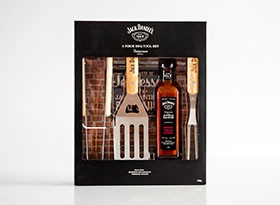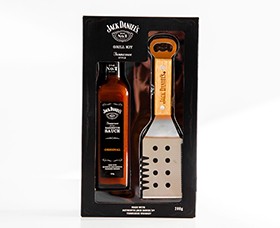 Jack Daniel's BBQ Sauces
Hot Shots Gourmet
The Jack Daniel's name is synonymous with good times! Add a shot of Jack Daniel's to a range of barbecue sauces and you've got the makings of a spectacular occasion! Jack Daniel's Hot Shots are licensed BBQ sauces made with the time-honoured Whiskey brand that fans have known and loved since 1866. Only genuine Jack Daniel's goes into every bottle, for a flavour that must be experienced to be believed.
Each has its very own distinct flavour profile and personality. Every steak, snag, burger or barbecued brisket that rolls off the hot plate or grill will taste like it was marinated in the Deep South. Your customers will love the opportunity to re-create authentic Southern flavours just like those from a barbecue restaurant, in their own homes.
About Jack Daniel's
Every drop of Jack Daniel's Tennessee Whiskey is made in Lynchburg, Tennessee at America's oldest registered distillery. The folks there still use the same care and methods that Jack Daniel established back in 1866. This commitment to quality, along with the unique charcoal-mellowed flavour, has led to Jack Daniel's fame around the world. A simple reminder that quality and responsibility never go out of style.
The range
JALAPENO CHILLI BBQ SAUCE: Add a large dash of Jack Daniels Jalapeno Chilli BBQ sauce to any meat or vegetable dish for that extra kick! Ideal for pork, chicken and vegetarian dishes.
SMOKEY TOMATO & ONION BBQ SAUCE: Add the distinctive flavour of our Jack Daniels Smokey Tomato & Onion BBQ Sauce to any meat for that great BBQ taste. Ideal for sausages, steak & burgers.
ORIGINAL BBQ SAUCE: Add the distinctive flavour of Jack Daniels Original BBQ sauce to create your perfect tasting sensation. Ideal for everything from BBQ's to stuffed tortillas.
SWEET HONEY BBQ GLAZE: Brush Jack Daniels Sweet Honey BBQ glaze onto your favourite meat during the last 15 minutes of barbequing and see it transform your dish into a meal to remember. Ideal for steak and chicken dishes.
SWEET & SPICY STEAK SAUCE: Dip, Baste, Marinade. This allrounder will add a sweet and spicy burst of flavour to your next barbeque! Goes Great on Steaks and Ribs
3 PIECE BBQ TOOL SET: Includes - 1 x set of Tongs, 1 x Spatula, 1 x Fork & 1 x Smokey tomato and onion BBQ sauce. The Ideal pack for stepping up your barbequing game. Stainless steel tongs and fork to make serving up a breeze. Stainless steel spatula to flip the perfect steaks and burgers. Now to impress your guests that little bit more... serving up your BBQ creations with some Jack Daniels Smokey Tomato and Onion BBQ sauce.
BASTING PACK: Includes – 1 x basting brush & 1 x Sweet honey BBQ glaze. Tired of plain chicken and steak? Try basting pack. It includes everything you need to create the perfect sweet honey chicken or delicious glazed steak with the subtle taste of Jack Daniels. Comes with a stainless steel basting brush with silicone bristles to ensure the perfect coating of glaze every time.
GRILL KIT: Includes – 1 x spatula & 1 x original sauce. The go-to kit for cooking the perfect BBQ. The stainless steel spatula will make flipping burgers and steaks an ease! Top up your BBQ creations with the original BBQ sauce for that perfect taste ratio of BBQ sauce and Jack Daniels.
4 PACK VARIETY PACK: 1 x Smokey tomato & onion BBQ sauce, 1 x Original BBQ sauce, 1 x Sweet honey & BBQ glaze, 1 x Jalapeno Chilli BBQ sauce
3 PACK VARIETY PACK: 1 x Smokey tomato & onion BBQ sauce, 1 x Original BBQ sauce, 1 x Jalapeno Chilli BBQ sauce
2 BOTTLE BBQ GIFT TIN: 1 x Jack Daniels gift tin, 1 x original BBQ sauce, 1 x Jalapeno chilli BBQ sauce
The duo for wowing your guests. Original BBQ sauce will add the authentic taste of Jack Daniels to your meal and the Jalapeno chilli BBQ sauce will give your meal that extra kick of spice and smoke.
Retailers
Showcase the authentic Jack Daniel's range of BBQ Sauces in your supermarket, barbecue specialty store, bottle shop, butcher, greengrocer or premium ingredients retail outlet. Packaged for compelling eye appeal, the range will be a stand-out on your store's shelves. Position at point of sale for maximum attention and encourage your customers to 'grab and go'. The bottles make outstanding additions to gift hampers and work well as 'take-along' gifts when invited to casual lunches and dinners. A 3-piece BBQ toolset, a BBQ pack and a basting pack, each featuring a bottle of sauce are available for gift outlets.
Foodservice
Add that familiar Jack Daniel's flavour with ease to your roasts and barbecued meats and watch as your customers lick their lips and fingers. Especially good for American-themed restaurants but also popular for pubs, clubs, fish and chip shops, burger outlets, pie shops and more. Experiment with the three different flavours and find the 'sweet spot' for your various recipes.
Sales Agents and Distributors Wanted
To find out more about this exciting range of BBQ sauces, or to place your first order, contact Hot-Shots Gourmet today.
---
More information about Jack Daniel's BBQ Sauces
Jack Daniel's BBQ Sauces
Just when you thought barbecues couldn't get any better, along comes Hot Shots Gourmet with their outstanding range of barbecue sauces infused with authentic Jack Daniels whiskey. Learn a little more about these wicked sauces right now. Click here