Jack Daniel's BBQ Sauces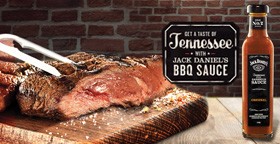 Jack Daniel's BBQ Sauces
Hot Shots Gourmet
The Jack Daniel's name is synonymous with good times! Add a shot of Jack Daniel's to a range of barbecue sauces and you've got the makings of a spectacular occasion! Jack Daniel's Hot Shots are licensed BBQ sauces made with the time-honoured Whiskey brand that fans have known and loved since 1866. Only genuine Jack Daniel's goes into every bottle, for a flavour that must be experienced to be believed.
Each has its very own distinct flavour profile and personality. Every steak, snag, burger or barbecued brisket that rolls off the hot plate or grill will taste like it was marinated in the Deep South. Your customers will love the opportunity to re-create authentic Southern flavours just like those from a barbecue restaurant, in their own homes.
About Jack Daniel's
Every drop of Jack Daniel's Tennessee Whiskey is made in Lynchburg, Tennessee at America's oldest registered distillery. The folks there still use the same care and methods that Jack Daniel established back in 1866. This commitment to quality, along with the unique charcoal-mellowed flavour, has led to Jack Daniel's fame around the world. A simple reminder that quality and responsibility never go out of style.
The range
Jack Daniel's Original BBQ Sauce
They say the original is always the best but that could be a matter of opinion. Meanwhile, Jack Daniel's Original BBQ Sauce is the most logical place to start if you're experimenting with good Southern flavours. You can use it as a pizza sauce and top with pulled pork and sliced capsicums, lay a line of it along a good old sausage in a slice of bread or set your pork or beef to chill a while in it before cooking up your best barbecued meats ever! Pass it around and enjoy being the hero cook!
Jack Daniel's Smokey Tomato & Onion BBQ Sauce
Brimming with smokey flavour, this one will bring the barbecue spirit indoors, wherever you are. It starts with a tomato base, rounded out with sweet onion and spiked with the perfect dash of Jack Daniel's. Keep it at hand on the table and whatever you do, don't forget to pack it in the esky for picnics.
Jack Daniel's Jalapeno Chilli BBQ Sauce
Ramp up the heat! Jack Daniel's Jalapeno Chilli BBQ Sauce has what it takes to get the tastebuds good and fiery. Best to start slow then build on it to arrive at the optimal heat factor. The vibrant orange colour is the first clue so go easy and savour the sensations. Awesome with sausages and pork and definitely try it on barbecued prawns!
Jack Daniel's Sweet Honey BBQ Glaze
This sweet, sticky concoction is the ultimate finger-licking sauce to slather all over your chicken, duck or lamb. Use it generously as a marinade or apply it to the meat while barbecuing. The combination of honey and Jack Daniel's will be an irresistible temptation so keep it around always.
Retailers
Showcase the authentic Jack Daniel's range of BBQ Sauces in your supermarket, barbecue specialty store, bottle shop, butcher, greengrocer or premium ingredients retail outlet. Packaged for compelling eye appeal, the range will be a stand-out on your store's shelves. Position at point of sale for maximum attention and encourage your customers to 'grab and go'. The bottles make outstanding additions to gift hampers and work well as 'take-along' gifts when invited to casual lunches and dinners. A 3-piece BBQ tool set, a BBQ pack and a basting pack, each featuring a bottle of sauce is available for gift outlets.
Foodservice
Add that familiar Jack Daniel's flavour with ease to your roasts and barbecued meats and watch as your customers lick their lips and fingers. Especially good for American-themed restaurants but also popular for pubs, clubs, fish and chip shops, burger outlets, pie shops and more. Experiment with the three different flavours and find the 'sweet spot' for your various recipes.
Sales Agents and Distributors Wanted
To find out more about this exciting range of BBQ sauces, or to place your first order, contact Hot Shots Gourmet today.
---
More information about Jack Daniel's BBQ Sauces
Jack Daniel's BBQ Sauces
Just when you thought barbecues couldn't get any better, along comes Hot Shots Gourmet with their outstanding range of barbecue sauces infused with authentic Jack Daniels whiskey. Learn a little more about these wicked sauces right now. Click here