Vinofood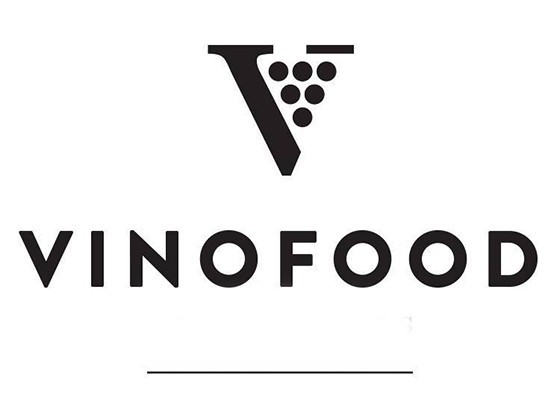 More Images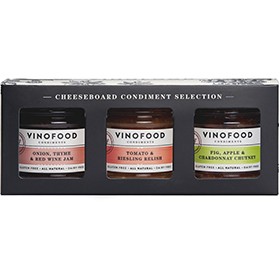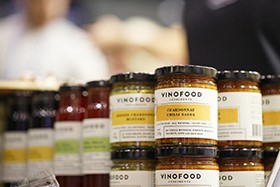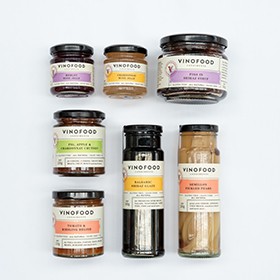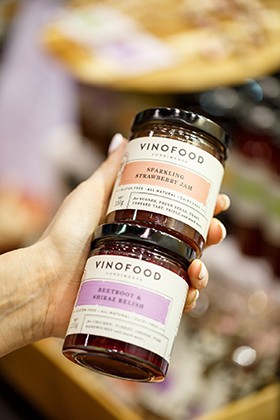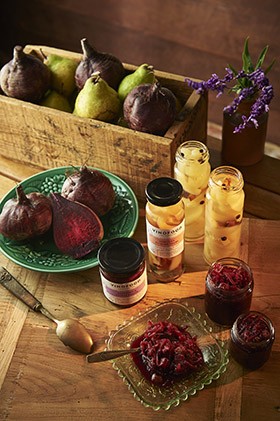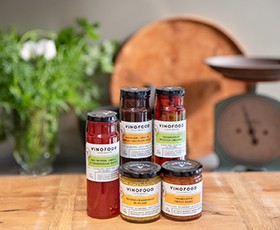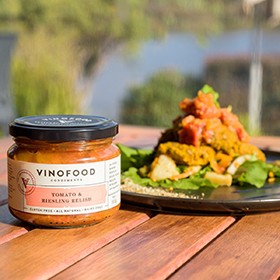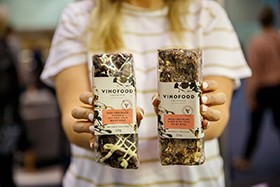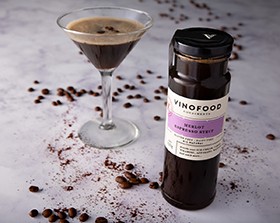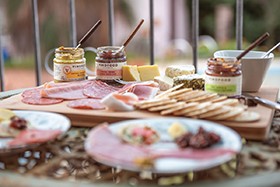 Vinofood
Handcrafted specialty foods
Vinofood is a blend of two passions – food and wine – into delicious combinations of chutneys and relishes, mustards, jams, jellies, preserves, savoury sauces, vinegars and dressings, sweet sauces and rocky road chocolate. All products are infused with the unique and intensive flavours of wine and grapes.
Made to inspire, Vinofood makes entertaining easy and turns the ordinary into the extraordinary. Turn a simple roast into a fancy feast, create impressive canapes with ease, or make breakfast a delightful start to the day.
No artificial colours, flavours or preservatives
All-natural ingredients
Hand-made in small batches
Australian owned & operated
CHUTNEYS, SAVOURY JAMS & RELISHES
These delicious chutneys and relishes make use of the best seasonal fruit and vegetables. All are packed full of flavour to serve with curries, rice, pasta, potatoes, and meats.
Fig, Apple & Chardonnay Chutney – This award-winning chutney is simply perfect for entertaining. Add it to a cheeseboard, antipasto plate or baked brie.
Beetroot & Shiraz Relish –Made with locally grown beetroot, every jar is packed full of fresh beetroot. It is a perfect accompaniment to chicken or turkey or a steak sandwich.
Tomato & Riesling Relish – This rich and flavoursome relish is a must have pantry item. Very versatile, it adds great flavour to pizza's, pasta sauces, eggs and sandwiches.
Onion, Thyme & Red Wine Jam – Add flavour to any dish with a delicious combination of red onions and red wine creating the perfect balance of flavours.
Chardonnay Chilli Salsa – For lovers of chilli this salsa is a hot and fiery blend of tomatoes, chilli and wine that adds some heat to any creation.
WINE JELLIES
These wine jellies add a touch of sweetness to complement the sharp taste of cheese.
Merlot Wine Jelly – A cheeseboard is not the same without Merlot Wine Jelly it simply takes cheese to the next level.
Chardonnay Wine Jelly – Turns cheese into a taste sensation. Great with cheddar, brie or blue cheese once you have tried it you can't go back.
FRUITS & SYRUPS
Get creative and use Vinofood's sweet and luscious fruits and syrups in desserts, pies and tarts or serve with grilled seafood, hot meats or cheeses. You can even glaze barbecued ribs with Spiced Red Wine Syrup for an interesting twist.
Semillon Pickled Pears – Made with locally sourced pears which are hand-peeled and carefully cut for the perfect shape. Tart and tangy in flavour they are great served on a cheeseboard to cut through a rich and creamy cheese.
Spiced Red Wine Syrup – This sauce is truly versatile, use for both sweet and savoury. Use as a glaze for roast meats, or an alternate to plum sauce for a stir fry.
Figs in Shiraz Syrup – A rich, spicy red wine syrup blended with the soft honeyed palate and sweet and savoury flavours of figs to create a full-bodied jar packed full of flavour.
Spiced Orange & Riesling Syrup – Made from fresh oranges and full of spicy flavours this sauce is a must have for an easy entertaining dessert or use as a glaze over ham or duck.
Merlot Espresso Syrup – Who doesn't love a coffee dessert? Drizzle this syrup over vanilla ice cream for something simple, use it as the base for tiramisu or feeling a bit more indulgent - it makes a great espresso martini.
PRESERVES & JAMS
Very little beats a thick spread of jam spread over freshly baked bread or scones for breakfast, lunch or an anytime snack. These homestyle jams are packed full of fruit with lots of flavours.
Sparkling Strawberry Jam - Enjoy a champagne breakfast with this Sparkling Strawberry Jam packed full of Australian strawberries that are busting with sweet flavours.
Orange, Ginger & Chardonnay Marmalade - Made with local oranges this marmalade is not too sweet and not too bitter, it's just perfect and with a hint of ginger it is a marmalade lovers delight.
Boysenberry & Shiraz Jam - Intensely flavoured boysenberries, a splash of Shiraz wine and a bit of sugar is what makes this award-winning jam.
MUSTARDS
Add a touch of magic to cold meat platters, salad dressings, sauces and marinades. With a little bit of added texture and a whole lot of flavour, you can't go wrong!
Seeded Chardonnay Mustard
Fig, Prune & Merlot Mustard
White Wine Dijon Mustard
DRESSINGS & VINEGARS
Grape Seed Oil Vinaigrette – Full of fresh vibrant flavours of Mount Barker Olive Oil and spray free Italian parsley. Add in a touch of grape seed oil and white wine vinegar and this dressing is perfect.
Balsamic Shiraz Glaze – Rich balsamic meets red wine in this tasty combination of sweet and tangy. Try it as a marinade for your favourite meats or use as a dressing for roast
SAVOURY SAUCES
Red Pepper, Chilli & Chardonnay Sauce – A new twist on the classic Asian sweet chilli sauce. Use as a dipping sauce for spring rolls, fritters or chunky potato wedges.
Indian Tomato & White Wine Sauce – A unique twist on a classic Indian sauce that can be used as a simmer sauce, marinade or to replace tomato sauce for a different flavour.
Merlot Barbecue Sauce – This delicious smokey barbecue sauce is a tasty combination of tomato, onion, spices and prunes as our secret ingredient to give you a sauce like no other.
CHOCOLATES & SWEET THINGS
Utterly decadent and quite grown-up, Vinofood's sweet treats are a tad addictive. The Rocky Road is available in 5 flavours in a 220gm bar.
Rocky Road Milk Chocolate, Spiced Wine, Fruit & Nut
Rocky Road Milk Chocolate & Red Wine Jelly
Rocky Road Dark Chocolate, Ginger & Red Wine Jelly
Rocky Road Dark Chocolate, Cherry, Coconut & Spiced Wine
Rocky Road White Chocolate & Chardonnay Wine Jelly
Mandarin, Chilli & Shiraz Chocolate Sauce - Tastes just like a jaffa with a hint of chilli at the end. A chocolate sauce so good some have been known to eat it straight from the jar.
Retailers and Gift Hamper Companies
With vibrant packaging Vinofood stands out on the shelf and is great for positioning with meats, cheeses and breads as a complementary product. With many of the products coming in 2 or 3 different size jars they are great for gift and picnic hampers and the Rocky Road flavours just walk off the shelves.
The new Small Jar Trio Gift Boxes are great as a gift for any occasion and come in four different selections:
Cheeseboard Condiments Selection
Australian Barbecue Pack
Breakfast Jam Favourites
Gourmet Mustard Collection
Foodservice
Vinofood's exceptional range of high-quality condiments will help you enhance your dishes with minimal extra effort and turn the volume up on flavour. All products are available in food service sizes.