Knowrish Well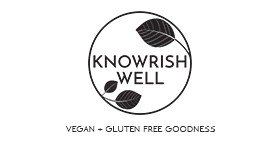 Knowrish Well
Vegan and Gluten Free Food & Drinks
Knowrish Well is vegan and gluten free lifestyle food company that offers delicious foods that enhance your health. There are four Super Latte blends, all loaded with nutritious superfoods and in a rainbow of colours. The highly munch-worthy Coconut Chips are baked, not fried and totally scrumptious. Then there's the Pitaya Blend, a super-healthy powder made from freeze-dried pitaya, or dragonfruit. And new to the Knowrish Well range are Tocos (rice bran solubles) and Better Cheddar vegan 'cheese'.
Vegan and non-vegan consumers love Knowrish Well for their high quality foods and beverage blends.
Everything is made with love and care in a HACCP-certified facility using only the highest quality ingredients.
Better Cheddar Vegan Cheese – NEW!!
For vegans, one of the foods they miss most when they switch to a plant-based diets is cheese, especially for pasta, pizzas and toasties. Many companies have tried to come up with a cheesy-tasting substitute but failed. Knowrish Well's Better Cheddar is what vegans have been craving for far too long! Made from all natural ingredients and free from colours, preservatives and artificial flavours, Better Cheddar can be sprinkled on top of any savoury dish, used in a cheese sauce or tossed through salads or pasta dishes. It tastes like a full-flavoured cheddar cheese with notes of turmeric, onion and mustard. Available in a 180g shaker jar.
Tocos – NEW!!
TOCOS is a super versatile, nutritious, whole food supplement to add to your diet. It has a sweet, delicate taste, and melt-in-your-mouth texture making it the perfect addition to add to smoothies, lattes, creamy beverages, or desserts. Best consumed in small quantities and often, over a lifetime.
Tocos is short for Tocotrienols, a lesser-known but hugely important member of the Vitamin E family. Knowrish Well's Tocos are derived from 100% organic brown rice bran solubles, a natural source of highly bioavailable Tocotrienols and Tocopherols. The powder is grown and processed in the USA and each batch is lab-tested for purity.
Coconut Chips
When it comes to snack time, Knowrish Well's Coconut Chips will hit the spot. All natural and made with organic coconut and prebiotic Inulin, they are available in four exciting flavours.
Vegan
Gluten free
Baked, not fried
Superfood ingredients including Inulin
No colours, preservatives or artificial flavours
Munch on them straight from the jar, stash them in your desk drawer, sprinkle them over smoothies or add them to a bowl of muesli or a healthy dessert.
Blueberry Maqui – These Coconut Chips are flavoured with blueberry powder and sweetened with organic coconut sugar plus pure Canadian maple syrup. Very, very tasty!
Maple Bacon – It's the perfect bacon substitute and it's 100% vegan and cruelty-free. Maple Bacon Coconut Chips are full of flavour including hints of smoked paprika, tamari and pure Canadian maple syrup.
Sea Salt Caramel – Everybody's favourite flavour combo in a far more virtuous format! A tad sweet, a bit salty and utterly delicious, Salted Caramel Coconut Chips go so well on top of pancakes, ice cream and smoothies.
Turmeric, Lime & Ginger – Scrumptious, savoury Coconut Chips with an interesting flavour profile you'll go mad for. They feature a little spice and have wonderful hints of ginger, cayenne and zesty lime.
Super Lattes
Create colourful lattes and iced drinks or add the blends to smoothies, yoghurts, ice creams and desserts. Each is brimming with superfood goodness!
Vegan
Gluten free
Caffeine free
Superfood ingredients
No colours, preservatives or artificial flavours
Choose from four exciting flavours!
Blue Dream Super Latte – A stunning blue latte that will captivate customers. The colour comes from butterfly pea flower which has a lovely sweet taste, yet it has no added sugar. Also features the added benefits of superfoods and prebiotic fibre.
Golden State Super Latte – The tantalising taste of sweet pumpkin pie and turmeric latte in a blend that can be whipped up in moments. Golden State will warm your senses from the inside out, with the nutritious superfood ingredients and prebiotic fibre boosting the goodness even further.
Gypsy Rose Super Latte – The gloriously pink Gypsy Rose blend is pretty to look at and packed with health benefits. It's a beetroot latte that will make you feel better and better with every sip. Its sweet taste and lovely colour come from the beetroot and it also contains maca and inulin, a prebiotic fibre.
Shroom Brew Super Latte – Caffeine free but still a fabulous pick-me-up punch thanks to the adaptogenic blend of medicinal mushrooms (Chaga, Reishi, and Lion's Mane), stress-less herbs and superfoods. And, it contains no added sugar.
Pitaya Blend
Pitaya, or dragonfruit is a gorgeous pink tropical fruit covered in 'scales'. Knowrish Well Pitaya Blend is the freeze-dried fruit in powder form which naturally tastes sweet and has a lovely fruity flavour.
Vegan
Gluten free
Freeze-dried to preserve nutrients
No colours, preservatives or artificial flavours
Pitaya Blend also contains Inulin (prebiotic fibre). Enjoy it in smoothies or yoghurt or add the powder to baking recipes.
Retailers
Stock Knowrish Well's vegan products in your health food store, vegan outlet, supermarket, delicatessen or in your wellness practice. Offering your clients tasty, nutritious foods they can enjoy without guilt is a value-add they will appreciate.
Foodservice
Serve up wholesome vegan lattes and munchable coconut chips in your café, juice bar, restaurant, hotel or bar. Be creative and design an array of special drinks, both hot and iced. Add the coconut chips to your bowls, smoothies and muesli or sprinkle over the top of baked goodies like muffins and cakes. Add Pitaya Blend or Tocos to drinks or baking recipes and don't forget to sprinkle that Better Cheddar vegan 'cheese' where it counts!
To find out more or to place an order, contact Knowrish Well today.