Boston Bakehouse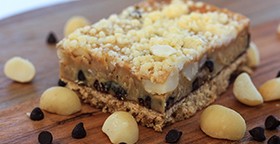 More Images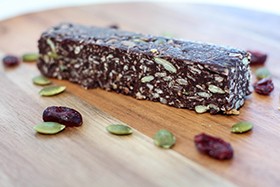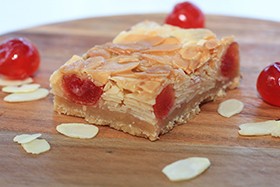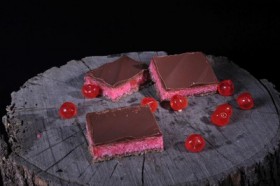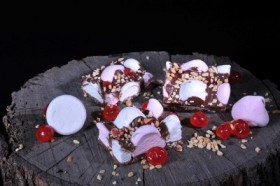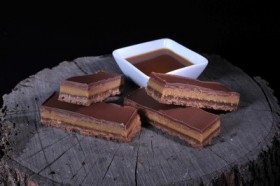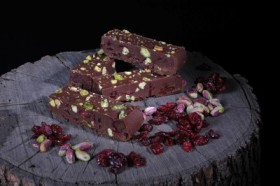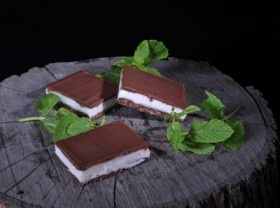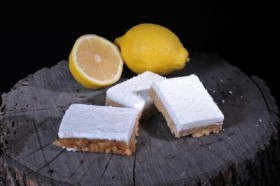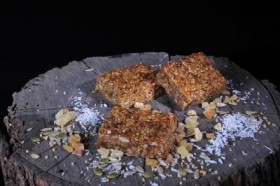 Boston Bakehouse
Slices & Crunch Bars
Boston Bakehouse supplies delicious slices and fingers for foodservice and retail, catering for every taste: chocolate, cherries, coconut, walnuts, caramel, jam, cinnamon, dates, hazelnuts, peanuts, raspberry, almonds, nougat, shortbread, butterscotch, peppermint, marshmallow, cranberries, macadamias, pistachios, sesame, mango, pineapple, white chocolate, cinnamon, spice and all things nice! The Boston Bakehouse offers the lot. Their Top 4 Best Sellers are: Date & Walnut, Caramel Nougat, Cherry Ripe and Rocky Road.
In operation for over 18 years, they are HACCP Certified, and enjoy a strong customer base across Australia. All products are baked on site at a purpose-built commercial kitchen located at Eastgardens, Sydney. Offering classic styles and new favourites, there is something to tempt all your customers.
Most of their Slice and Crunch range are available as uncut slabs which means you have the flexibility to cut as many pieces from the one tray as you desire. Cut as few as 36 pieces or 48, 70, 96 or 120 pieces.
Boston Bakehouse's recipes are made from scratch, using real ingredients; fresh farm eggs, New Zealand butter, sugar, flour, milk and more. Keep sealed and refrigerated and the slices will keep fresh for several weeks as this product has excellent shelf life and will not deteriorate or spoil in a day or two. All of their chocolate products use Cadbury premium chocolate.
Create bite sized treats to go with coffee or larger versions to serve as a fully-fledged dessert. Crumble over ice cream sundaes, arrange slivers on a plate with other confections or arrange in a mixture of flavours on your buffet.
Boston Bakehouse operates out of their HACCP Certified Kitchen. Customers are assured that all products are baked under strict hygienic conditions and guidelines, guaranteeing a premium quality product to you and your customers.
Slices
All slices are available as 12 pre-cut portions in simple packaging; all you have to do is take them from the pack and give to the customer. For all chefs looking for a premium quality slice, uncut Slabs are also available for larger catering options. Those with * are available as a slab. Slabs are made to order which guarantees freshness.
Cherry Slice*
Like your favourite cherry chocolate bar in a snack size slice.
Rocky Road*
The favourite treat of so many people, studded with nuts, marshmallows and glace fruit. Bronze medal winner at Sydney Royal Show.
Caramel Nougat*
An interesting slant on Caramel Slice, with delicious nutty nougat in the centre.
Peppermint Slice
Fresh and sweet, and not just for after dinner!
Caramel Peanut*
For true nut lovers who also have a sweet tooth.
Date & Walnut*
Slightly virtuous, more-ish in mouth feel and flavour.
Caramel Coconut*
Like a Caramel Slice but with the added tropical temptation of desiccated coconut.
Fruit, Nut & Sesame*
Sweet and savoury in one delightful slice.
Brownie*
Who doesn't love a Brownie? Traditional style, chocolate-y yumminess.
Butterscotch Burst*
Decorated with pretty leaf design on top.
Lemon Slice*
Yummy, crunchy and smoothed over with a scrumptious lemon topping.
Caramel Macadamia Choc Chip Slice
Crunchy macadamia nuts, caramel, dark chocolate chips with a crumble topping & a vanilla short crust base.
Florentine Slice
Honey soaked flaked almonds, sweet fruit with a vanilla short crust base
Raw Cacao Bar
Guilt free rich chocolate snack bar packed full of dates, coconut, almonds, sunflower seeds, chia seeds & cacao nibs.
Crunch
Serve your customers Boston Bakehouse's Crunch bars, fully of tempting ingredients and attractively presented for maximum eye appeal. They feature chunks of irresistible treats such as cookie pieces, chunks of shortbread, chopped nuts and fruits, blended through dark, milk and/or white Cadbury chocolate. All are available pre-cut or as a slab so you can choose your own serving sizes. See website for images.
Almond*
Crunchy roasted almond flakes blended through dark and milk chocolates.
Cranberry & Pistachio*
Chopped pistachios and dried cranberries blended through milk chocolate.

Hazelnut*
Whole roasted hazelnut kernels blended through dark and milk chocolates.
Fudge Fingers
Who can resist a name like 'Fudge Fingers'? These ooey gooey treats are the sweet fix your customers are looking for to enjoy with their morning or afternoon coffee.
Salted Caramel Fudge Finger
Handmade Salted caramel, layered onto chocolate fudge base, topped with Cadbury chocolate. *Salted with Murray River Pink Salt, an ancient sea salt harvested from pure underground saline waters of Australia's Murray River.
Hazelnut
A delicious blend of creamy chocolate fudge and roasted hazelnuts.
Slabs
Order a slab of this decadent Red Velvet Slice and cut to desired serving sizes.
Red Velvet Slice
Delicious moist chocolate cake base with a distinct berry flavour and red colour; topped with luscious berry butter cream frosting.
Contract Manufacturing

The Boston Bakehouse kitchen is HACCP Certified therefore you can contact the kitchen to make and bake fine quality products for you with 100% confidence.
Retailers
Purchase your baked goodies from Boston Bakehouse and sell to your customers by the pre-cut slice or cut to your desired size. Keep flavours on constant rotation so that there's always something new to see and buy. Take advantage of instant impulse purchases and keep product at point of sale to tempt customers. Ideal for convenience stores, petrol stations, garden centres, sports centres, cinemas and wherever snack-hungry customers seek delicious treats.
Foodservice
All products are available packed in 1 dozen units. Ideal for canteens, cafes, catering companies, hotels, airport lounges, corporate kitchens, mobile coffee vans, food halls, car wash cafes and kiosks.
To discuss your requirements or place your first order of wholesale slices, contact Boston Bakehouse today.