Devour It Catering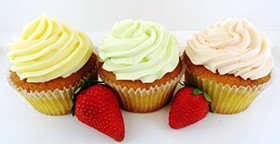 More Images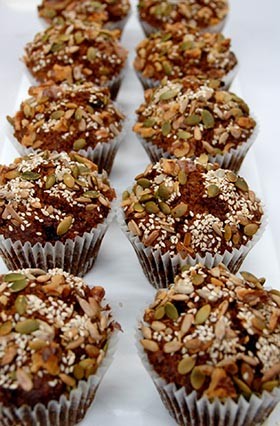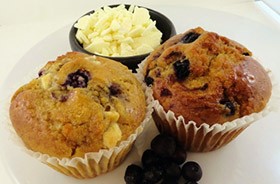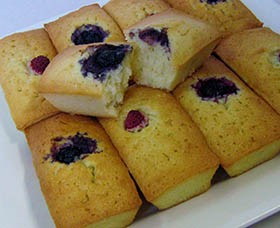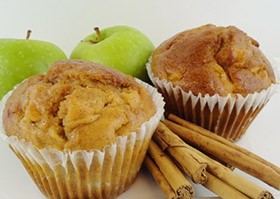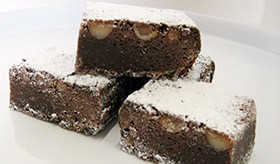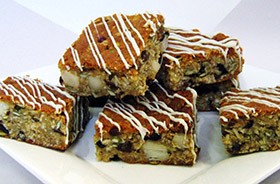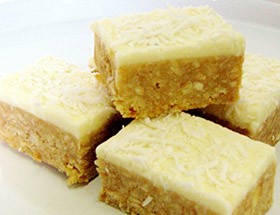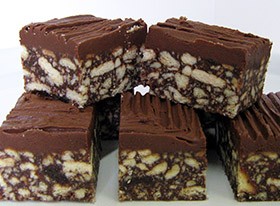 Devour It Catering
Cakes, Slices & Muffins
Conveniently located adjacent Melbourne's CBD, Devour It Catering produces all food daily on their Melbourne premises and deliver 7 days a week to Melburne's cafés, delis, caterers, food stores and canteens across the Melbourne metropolitan area. Their range of wholesale cakes, slices and muffins are ideal for retailers and foodservice businesses seeking top quality products made to home style recipes.
Customers appreciate the fresh ingredients and care and attention that go into every item, as well as the expert advice Devour It Catering offers to ensure 'the right food' is selected. Operating 7 days a week, you can count on Devour It Catering to deliver foods baked that day, as though you made it yourself.
Many of their products accommodate dietary considerations including dairy free, gluten free, low fat and vegetarian.
Muffins – assorted flavours
Muffins are baked fresh 7 days a week just prior to delivery, and there is nothing quite like opening the box to the aroma of a freshly baked muffin. Flavours include a mixed berry, raspberry and dark chocolate, blueberry and white chocolate, and apple and cinnamon. The company also bakes a savoury muffin with spinach, sundried tomato and cheese, and a healthy muffin made with carrot, apple, nuts and seeds.
These muffins are the perfect treat to enjoy with a cup of tea or coffee or, in the case of savoury muffins, as a light meal.
Slices
Devour It Catering's slices are based on great tasting classic recipes and include lemon slice made with real lemons, chocolate hedgehog slice, muesli slice with pumpkin seeds, macadamias and cranberries, and their delicious chocolate macadamia brownie. Mixed by hand, you can taste the difference between other mass produced slices and Devour Its slices.
Chocolate Macadamia Brownie
Never underestimate the power of a brownie to tempt any chocoholic. Studded with Aussie macadamias, these ones are irresistible!
Hedgehog Slice
Finished with a decadent chocolate buttercream icing, the chocolate and vanilla biscuit base hides a surprise of sherry-soaked sultanas.
Lemon Slice
Zesty lemon biscuit base topped with lemon buttercream icing and shredded coconut.
Muesli Slice Bite
A moist muesli slice loaded with cranberries, macadamia and pumpkin seeds topped with a drizzle of white chocolate.
Cupcakes & Friands
All cupcakes and friands are baked with love! The friands range includes raspberry, blueberry, coconut and lime, chocolate, passionfruit and the new flavour, raspberry and pistachio. Cupcakes come in vanilla, chocolate, caramel and red velvet base flavours and a great variety of coloured and flavoured icings can be added to suit your customers' whims and fancies. A new addition to the repertoire are edible labels that can be custom printed with images and logos.
Friands
Available in raspberry or blueberry, coconut and lime, chocolate, passionfruit and the new flavour, raspberry and pistachio.
Vanilla Cupcakes
Who doesn't love vanilla? These cupcakes are sweet in taste and appearance.
Chocolate Cupcakes
Moist chocolate cupcakes topped with a creamy chocolate butter icing.
Salted Caramel Cupcakes
Caramel cupcakes topped with a decadent salted caramel butter icing.
Red Velvet Cupcakes
Chocolate red velvet cupcakes made with buttermilk and topped with cream cheese icing.

Retailers
Baked fresh daily 7 days a week in the Kensington kitchen, the range of muffins, slices and cakes will be a welcome addition to any café or foodstore menu.
Foodservice
Devour It Catering's range of muffins, slices and cakes will please your customers and presents a cost-effective, high quality solution for foodservice business owners. Perfect for catering companies, hospitals, corporate organisations and events managers.
Contact Devour It Catering today to place an order for your Melbourne based business.