Maun Bakery Baklava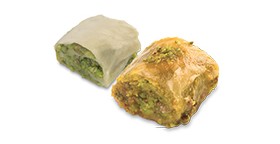 Maun Bakery Baklava
Established in 1918 as Topal Kadir Pastry Company and now known as Maun Bakery, it is an industry leader in the field of frozen bakery products. Since 2011, the company has forged ahead and expanded their range, always aiming to increase customer satisfaction using latest technology and exceeding quality standards.
Maun Bakery's wholesale baklava is supplied frozen for ease of storage, minimal waste and maximum freshness.
Baklava
Baklava is a hugely popular sweet treat to enjoy for morning or afternoon tea, dessert or with a glass of port. Choose from:
Wrapped Walnut Sweet Dough
Wrapped Walnut Baklava
Pistachio Baklava
Special with Pistachio Baklava
Palace Roll
Sobiyet
Village Baklava
Home Style Baklava
Pistachio Kadaifi
Burma Kadaifi
Retailers
Take delivery of exquisite frozen baklava from Maun Bakery and present for sale only what suits your store's turnover. You'll appreciate less waste and greater presentation and freshness. Ideal for supermarkets, delicatessens and food markets as well as cake shops, bakeries and more.
Foodservice
Maun Bakery's wholesale baklava make it easy for you to serve quality products that boast professional presentation and glorious flavours. Provide baklava for celebrations or serve individual portions for dessert, catering or large crowds.
To find out more, view the company's website or contact Maun Bakery using the form.