Mmmore Raw Treats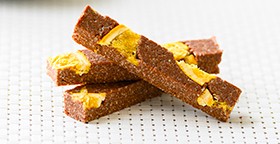 More Images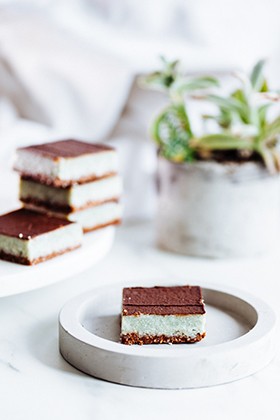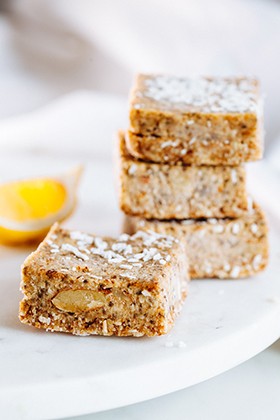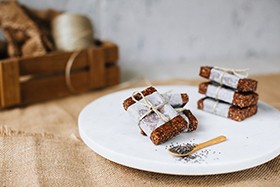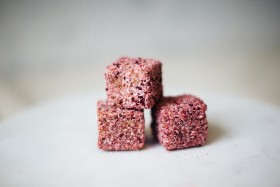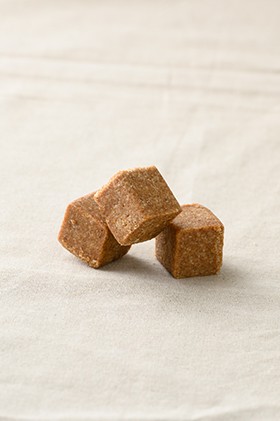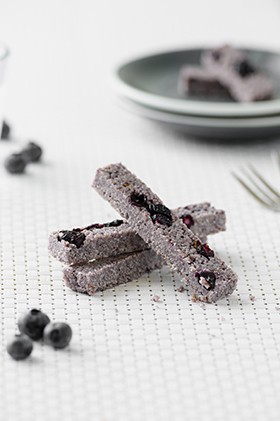 Mmmore Raw Treats
Raw, vegan wholesale treats, fingers and slices
Mmmore, established by Sydney woman, Lenka, is a business that offers astonishingly delicious raw food treats. Every morsel is made from fresh, clean ingredients. Lenka believes that food is an expression of love and she loves to feed others with healthy foods that taste incredible. Her raw slices, bars, fingers and power cubes are the treats of choice for vegans, vegetarians and anyone looking for a nutrition-packed snack without the guilt.
Raw
Vegan
Gluten free
Dairy free
Refined sugar free
Ready to serve
Raw Fingers – NEW!
Slim, slender morsels of delicious raw goodness. Mmmore Raw Treats have created their Raw Fingers with flavour, visual appeal, nutrition and portability in mind. When cravings strike, give 'em the finger!
Strawberry Finger – Fresh, strawberry fields flavour bursts from each bite. Visible chunks of strawberry feature in every Finger.
Blueberry Lime Finger – Spot the plump, juicy blueberries. These Fingers also showcase Australian finger lime and are infused with organic lemon oil.
Coconut Vanilla Finger – Sink your teeth into a scrumptious Coconut Vanilla Finger, loaded with flavour and flecks from all-natural vanilla beans.
Choc Orange Finger – The classic pairing of chocolate and orange comes to life in this decadent Finger featuring jewel-like orange pieces.
Raw Slices
Just when your customers think they "don't want dessert", they spy a slice that looks perfectly manageable. Be there for them with a mini raw treat they won't be able to resist. Presented in 5.3cm x 5.5cm size and supplied in boxes of 12.
Raw Peanut Butter Slice – It's peanut butter heaven, in a slice! Freshly ground raw peanuts pair beautifully with crunchy cashews, cacao and dates, plus extra peanut chunks.
Raw Caramel Slice – Sticky, gooey and utterly sublime, it has a silky date and cashew caramel filling and a biscuity coconut base.
Raw Mint Slice – Breezy, refreshing and more-ish thanks to pure peppermint oil and there's green spirulina for extra nutrition power.
Raw Cacao Nut Slice – Nut lovers adore these! They're loaded with almond and walnut chunks as well as sunflower seeds and linseeds for even more crunch.
Raw Coconut Slice – Coconut fans unite! Revel in the lush coconut filling, chewy almond base and irresistible raw choc top.
Raw Lemon Chia Slice – Zesty lemon and crunchy chia go hand in hand with a scrumptious almond filling.
Raw Bars
There's nothing like a raw bar of tasty, nutritious goodness to keep you going when you're active. Mmmore's bars are the ideal treat to stash in your gym bag, desk drawer, glovebox or handbag. Supplied in boxes of 12.
Natural – This 'Buckwheat Apricot Bliss' bar is not a muesli bar as it contains no oats. What it is loaded with is buckwheat, apricots, goji berries, sultanas, pepitas and coconut. Sweetened with low-fructose brown rice syrup.
Superfood – Consider this your 'Superhuman No-Muesli' bar and enjoy the satisfying blend of goji berries, chia, cacao and buckwheat, plus low-fructose brown rice syrup for steady energy.
Raw Power Cubes
Exclusive to Mmmore, Raw Power Cubes may look cute and sweet but they pack a punch in terms of nutrition.
Choco Power Cubes – 'Power Up Choc' is loaded with protein as well as raw nuts, seeds and cacao. Expect to feel invincible!
Raspberry Power Cubes – 'Pink Macadamia' is nutty, tangy and gloriously pink to tame the souls of even the hardest taskmaster.
Cashew Crunch Power Cubes – 'Cashed-Up Crunch' is an explosion of cacao nibs and cashews with the added scrumptiousness of fudgy date and cacao butter.
Vanilla Power Cubes - Crunchy, munchy almonds, sunflower seeds, linseeds and coconut are blended with dates and raw vegan protein powder and sweetened with organic maple syrup.
Banana Bread Power Cube – All the flavours of your favourite café treat but in a nutritionally-dense, raw power cube.
Berry Hemp Power Cube – Packed with pure hemp protein, this cube is festooned with natural strawberries and blueberries.
Peanut Cranberry Power Cube – Scrumptious peanuts and juicy cranberries give this one a sensational texture and tons of flavour.
Retailers
Stock Mmmore Raw Treats in your health food store, vegan or gluten free specialty outlet, delicatessen, fine food hall or supermarket. Your customers will love having so much variety to choose from, and all nutritious and tasty.
Foodservice
Be ready for your vegan, raw-food customers with decadent sweet treats from Mmmore! Ideal for cafes, restaurants, tea houses, crossfit studios, personal trainer businesses, school tuckshops, university canteens and more.
For more information or to place an order, contact Mmmore today.
---
More information about Mmmore Raw Treats
Interview - Lenka Porubska - Mmmore Raw Treats
Raw foods are soaring in popularity and for good reason. They're healthy, tasty and very good lookin'! Founder and Director of Mmmore Raw Treats, Lenka Porubska even created her own unique product, Power Cubes. We talked with Lenka about why her range is different. Click here