Salt Flakes Kitchen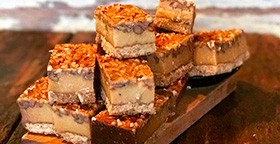 Salt Flakes Kitchen
Wholesale Cakes, Slices and Muffins
Salt Flakes offers a range of wholesale cakes, slices, loaves and muffins for cafes, restaurants, dessert cafes, tea houses, caterers and other foodservice businesses.
All products have a rustic finish with untrimmed edges because they are handmade. They are supplied whole and frozen for convenience and to minimise waste. Salt Flakes Kitchen also offer custom orders so give them a call to discuss your requirements.
Note that gluten free items are produced in the same kitchen as gluten-containing products.
The Salt Flakes Kitchen range
Loaves
Baked to golden brown perfection, every loaf has its own irresistible flavour and can be served warmed or ambient, with butter and preserves.
GF Date & Walnut Loaf – A hearty loaf with deep caramelised flavours and plenty of satisfying texture. Decorated with chopped walnuts.
Banana Bread – Everybody's favourite, it's loaded with classic banana flavour and has a golden crust.
Raspberry Coconut Loaf – A blonde batter, studded with delectable raspberries and topped with toasted, shredded coconut.
Pear & Cinnamon Loaf – Gently spiced with ginger and cinnamon and with delicious flecks of fresh pear.
Cheesecake
A slice of cheesecake with a garnish of whipped cream and some fresh berries makes a fabulous impact.
GF Baked White Chocolate Raspberry Cheesecake – Created for maximum visual appeal as well as to delight the tastebuds, this cheesecake will quickly become a favourite with your customers.
Layered White Chocolate Mousse Cheesecake - A sublime cheesecake with layers of white chocolate mousse and vanilla, topped with passionfruit.
Raw Cakes
Popular amongst health-conscious customers, these raw cakes also find favour with those looking for a sweet treat for dessert, afternoon tea or high tea.
Fig & Lemon Cake – Tantalising flavours and gorgeous eye appeal.
Chocolate Fudge & Pecan Cake – Even the name sells it! Fudgy, nutty and irresistible.
Classic Slices
Serve your customers a slice of sweet heaven!
Chocolate Macadamia Brownie – Dense, chocolatey and nutty with a great bite to every mouthful.
GF Caramel Pecan Slice – So sweet and gooey, with a crunchy topping of chopped pecans.
Raspberry Cheesecake Brownie – A dessert in a slice! Easy to serve and easy to eat, it's a sweet sensation in every way.
Carrot Cake Slice – Delightful, moist carrot cake with cream cheese icing and topped with roasted walnuts.
GF Caramel Slice – A plank of sturdy, thick caramel topped with a thick layer of dark chocolate.
GF Lemon & Polenta Slice – Sunny yellow with the refreshing flavour of lemon.
GF Orange & Almond Slice – Yummy gluten free muffins with a refreshing orange twist.
GF Choc Hazelnut – Scrumptious and decadent, it's one for lovers of Baci chocolates.
GF Peanut Butter Brownie – Peanut butter is often polarising but for those who are fans, it doesn't get much better than this.
GF Peanut Butter & Jam Brownie – An extra layer of loveliness on the Peanut Butter Brownie with the addition of sweet, sweet jam.
Muffins
Everybody loves a muffin! They're versatile and portable and chock-full of mouth-watering ingredients.
Raspberry White Choc Chip – Perfect for morning or afternoon tea or picnic baskets.
Banana Coconut Choc Chip – Tropical flavours with decadent choc chips.
Orange & Poppy Seed – A classic ingredient pairing, in a beautiful muffin.
Blueberry – Traditional blueberry muffins are always a hit.
Chocolate Choc Chip – Not just chocolate but loaded with choc chips too.
Apple Crumble – A dessert in muffin form. Serve warmed with whipped cream.
Strawberry Rhubarb Crumble – Just like grandma used to make, but in a muffin.
GF Banana Berry – Sweet and comforting and studded with ruby berries.
Retailers
Offer your customers totally delectable cakes, muffins, slices and loaves that will have their mouths watering on sight. Ideal for supermarkets, convenience stores, delicatessens, greengrocers, market stalls and more.
Foodservice
Serve your customers gorgeous sweet treats that can be enjoyed for morning or afternoon tea, corporate events, special occasions and even desserts. Depending on the product, serve as is or with ice cream, cream or fruit coulis. Rotate the range in your business so there's always something interesting and different to try.
For more information or to place an order, contact Salt Flakes Kitchen today.