Melbourne Munchies Cookies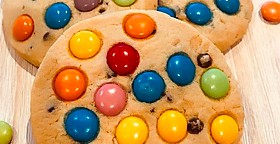 Melbourne Munchies Cookies
Wholesale Biscuits & Cookies
Get a taste of the world's most liveable city with Melbourne Munchies Gourmet Cookies! Made with 100% real butter, fast selling, popular flavours include 'Double-Choc Fudge', 'White-Choc Macadamia', 'Rainbow Pebbles' and 'SUPERFOOD Apricot & Quinoa GLUTEN FREE'. Sweethearts Wholesale Cakes & Pastries, Cookies, Muffins, Slices, Cupcakes & Desserts Proudly Delivering To Cafes & Caterers in Melbourne, Sydney, Adelaide, Hobart, Brisbane, Gold Coast, Darwin, Perth! HACCP certified and 100% Quality Guaranteed To Romance Your Tastebuds With Sweethearts!
Sweethearts Wholesale Cakes & Cookies
Since 1996, Sweethearts Cakes & Cookies – owned and lovingly run by three Dads – has been churning out fabulous gourmet cookies and biscuits. Their motto is 'romance your tastebuds' which brings to mind some interesting imagery of scrumptious baked goodies that never fail to delight. Today, Sweethearts' wholesale biscuits and cookies are putting smiles on the faces of customers throughout Australia and making life so much easier for café owners who need a top quality product with consistency to serve.
The Sweethearts Cakes & Cookies facility is HACCP certified so you can enjoy peace of mind knowing that every product you buy has been created to the highest standards of quality control and manufacturing standards.
Wholesale café cookies
Any one of the following cookies will tempt your customers into parting with another couple of dollars with their cappuccino, hot chocolate or pot of tea.
Yum Yum Cookie
Kids' favourite chocolate chip cookie studded with Smarties!
Chokky Yums
Fabulous chocolate cookie with white choc chips and decorated with loads of Smarties.
White Choc Mac Chunk Cookie
A popular café cookie with the added appeal of fresh macadamias.
Double Choc Cookie
Chocolate lovers rejoice! Check out the white choc chunks in this chocolate cookie.
Florentine
A crunchy combo of dried fruits, cornflakes, nuts and chocolate, all in a caramelised bundle.
Cookies 'n' Cream Melting Moment
Just when you thought the Melting Moment couldn't get any better! Two delectable soft chocolate biscuits sandwich a velvety smooth vanilla crème.
Devonshire Creams
Two shells of delicate, buttery shortbread sandwich vanilla crème and succulent raspberry jam. Just like a Devonshire tea in a biscuit.
Vanilla Yo Yo
Two irresistible shortbread shells sandwich sweet vanilla icing.
Apricot Muesli Hippy Cookie
Far out, man. A wholesome combination of dried fruits, seeds and oats … practically a meal in a cookie for any self-respecting 'hippy'.
Wrapped cookies
Individually wrapped for freshness and convenience, the wrapped range offers a grab-n-go option for all kinds of businesses. Display in the attractive countertop box to make it easy for those impulse purchases to happen. Suitable for supermarkets, confectionery stores, petrol stations, beach kiosks, juice bars, school tuckshops, canteens, snack bars and more.
Superfood Apricot & Quinoa Cookie (gluten free)
A wholesome healthy muesli styled cookie with organic quinoa, apricots, pumpkin seeds, sunflower seeds and gluten free ingredients.
Rainbow Pebbles Cookie
A yummy choc chip cookie smothered in smarties/coloured choc drops. No artificial colours or flavours.
Double Choc Fudge Cookie
Sweethearts' famous chocolate cookie recipe with premium cocoa chocolate and white choc chunks throughout.
White Choc Macadamia Cookie
Such a delicious vanilla cookie with golden roasted macadamia nuts and white choc chunks throughout.
Wholesale gluten free cookies
Gluten free deliciousness for your gluten sensitive customers.
Gluten Free White Choc & Cranberry Cookie
A delicious cookie with cranberries and half dipped in yoghurt. Individually wrapped to protect gluten free properties.
French Macarons
Available in mixed-variety boxes of 40 macarons. They can be stored 5-7 days refrigerated and for 4 months frozen.
Flavours include
Salted caramel
Pistachio
Choc hazelnut (nutella)
Double chocolate macaron
Raspberry macaron
and many, many more!
Retailers
Cookies and biscuits are wonderful bottom line boosters. As impulse purchases, they make a buying decision a no-brainer and those couple of extra dollars per customer really add up. Position individually wrapped cookies at your point of sale or with companion products such as ice cream, confectionery or coffee and tea. Ideal for fruit and veg retailers, gift stores, motel reception and on the counter at places of business.
Foodservice
Spare your business the investment in time, skilled staff and space required to store ingredients. Sweethearts Cakes & Cookies are ready to go and your customers will adore the flavours. Perfect for cafes, restaurants, hotels, caterers, hospitals, lunch vans, kiosks, market stalls, corporate events and anywhere that a quick, sweet fix is the order of the day.
Contact Sweethearts Cakes & Cookies today to order your first delivery of quality wholesale biscuits and cookies.
---
More information about Melbourne Munchies Cookies
Sweethearts' Wholesale Cakes & Cookies
Browse the current catalogue for Sweethearts' Wholesale Cakes & Cookies. Click here