Sweethearts Wholesale Cakes & Cookies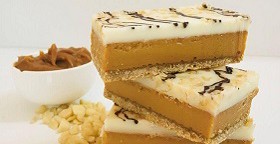 Sweethearts Wholesale Cakes & Cookies
Sweethearts Wholesale Cakes & Pastries, Cookies, Muffins, Slices, Cupcakes & Desserts Proudly Delivering To Cafes & Caterers in Melbourne, Sydney, Adelaide, Hobart, Brisbane, Gold Coast, Darwin, Perth! HACCP certified and 100% Quality Guaranteed To Romance Your Tastebuds With Sweethearts!
Sweethearts Wholesale Cakes & Cookies
Sweethearts Cakes & Cookies has been owned and lovingly run by three Dads since 1996. The company's wholesale cakes and slices are setting display cabinets alight with their spectacular presentation. With flavours that induce addictions, you can bet your customers will be back for more!
Manufacturing product in their HACCP certified facility means that you can count on Sweethearts Cakes & Cookies for consistency, top quality and the highest standards of food.
Don't just believe the pictures; from your first order, you will identify the outstanding quality and value that comes with every wholesale cake and slice you order from Sweethearts and you will be excited to put them in your cabinet and watch the orders to roll in!
Wholesale cakes
Sweethearts' cakes are available in either 10" round (12-16 slices) or 12" round (16-20 slices).
Tiramisu 10" – Layers of coffee soaked sponge fingers and creamy mascarpone. True Italian deliciousness.
Wildberry Cheesecake 10" – Deep dish creamy cheesecake piled high with a spectacular wildberry topping.
Marz Bar Cake 10" – Creamy, mousse-y and delectable, smothered with chocolate over the entire outside.
Toblerone Cheesecake 10" – That awesome chocolate bar, in cheesecake form! See it to believe it.
Sticky Date Pudding Cake 10" – All the wonder of sticky date pudding without the mess. It comes complete with its own butterscotch 'sauce' topping; simply slice and serve.
Lemon Meringue Pie 10" – 'Nuff said. Gloriously decorated, perfect for your hard core sweet tooth customers.
Trio Mousse Cake 10" – Three layers of mousse, plus cake, plus ganache and delicate hearts, stars and moon decoration.
Vienetta 10" – Outstanding presentation, layers of chocolate cake, cream and addictive flavour.
Tim Tam Cheesecake 10" – Australia's favourite biscuit in cake form!
Mississippi Mudcake 10" – Chocoholic madness; the undisputed king of chocolate cakes!
Lemon Tart 10" – Zingy, zesty and creamy … lemony goodness.
White Chocolate Mudcake 10" – Beyond the pale in only the best way. Three layers of cake interspersed with delicious ganache.
Fruit Flan 10" – So pretty, so colourful, light and fresh.
Flourless Chocolate Sin Cake 10" – No need to repent; simply enjoy. Chocoholics unite!
Chocolate Ripple Cake 10" – Ooh la la; rolled chocolate 'cigars' are literally the icing on the cake and when you cut it open, you'll marvel at the decadent creation within.
Italian Raspberry Tart 10" – Custardy, fruity and so pretty! Decorated with meringue crowns and berry topping.
Hummingbird Cake 10" – A real cakey cake with layers of sweet and creamy filling, topped with a nest of chopped dried fruits.
Flourless Orange Almond Cake 10" – Moist and syrupy, coated in an amazing creamy swirl and decorated with chocolate 'flames' and saturated orange slices.
Cookies & Cream Cheesecake 10" – Exactly as the name suggests; but grander and prettier.
Chocolate Mountain Mousse 10" – More of a dessert than a cake with irresistible cake pops perched atop and smothered in chocolate for the ultimate in presentation.
Cherry Delight Cake 10" – Think Black Forest but also think pink. Exceptional to look at, irresistible to devour.
Funky Monkey Banana Cake 10" – A traditional favourite, layered banana cake studded with pecans and banana chips.
Baci Cake 10" – Like a passionate Roman kiss, perfect for the diehard chocolate lover.
Bugsy Carrot Cake 10" – What's up, doc? Sweet temptation, that's what! A layered carrot cake peppered with nuts and dusted with icing sugar.
Baileys Cheesecake 10" – Marbled for extra eye appeal and topped with a creamy Baileys-infused layer.
Black Forest Cake 10" – Dark chocolate cake, creamy filling and studded with red, succulent cherries.
Wholesale slices
Quick and convenient, beautifully presented, easy to serve … Sweethearts' slices are the perfect quick fix for customers and fabulous dollar-spinners for your business.
Lamingtons (Chocolate) box of 8 – The great Aussie tradition; simply plate or bag and serve. Lovely surprise jam centre.
Lamingtons (Strawberry) box of 8 – Pretty in pink; perfect for Breast Cancer morning tea events. Sandwiched with luscious strawberry jam.
Jelly Cheesecake Slice box of 6 – Crumb base, creamy filling and scarlet fruity topping.
Choc-Peanut Butter Crunch box of 10 – Decadent crunch slice of peanut butter, chocolate and rice bubbles. School lunches were never this good.
Chocolate Cream Slice with Tim Tam box of 10 – Chocolate mudcake, chocolate biscuit and white chocolate cream mousse. Smashed up Tim Tam biscuits make up the inside, wow!
Macadamia Nut Blondies box of 10 – Silky white mudcake with crunchy macadamia nuts throughout.
Vanilla Slice box of 6 – Classic combo of creamy award winning custard between sheets of lightly baked puff pastry.
Raspberry White Choc Slice box of 10 – Sweet and scrumptious with a tempting stripy topping.
Choc Caramel Slice with Mars Bar box of 10 – Chocolate mudcake and caramel filling with mars bars and chocolate top.
Redhead Slice box of 10 – Creamy cherry and coconut blend on a chocolate biscuit base with chocolate on top.
Rocky Road Slice box of 10 – Chocolate, coconut, cherries and marshmallows … rocky road lovers will not pass this one up!
New York Brownie box of 10 – Classic New York Style moist and chewy chocolate brownie with walnuts.
Hedgehog box of 10 – A classic favourite comprised of chocolate, coconut and crunchy biscuits, with choc top.
Low Fat Apricot Health Bar box of 10 – Healthy, soft baked muesli combo of oats, apricots and fruits, topped with a layer of yoghurt. 97% fat free!
Peppermint Slice box of 10 – Chocolate and biscuit slice with peppermint cream icing and chocolate shavings on top.
Lemon Slice box of 10 – A real favourite; lemon juice, coconut and crunchy biscuits iced with tangy lemon icing. Sweethearts' number one selling slice!!
Caramel Slice box of 10 – It's almost criminal not to serve these! Velvety smooth caramel on a bed of biscuits with a chocolate blanket on top.
Apple Cinnamon/Apple Blue Crumble box of 10 – A comforting blend of apples and either blueberries or cinnamon on a crunchy biscuit base with a toasted oats crumble top.
Wholesale muffins
Loaded with goodies and presented with tempting eye appeal, Sweethearts' wholesale muffins are eagerly snapped up by customers. Regular sized muffins come in boxes of 6 individual flavours.
Blueberry Muffin - A classic favourite muffin, soft and fluffy with blueberries and blueberry patisserie filling bursting throughout.
Dubchoc Muffin – Smooth chocolate muffin with chocolate topping crunchy choc bits.
Banana & Caramel Muffin – Banana muffin with caramel crème and a dash of white chocolate.
Raspberry White Choc Muffin – Totally tasty muffin loaded with raspberries and white chocolate.
Nutella Muffin – Classic muffin swirled with luscious Nutella prebake, then pumped full of warm Nutella after baking so it re-sets as a gooey surprise inside.
Butterscotch White Choc Caramel Muffins – Delicious muffin with caramel pumped into the centre, white chocolate casing and crunchy butterscotch pieces.
Fat Free Lemon Poppy Muffin – Yummy lemon and poppy seed muffin that's 97% fat free!
Mini Muffin Assorted – The perfect mini sized muffin for small snacks, lunches, finger food or when a smaller muffin bite is desired. Mixed boxes of 12 include chocolate, blueberry and raspberry.
Cocktail Muffins (box of 20) – Bite sized muffins ideal for finger foods, functions catering or lunches. Mixed box includes blueberry, chocolate and raspberry.
Cocktail Muffins (box of 12) – Boxes contain assorted flavours including chocolate, blueberry and orange poppy seed.
Wholesale cupcakes
Sweethearts' wholesale cupcakes are made with premium white mudcakes (not sponge cake) with natural coloured icing and the ring/pick of your choice. Each cupcake set comes in boxes/multiples of four standard sized or mini cupcakes in convenient packs of 12.
Choose from Sesame Street, Disney Princess, Spiderman, Hello Kitty, Dora & Boots, My Lil Pony, Cars Lightning McQueen, Angry Birds, Batman, Mickey & Minnie, Strawberry Rainbow, Red Velvet Christmas, Vanilla Rainbow and Easter cupcakes. Mini assorted cupcakes with themed toppers are also available in boxes of 12.
Retailers
Stock Sweethearts' whole cakes to sell to your customers for special occasions, corporate events and grab and go birthday cakes. With their spectacular presentation, they make purchasing an easy decision. And Sweethearts' slices, muffins and cupcakes are simple to pop in a bag and send away with customers. Enjoy offering your customers high quality, beautiful cakes, muffins and slices that you will be proud to display and sell. Ideal for gourmet delicatessens, cake shops and patisseries.
Foodservice
Just like having your very own pastry chef on the premises, but without the hassle and expense. Sweethearts' spectacular range of wholesale cakes, muffins and slices will make your business even more memorable. Simply slice and serve cake on a plate or decorate with cream, coulis, nuts, ice cream or any number of other accompaniments. Perfect for cafes, restaurants, hotels, caterers, hospitals, lunch vans, kiosks, market stalls and corporate events.
Contact Sweethearts Cakes & Cookies today to order your first delivery of quality wholesale cakes, cupcakes, muffins and slices.
---
More information about Sweethearts Wholesale Cakes & Cookies
Sweethearts' Wholesale Cakes & Cookies
Browse the current catalogue for Sweethearts' Wholesale Cakes & Cookies. Click here
Interview - Sweethearts Cakes & Cookies
Sweethearts Cakes & Cookies is churning out gorgeous, high quality, high value cakes, slices, cookies and muffins to the gourmet cafe market. We had a chat with the boys behind the business and learned why ready-made is the new black in cafe circles. Click here