Baylies Epicurean Delights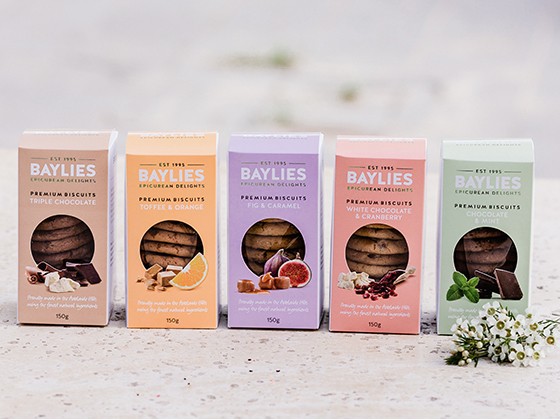 More Images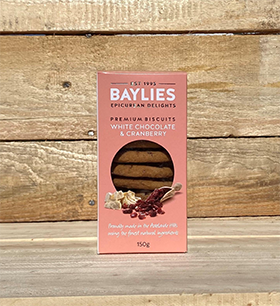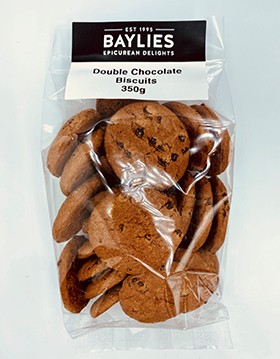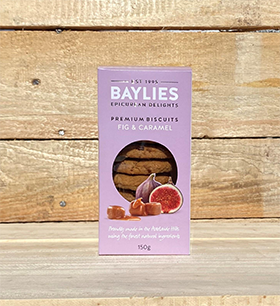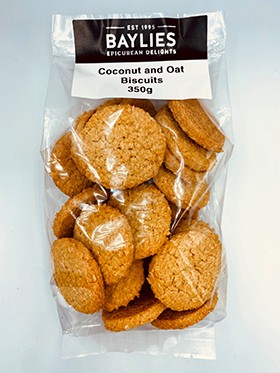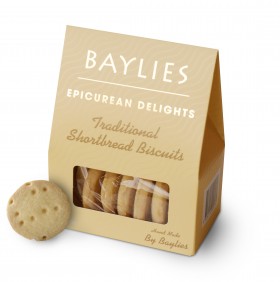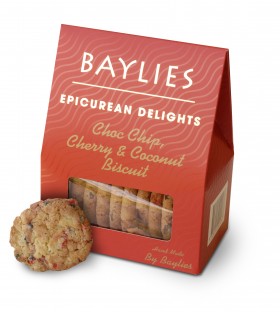 Baylies Epicurean Delights
Biscuits and Shortbreads
Situated in the idyllic country setting of rural South Australia, Baylies Epicurean Delights produce fine quality gourmet biscuits and shortbread products using the finest ingredients South Australia has to offer. Beautifully presented for gourmet gift giving, they are designed to catch the shopper's eye.
Premium Biscuits
Chocolate & Mint - Baylies rich vanilla Chocolate and Mint Biscuits are filled with Barry Callebaut chocolate
White Chocolate & Cranberry - Baylies rich vanilla White Chocolate and Cranberry Biscuits are filled with Belgian white chocolate and juicy cranberries.
Toffee & Orange - Baylies rich vanilla Toffee and Orange Biscuits are generously filled with crunchy toffee and pieces of candied orange
Fig & Caramel - Baylies rich vanilla Fig and Caramel Biscuits are generously filled with juicy diced figs and chewy caramel pieces.
Triple Chocolate - Baylies rich Triple Chocolate Biscuits are generously filled with fine white, milk and 70% dark Belgian chocolate
Biscuits
Not your average morning tea bikkies, Baylies' biscuits and biscotti are made with luscious gourmet ingredients to elevate tea time into something special.
Chocolate Chip Cherry & Coconut Biscuits – Made using the finest Belgian chocolate, coconut and sweet cherries. Perfect to enjoy with a hot cup of tea.
Toffee, Almond & Walnut Biscuits – Made with toffee chips, walnuts and almonds.
Chocolate, Orange & Almond Biscotti – A twice-cooked biscuit made with Belgian chocolate chips, almonds and orange zest. Dunk into tea or coffee.
Double Chocolate & Hazelnut Biscuits – A crunchy style biscuit made with the finest Belgian chocolate and flavoured with crunchy roasted hazelnuts.
White Chocolate, Ginger & Pistachio Biscuits – Made using fine Belgian chocolate, crunchy pistachios, white chocolate chips and glazed ginger pieces.
Jenny's Biscuits
Jenny's Biscuits range is suitable to enjoy with morning or afternoon tea with friends and family.
Cranberry & Orange Biscuits - The cranberry and orange biscuits are made to Baylies' traditional recipe with cranberry pieces and orange oil.
Blueberry & Chocolate Biscuits - The blueberry and chocolate biscuits are made to Baylies' traditional recipe with whole blue berries and dark Belgian chocolate.
Glaced Ginger Biscuits - This is Jenny's own recipe and has always been a family favourite. The glaced ginger pieces and mixed spice with the sweetness of the biscuit recipe make a delectable treat.
Macadamia Shortbread Biscuits - A buttery traditional shortbread recipe with the crunch of macadamia nuts.
Simnel Biscuits - Made with currants and spice these biscuits are what we call a 'hot cross bun in a biscuit'.
Shortbread
Baylies' shortbread – available in rounds, gift boxes or biscuits – is every bit the nostalgic sweet treat you remember from your childhood but made even better with the addition of gourmet ingredients.
Traditional Shortbread Biscuits – Soft and buttery, with that wonderful melt in the mouth texture.
Traditional Shortbread – Made using fresh unsalted butter to a traditional recipe, decorated with blanched almonds and a light dusting of sugar. Available in a round gift package or attractively boxed.
Macadamia & Wattleseed Shortbread – Baylies' traditional shortbread recipe with the rich chocolate and coffee flavour of roasted wattleseed. A thoroughly Australian experience. Available in a round gift package or attractively boxed.
Rumballs
Made with dark Belgian chocolate and dark rum.
Retailers
Position Baylies Epicurean Delights' biscuits, shortbread and pralines for gourmet gift giving and entertaining. Offer taste tests and give customers ideas on what products to pair with which cheeses, coffees, teas and so on.
Foodservice
Go the extra mile with your cheese boards, High Teas and catering trays. Baylies Epicurean Delights are designed for extravagant enjoyment. Their fine ingredients, indulgent flavours and expert presentation will show that you offer outstanding quality in all that you do.
To place your first order, contact Baylies Epicurean Delights today.
---
More information about Baylies Epicurean Delights
Interview - Angela Bell - Baylies of Strathalbyn
Baylies of Strathalbyn is a supplier of biscuits, cakes, puddings and crackers. Located in rural South Australia, they are surrounded by quality food purveyors of all types and fit perfectly with the standard of foods produced in the area. We enjoyed chatting with Angela Bell, Sales Manager and bring you this interesting collection of tidbits. Click here
Baylies of Strathalbyn
Biscuits, cakes, puddings and crackers are lovingly churned out at Baileys of Strathalbyn, a producer of fine quality gourmet products based in rural South Australia. Established in 1995 as a cottage kitchen industry, Baylies' business has evolved to where they now occupy a modern production facility to create foods to the highest standards. Click here