Baylies Epicurean Delights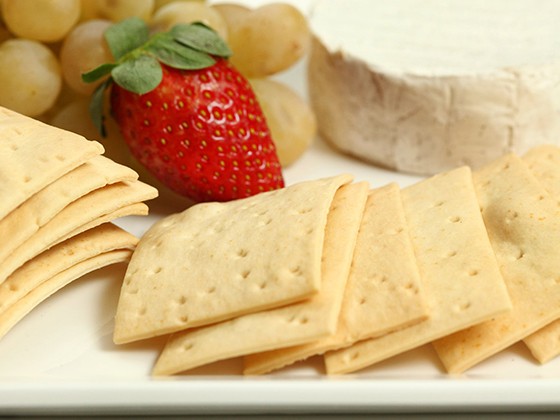 More Images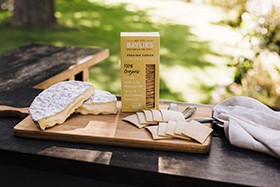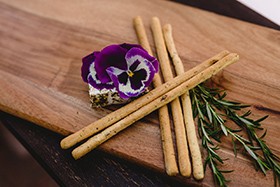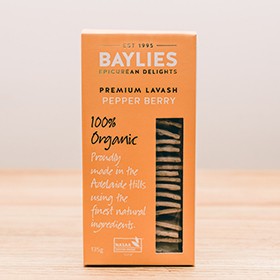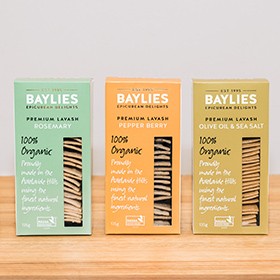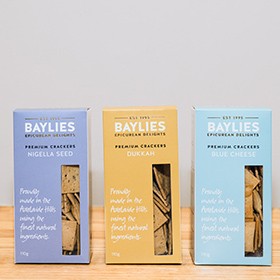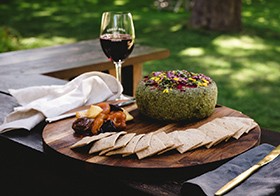 Baylies Epicurean Delights
Baylies Epicurean Delights Crackers and Lavash
Baylies Epicurean Delights have been baking scrumptious goodies for gourmet food lovers since 1995. Their range of Gourmet Crackers and Lavash make entertaining easy and special. Available in a range of popular flavours, they are made with high quality ingredients including fresh butter and olive oil. Boxed in attractive packaging, the crackers and lavash make effortless additions to gift hampers and can be taken along when invited for a meal, and handed over with pride.
Premium Crackers
Serve your guests gourmet crackers with pleasant crispness and subtle flavours. Made with real butter and olive oil, they will enhance presentation and can be enjoyed on their own or with cheeses or antipasto.
Premium Heysen Blue Cheese Crackers – A rich cracker made with real Heysen blue cheese and locally sourced parmesan. Add them to your next antipasto platter.
Premium Nigella Seed Crackers – The mild, nutty, onion flavour of nigella seeds adds something irresistible to these crackers. Add to an antipasto platter or enjoy with any type of cheese you like.
Premium Dukkah Crackers – Explore the flavours of exotic Egypt with Baylies' homemade dukkah. It's crafted from Riverland almonds, cumin seeds and coriander. Any type of cheese will be perfectly complemented with these crackers.
Premium Sesame Seed Crackers – Crisp and more-ish with sesame seeds, olive oil and fresh butter.
Organic Premium Lavash
Certified Organic with NASAA - Vegan Friendly
Baylies' savoury lavash products are made with Australian organic olive oil and subtly flavoured with natural ingredients. Yeast and preservative free; available in 135g gift boxes.
Premium Pepper Berry Lavash – Flavoured with crushed pepper berries, this lavash adds a little bite to your favourite smoked cheddar or blue vein cheese.
Premium Olive Oil & Sea Salt Lavash – Delicately flavoured, it's the perfect accompaniment to your cheese platters or grazing tables.
Premium Rosemary Lavash – Subtly flavoured with savoury rosemary. Serve with cheeses of all kinds, including fruit cheeses.
Plain Lavash
The ultimate cheeseboard accompaniment with a neutral flavour.
Dipping Crackers
The perfect size for dipping. Add to an antipasto platter or scatter around gourmet dips.
Retailers
Offer your customers a quality product that has been produced with pride in Strathalbyn, South Australia. Suitable for gifting, entertaining and self-indulgence, Baylies' crackers and lavash will take pride of place in your customers' pantries.
Foodservice
Ideal for all occasions, Baylies' crackers and lavash will not disappoint on appearance, texture or flavour. They can be served with pride at corporate events, catered occasions, on cheeseboards, with dips and as part of a quality antipasto platter.
To discuss your requirements or to place your first order, contact Baylies Epicurean Delights today.
---
More information about Baylies Epicurean Delights
Interview - Angela Bell - Baylies of Strathalbyn
Baylies of Strathalbyn is a supplier of biscuits, cakes, puddings and crackers. Located in rural South Australia, they are surrounded by quality food purveyors of all types and fit perfectly with the standard of foods produced in the area. We enjoyed chatting with Angela Bell, Sales Manager and bring you this interesting collection of tidbits. Click here