Falwasser Crispbread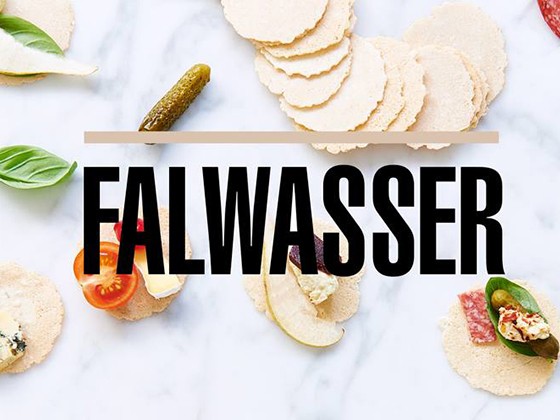 More Images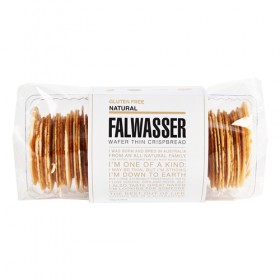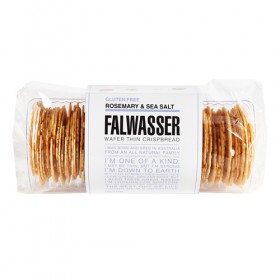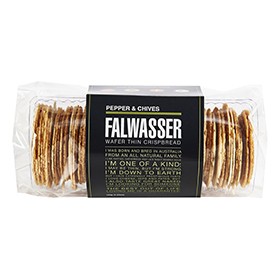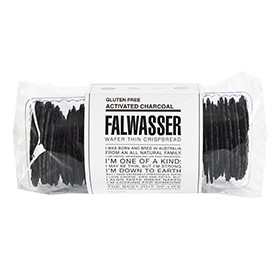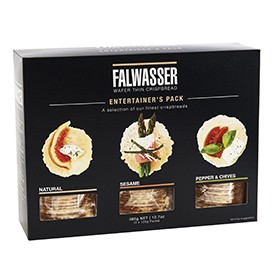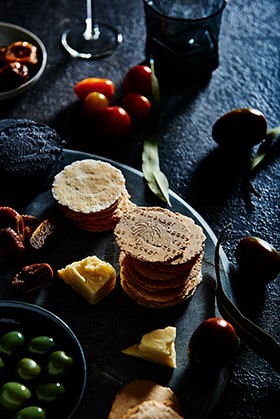 Falwasser Crispbread
Classic & Gluten Free Crispbread
The Falwasser Crispbread range is the ultimate base for cheeses and other gourmet toppings, or to enjoy with dips and pâtés of all kinds. Uniquely wafer-thin, with a crisp texture and delicate flavours, it is popular for its versatility.
Perfect to much on straight from the pack, as the ultimate gourmet snack or as the highlight of your canapés, cheeseboards and charcuterie platters, Falwasser Crispbread is a must-have in any pantry.
Gluten free options are also available and take a look at the dramatic black Activated Charcoal variety.
Available as 120g packs or available in 10g portion control packs.
Retail and gift hamper lines
Classic Range
Choose from three classic flavours, each with its own personality to go with your favourite pairings.
Falwasser Natural Crispbread
All-natural, wafer-thin crispbread that offers the ultimate crisp texture and neutral flavouring so you can use it with any accompaniment you choose.
Falwasser Pepper & Chives Crispbread
All-natural, wafer-thin crispbread with pepper and chives. Delicious with soft cheeses and creamy dips.
Falwasser Sesame Crispbread
All-natural, wafer-thin crispbread with sesame seeds. It boasts a slightly sweet, nutty flavour.
Falwasser Malt Crispbread
A semi-sweet, wafer-thin cracker with the rich sweetness of malt.
Gluten Free Range
The gluten free range makes it easy to accommodate those with dietary considerations, while still providing a gourmet option.
Gluten Free Natural Crispbread
All-natural, gluten free, wafer-thin crispbread. Serve with dips, cheeses and spreads.
Gluten Free Rosemary & Sea Salt Crispbread
Gluten free, all-natural crispbread with a hint of rosemary and sea salt for brilliant umami flavour.
Gluten Free Activated Charcoal Crispbread
An all-natural, gluten free, wafer-thin crispbread, made with Activated Coconut Charcoal. Its dramatic black colour makes it a sensational addition to any cheese platter.
Falwasser Entertainer's Pack
A selection of Falwasser's finest crispbreads in a 360g pack. It includes 120g Natural, 120g Sesame and Pepper and 120g Pepper & Chives.
Foodservice items
10g Portion Control for Foodservice Requirements
Falwasser also offers portion control packs of their gluten free products.
Gluten Free Natural
Gluten Free Activated Charcoal
Natural
Retailers
Many customers seek out the less mainstream brands to provide more polish to their entertaining. Falwasser Crispbread is a proud Australian brand, with all products made to exacting standards using quality ingredients. Its minimalist packaging permits visibility of the crispbread within and tempts customers to purchase. Position near appropriate accompaniments such as cheeses, quince paste, nuts, charcuterie foods, dips and spreads for inspiration. Also, be sure to highlight the gluten free varieties for those looking to avoid gluten.
Foodservice
Not your ordinary, everyday crispbreads, Falwasser Crispbreads are wafer-thin yet robust enough to take on all your creative toppings. Ideal for canapes, cheeseboards, charcuterie platters, cheese tastings and buffet selections, and available in gluten free as well. Falwasser is the logical crispbread grand to serve in your business.
To discuss your requirements or to place an order, contact Falwasser today.