JEEERKS Beef Jerky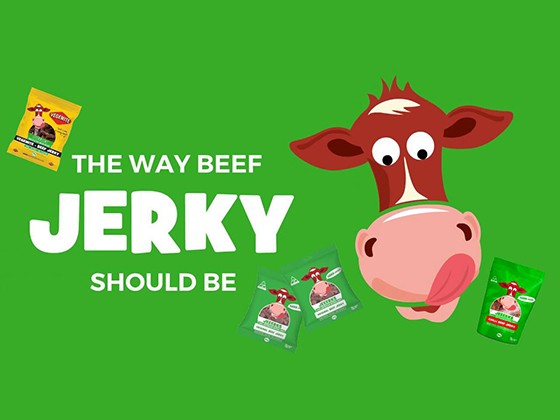 More Images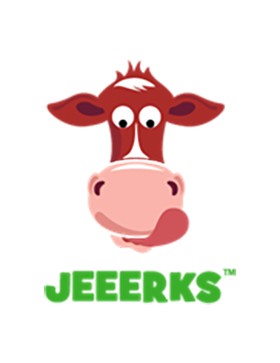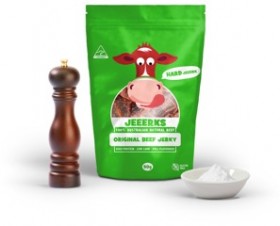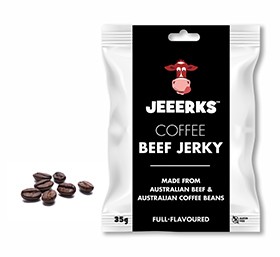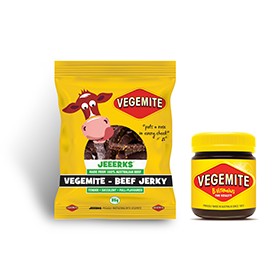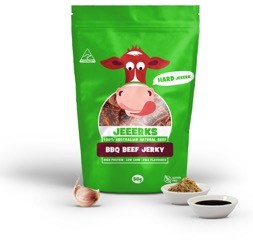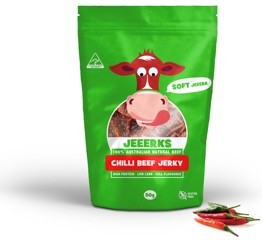 JEEERKS Beef Jerky
Revolutionising Beef Jerky
Distributors Wanted for Australia's quirkiest beef jerky brand!
Gold Coast-based JEEERKS Beef Jerky produces high quality beef jerky that is gluten free, low in fat, low in carbs, high protein and uses 100% Australian beef.
Opportunities exist for Distributors to promote JEEERKS to retail customers, not only in the health food sector but also to retailers seeking a unique and healthy product to add to their range. JEEERKS is rapidly gaining fans across the country for its fresh, clean taste and pleasant texture. Made with only natural ingredients and with nothing unnecessary added, its three flavours are available in Soft and Hard to suit all palates and tastes.
The flavours
Original Beef Jerky
A classic blend of herbs and spices for a rich and rounded flavour enjoyed by all ages. Available in 50g.
BBQ Beef Jerky
Slightly smoky, well rounded jerky infused with irresistible barbecue flavours. BBQ Beef is non-sugary and non-sticky. Available in 50g.
Chilli Beef Jerky
An expert blend of spices and just the right level of heat. Available in 50g.
Vegemite Beef Jerky
Our Vegemite Beef Jerky is made with the Original VEGEMITE that has been an Aussie favourite for over 95 years. Perfectly blended, tender, succulent and irresistibly flavoursome;
JEEERKS Vegemite Beef Jerky is taking jerky to the next level! Please note that this new product CONTAINS GLUTEN.
Coffee Beef Jerky
JEEERKS' new Coffee Beef Jerky is a unique combination of the finest Queensland grown and roasted coffee beans, 100% Australian beef and traditional beef jerky flavours.
JEEERKS Beef Jerky offers a number of cool benefits:
High potential for impulse purchases
Good margins
Eye-catching packaging
A quality health food product
Healthier alternative to high sugar, high fat snacks such as nuts, chips and lollies
All natural Australian Beef
Gluten free (except Vegemite flavour)
Available in 4 flavours – Original, BBQ, Chilli Beef and Coffee
Available in Soft and Hard
A guilt-free snack food
HACCP-accredited
Australian made and owned
JEEERKS Beef Jerky is currently found in a diverse array of retailers such as pubs, clubs, taverns, bottle shops, convenience stores, service stations, surf clubs, sports clubs, bowls clubs, greengrocers, butchers and theme parks. It is infinitely suitable for hotel mini bars, airlines, vending machines, newsagents, hardwares, chemists and food vans. As a proud Australian brand made with Aussie beef and only natural ingredients, JEEERKS will be an easy sell for you to offer your clients.
To find out more about being a Distributor for JEEERKS Beef Jerky, simply fill out your enquiry form.
---
More information about JEEERKS Beef Jerky
JEEERKS Beef Jerky Product Range
High Protein Low in Fat, Wholesome Snack Alternative. Choose from Original, Chilli, BBQ or Vegemite - Beef Jerky. Click here
JEEERKS Vegemite Beef Jerky
Beef Jerky and Vegemite combined. Two great Australian loves coming together. Click here