Sweethearts Cakes and Cookies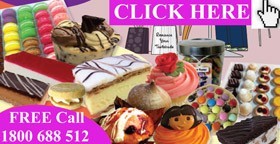 Sweethearts Cakes and Cookies
Distributors Wanted
Sweethearts Cakes & Cookies are seeking distributors for their range of cookies, cakes, desserts, muffins and slices. The company will provide you with a list of customers that are ready to place orders, and work constantly in the background sourcing leads in your area, to pass on to you. Their fast-selling products do very well in cafes, restaurants, bakeries and retail outlets and are very popular with caterers and other foodservice businesses.
They operate out of a facility that has achieved Spotless Standard HACCP accreditation and undergoes regular, 6-monthly audits. Clients appreciate the professional presentation as well as the peace of mind, knowing that the products are made to such high standards of hygiene.
The Sweethearts range features an abundance of delicious, attractive products that retailers and foodservice operators can pass off as their own. Beautifully presented and made with quality ingredients, purchasers can count on consistency and reliability.
Sweethearts Cakes & Cookies are currently offering a new Smart Watch or Fitband for new wholesale food business customers (strictly limited and subject to stock, conditions apply.)
For more information, contact Sweethearts Cakes & Cookies today.
---
More information about Sweethearts Cakes and Cookies
Sweethearts' Wholesale Cakes & Cookies
Browse the current catalogue for Sweethearts' Wholesale Cakes & Cookies. Click here
Interview - Sweethearts Cakes & Cookies
Sweethearts Cakes & Cookies is churning out gorgeous, high quality, high value cakes, slices, cookies and muffins to the gourmet cafe market. We had a chat with the boys behind the business and learned why ready-made is the new black in cafe circles. Click here