The Spotted Cow Cookie Co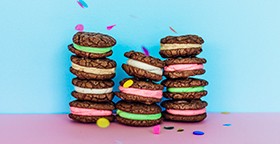 The Spotted Cow Cookie Co
From imaginative beginnings Tahnee Walters has turned Spotted Cow Cookies into a game changer. Never content with creating standard fare, Tahnee was determined one day to serve up deliriously good cookies that would satisfy cravings far and wide. That day has long since passed and Spotted Cow Cookies continues its magic run, delivering comforting morsels studded with gourmet ingredients Australia-wide. The products are available at 40,000 feet on board Qantas and Virgin Australia flights and can be found in store in the national chain of Hudsons Cafes.
Spotted Cow is a cookie supplier that bakes pride and magic into every delicious bite using real chocolate, butter and Australian ingredients wherever possible. Based in Sydney, they produce thousands of cookies a week and look forward to delivering into your café, venue, deli or store.
Café Range
Sway your customers with these cookies:
Spotted
Chocolate & Salted Caramel
Vanilla Melting Moment
Triple Chocolate Fudge
Moosli
Gluten Free Chocolate Mud
Maple, Fig & Toasted Walnut Moosli
Chirpy Chocolate Chunk (our awesome new kids cookie)
and many more
Brownies
There's something super special about a Brownie; they're the ultimate indulgence in chocolate. Our Brownies are both gold medal AND Champion award winners (2013 Sydney Royal Food Show). Our brownies are made with Belgian couverture chocolate and include a decadent Gluten Free Triple Chocolate Brownie (Champion award winner 2013).
Single Wrap Range
Spotted Cow's gorgeous range of cookies and Gluten Free cookies are available in single wraps in display boxes of 12. They are a display ready and convenient way of stocking Spotted Cow Cookies for your customers on the run.
Food Service & Catering
Spotted Cow has a range of bite sized bulk and single wrapped cookies perfect for your event, hotel, airline or store.
Retail Range
Spotted Cow have packed some beautiful cookies into gift and take home packs that are perfect for the shelves of your retail store or hamper and gift company. They include a range of cookies in cool and quirky milk cartons that are right on trend.
Corporate Christmas Hampers
Deck the halls with Spotted Cow Cookies, fa la la la la, la la la la. For our discerning Christmas hamper clients, we are now offering a range of exquisite cookie hampers which will delight recipients throughout the festive season. Call us and we can put a beautiful hamper together to gift to your special clients when you want to say Merry Christmas or just thank you!
Interested in stocking Spotted Cow Cookies?
If you relish exceptional epicurean treats and believe that food is more than simple sustenance, that it is a dance of delicacy and a marriage of mouth-watering majesty that must be awarded due reverence, you will doubtless be interested in stocking Spotted Cow Cookies for the delight of your clients. Contact us for information on stocking Spotted Cow's range of wholesale cookies, shortbreads and brownies, where to find us or how to become a Distributor.
---
More information about The Spotted Cow Cookie Co
Spotted Cow Cookies
We spoke with Tahnee Walters of Spotted Cow Cookies who supplies cafes, retailers and foodservice companies up to 70,000 individual cookies every single week! Click here
The Spotted Cow Cookie Co
An idyllic childhood spent baking cookies is the foundation for today's cookie success story, Spotted Cow Cookies, founded by all grown up Tahnee Walters. Having passed the ten year milestone, the company is on a fierce trajectory to international recognition and is already the cookie darling of high flying behemoth, Virgin Australia. Learn a little more about Spotted Cow and you'll soon realise you'd better climb on board too! Click here
Good old-fashioned medicine ....
The Spotted Cow Cookie Co. believe that cookies are healing, old-fashioned medicine … welcome to our pharmacy! Click here