8D House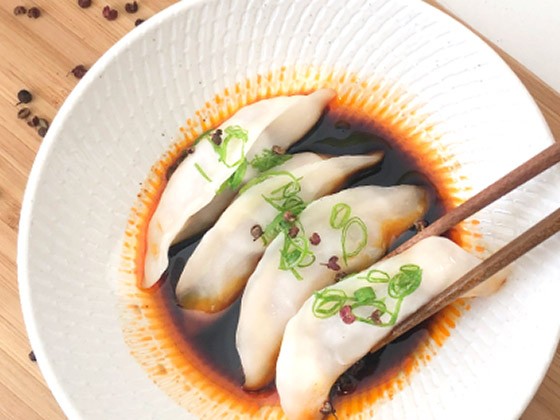 More Images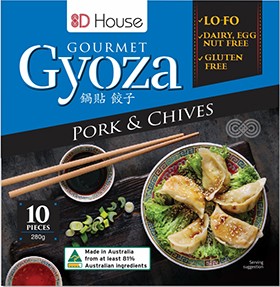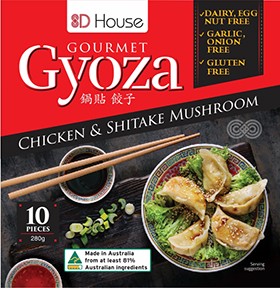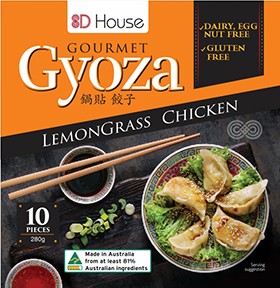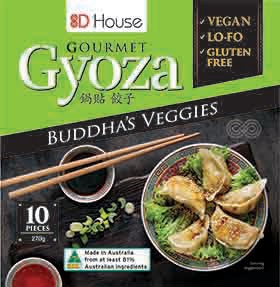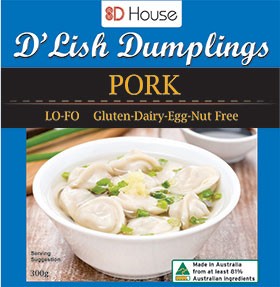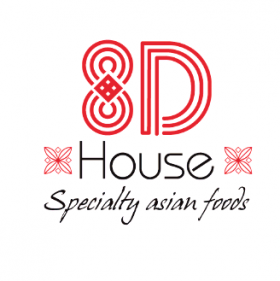 8D House
Popular, Wholesale Gluten Free Asian Gyoza/Dumplings
Two mothers, each with a health and fitness background wanted to bring a line of gluten free dumplings to market. They spent months developing their range and in early 2015, their vision became a reality! What started as a small café venture developed into a high-demand dumpling business and soon, the ladies were freezing their precious dumplings so they could be sent out to eager customers wanting to stock or serve them to their own customers. Today, 8D House runs from a wonderful commercial kitchen and the ladies are busy filling orders from both the retail and hospitality trade. Their dumplings – or gyoza – have become incredibly popular and they are now shipping throughout Sydney and Melbourne metro.
All dumplings are gluten free, taste delicious and are popular with adults and kids! They make a healthy, quick and satisfying meal or snack for any time of the day. Simply steam fry in a pan or add to tom yum soup.
Supplied frozen to retain freshness, lock in the flavour and arrive in perfect condition.
A range of tasty flavours to suit various preferences.
Available in attractive retail packaging or bulk quantities for foodservice.
All gluten free.
Made with quality ingredients.
The gyoza flavours
Enjoy as a snack with a dipping sauce or add to a soup. Choose from these tantalising varieties:
Lemongrass Chicken – Filled with premium chicken mince and vegetables. A popular flavour for all ages. Free from gluten, nuts, dairy and egg.
Pork – Delicious pork and spinach dumplings with a hint of ginger and five spice. Filling and flavoursome, they make a fantastic everyday meal. Free from gluten, dairy, nuts and egg.
Pork & Chives – Premium pork mince, wombok cabbage, chives and a hint of five spice go into these popular gyoza. Free from gluten, onion, garlic, nuts, dairy and egg.
Buddha's Veggies – A great vegetarian option, scrumptiously filled with fresh vegetables, tofu, a dash of miso and sesame oil. Free from gluten, onion, garlic, nuts, dairy and egg.
Chicken & Shiitake Mushroom – Loved by young and old, it's chicken and mushrooms in a gorgeous pastry parcel. Free from gluten, onion, garlic, nuts, dairy and egg.
Gourmet gyozas for hospitality
8D House also offers a couple of special flavours specifically for hospitality customers:
Korean BBQ Beef – A taste sensation made for restaurants! Filled with quality beef mince and vegetables and seasoned with Korean Bulgogi sauce. Free from gluten, nuts, dairy and egg.
Sichuan Pepper Pork – Another trade secret! Filled with quality pork mince and vegetables, seasoned with house-blended Sichuan pepper and chilli sauce. Free from gluten, nuts, dairy and egg.
Other gluten free Asian foods
BBQ Pork Char Siu Rice – Delicious Cantonese-style Char Siu with jasmine rice, bok choy and soy dressing. Sweet, savoury and aromatic. Free from gluten, nuts, dairy and egg.
Japchae Korean Potato Noodle – Japchae is a morish noodle dish made with sweet potato starch noodles. It's made with a generous helping of vegetables including shiitake mushrooms, carrots, spinach, chives and a touch of toasted sesame seeds. Free from gluten, nuts, dairy and egg.
Sesame Prawn Toast – Wonderful gluten free sesame prawn toast you can enjoy with peace of mind. Simply oven bake, no need to fry. Free from gluten, nuts and dairy.
Retailers
Keep your freezers loaded with 8D House's delicious gyoza. Made with love and quality ingredients and packed in colourful, eye-catching packs, they will quickly become your customers' new favourites. Easy to prepare and free of many common allergens, they have a whole lot going for them.
Foodservice
8D House makes it super easy for you to serve your customers gluten free Asian finger foods with confidence. All gluten free and also free from a number of other allergens, they are delicious, high quality and simple to prepare.
For more information or to place an order, contact 8D House today.