Charlie's Fine Food Co.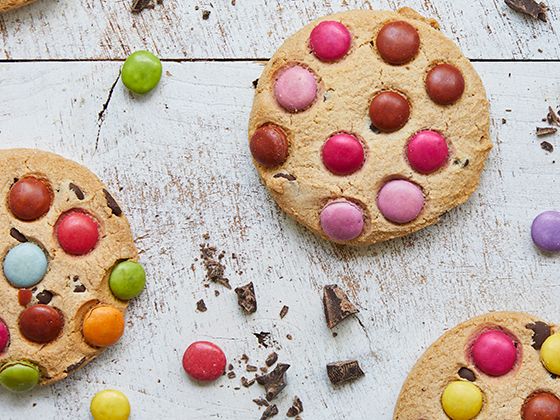 More Images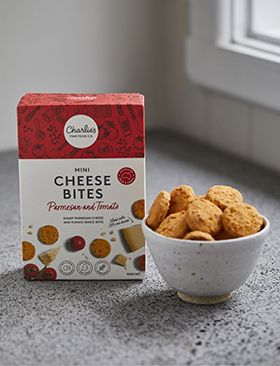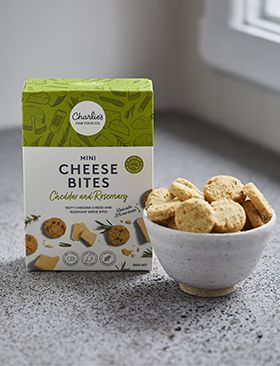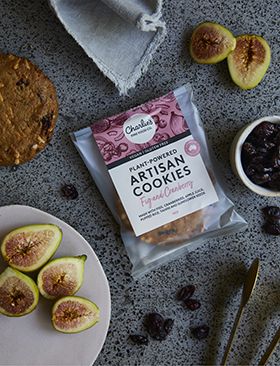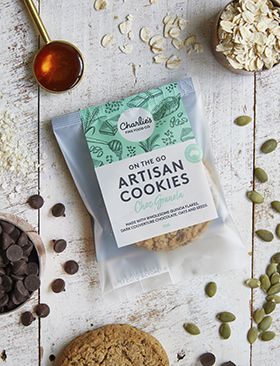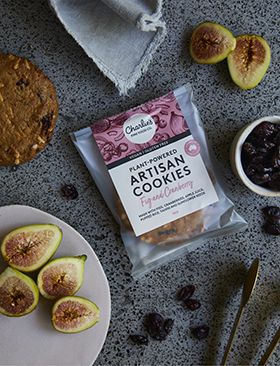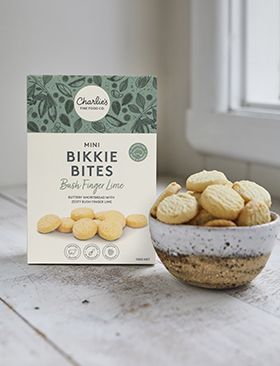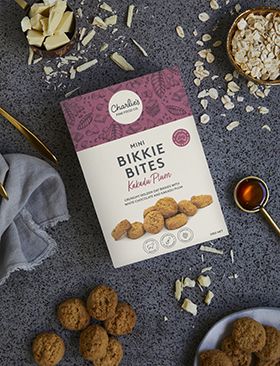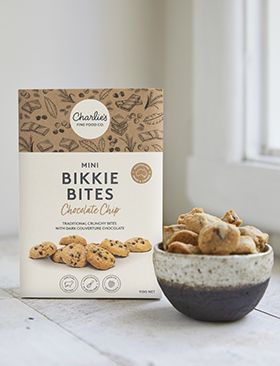 Charlie's Fine Food Co.
Australia loves Charlie's Fine Food Co.
From a small local shop to global baking business, our owners — Jacky and Ken — can tell a story or two about Charlie's. Through the highs, lows, and plot twists, we're proud to say that after 25 years we're still 100% Australian owned, and continue to bake all our delicious products locally.
Bringing delight has always been at the front and centre of our mission. From the cookies, biscuits, and slices that we bake, to the culture we create or the partnerships we have forged with our customers and our local community — we care about bringing people together and using what we do to make life a little bit brighter.
No preservatives or other nasties are added to our mixes and everything is made from scratch recipes using premium ingredients. We are SQF certified and proudly a 100% Australian made and owned food producers.
Since March 2016, we have been proudly supporting Australian non-profit organisations through our Proud To Call Australia Home snack boxes, which have been a complimentary offering on selected Qantas domestic flights. With the support of Qantas, our delicious line of specially curated in-flight snack boxes with heart have helped us raise over $100,000.
The Charlie's Fine Food Co. Cookies range
Bite Size
The perfect way to indulge without the guilt. Ideal to serve as a complimentary treat with hot beverages that will keep your appreciative customers coming back for more.
Our bite size Classic collection includes Traditional Shortbread, Double Choc Chip, Triple Chocolate and Cinnamon Hearts. The Australian collection contains Traditional Hand Dropped Chocolate Chip, Bush Finger Lime Shortbread, Oat White Chocolate & Kakadu Plum and Anzac.
Both collections are also available in a mixed box containing 1kg each of four different varieties. See website for the full list of flavours.
Artisan Cookies
Just like Grandma used to make, featuring favourite flavours and the same ingredients home bakers have used for generations PLUS some delicious new superfoods.
Flavours: White Choc Macadamia, Choc Salted Caramel, Rainbow Choc Chip, Anzac Chewy, Choc Granola and Triple Chocolate Chip.
Artisan Grab & Go (Large Wrapped Cookies)
The ultimate in portable snacks, they are individually wrapped and ready to munch at a moment's notice. Keep a display package at point of sale at all times and watch those impulse purchases mount up.
Flavours: Charlie's Signature Ginger bear, Triple Choc Chip, Rainbow Choc Chip, White Choc Macadamia and Choc Granola. Dark Choc Chip along with Fig & Cranberry are both vegan and gluten free to provide a delicious option when you have dietary considerations.
Classic Cookies
Whether you prefer soft, dense chewy cookies or the baked shortbread style biscuits Charlie's bakers are experts at both. From choc chip to cookie dough to softer style cafe cookies to crispy bite size choc chip cookies, our cookie range has something for everyone.
Flavours: Handmade Lemon Melting Moment; Handmade Raspberry Shortbread Round; Ginger-Bear.
Medium Petit Fours
Looking to make a good impression at your next boardroom meeting or event? Look no further than Charlie's Petit Fours range. A little bit fancy and 100% delicious, they are a mess-free snack designed to delight your guests. Available in bulk — simply apply for a wholesale account.
Flavours: Almond Shortbread Lady Finger, Cranberry & Pistachio Biscotti, Viennese Eclair Dipped in Dark Chocolate, Viennese Swirl, Handmade Raspberry Round, Double Chocolate Chip Button.
Bikkie Bites
Ideal for gourmet grocers, gift hampers and to keep on hand in the pantry, Bikkie Bites are available in delicious savoury and sweet flavours.
Savoury favours include Three Cheese, Cheddar & Rosemary and Parmesan & Tomato.
Sweet flavours include Bush Finger Lime Shortbread, Oat White Chocolate & Kakadu Plum, Handmade Double Choc Chip Bites.
50g, 100g & 180g Melting Moments
You can't get a much more Australian treat than Charlie's iconic Melting Moments, made with a special recipe guaranteeing a melt in your mouth experience! Charlie's range offers something for everyone. Available in delightful gift boxes, it's no surprise these melting moments are enjoyed throughout Australia and the shipped around the globe.
Flavours include Vanilla Bean, Cookies & Cream, Raspberry White Chocolate, Coco Berry Monte and seasonally Festive Spice.
Big Bite Biscuits
Divinely cute morsels that make excellent petits fours. The Big Bite range is used by high end caterers, professional service firms and corporate offices as well as four and five star hotels. They're excellent for boardroom refreshments where the crumbs of large cookies are a no-no.
Flavours include Cranberry & Pistachio Biscotti; Almond Shortbread Lady Finger, Viennese Swirl; Hand Dipped Viennese Éclair, Handmade Raspberry Shortbread Round and Double Choc Chip Buttons.
Medium Wrapped
Wrapped in bright vibrant colours with Charlie's Fine Food Co. branding, these cookies are conveniently wrapped for hygiene, shelf life and portability.
Enjoy Triple Choc Chip, White Choc Macadamia, Granola and Traditional Two Pack Shortbread Finger. If you are looking for a Vegan and Gluten Free options, we have our Dark Choc Chip and Fig & Cranberry for you to enjoy.
Gluten Free Cookies
100% on delight and 0% on gluten. Charlie's Gluten Free products are baked offsite in a clean facility, with every batch tested to ensure that there are no detectable traces of gluten — so you can truly relax knowing your delivery is only going to bring delight.
Charlie's have perfected gluten free cookies so you'd never know they're gluten free! Coeliacs will be delighted to learn that they are so over the top at Charlie's that every batch is tested for detectable gluten prior to releasing them.
Slices
A delicious selection of decadent, wholesome and flourless slices that will be the star of any cake cabinet.
Triple Choc Brownie, Lemon & Raspberry Slice; Choc Salted Caramel Slice; Superfood Slice.
Plant-Powered Vegan Cookie Dough
(Melbourne Deliveries Only)
Made from quality plant-based ingredients, the cookie dough can be enjoyed straight off a spoon from the tub for the ultimate wicked indulgence. Alternatively, place one or more scoops on an oven tray and bake for incredibly delicious, 'home-baked' cookies that'll send aromas wafting through the house. Available in two tempting flavours:
Chocolate Chip – Studded with Murray River salt flakes for perfect balance.
Peanut Butter Choc Chip – Dark chocolate chips in a sublime peanut butter dough.
Gifts
Looking for a gift that guarantees enjoyment? Look no further. Charlie's range of cookies, biscuits, slices and brownies have all been lovingly packaged up into beautiful gift tins and generous hampers, designed to bring delight. Browse through our ready-to-go gifts or build your own by selecting your favourites, filling your box and checking out.
Foodservice
Show your customers how much you love them by serving top quality Charlie's products, all made with premium ingredients for maximum enjoyment.
---
More information about Charlie's Fine Food Co.
Charlie's Cookies FAQs
Charlie's Cookies is the name behind a range of gorgeous wholesale Mini Melting Moments available in seven retro and contemporary flavours. Here are some frequently asked questions. Click here
Interview - Jacky Magid - Charlie's Cookies
At Charlie's Cookies, the motto "take your pleasure seriously" is behind every recipe and every batch of wholesale cookies that leaves the ovens. The company has set a benchmark for top quality products made from premium ingredients and the proof is in the tasting. Recently, we spoke with Jacky Magid, Sales Director and Owner of Charlie's Cookies about the place of cookies in people's daily lives and why a little pleasure is something to be wholeheartedly embraced. Click here