Looma's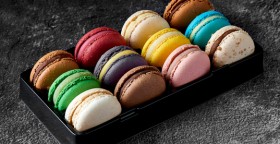 More Images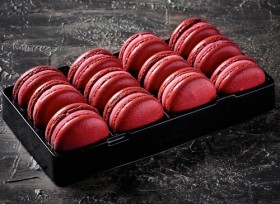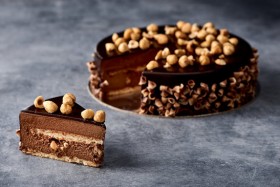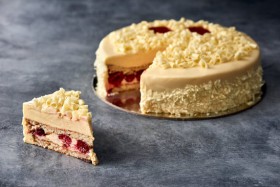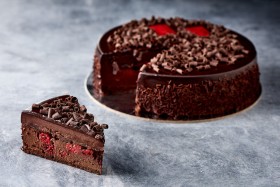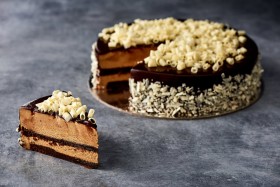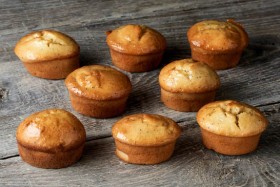 Looma's
Wholesale Gluten Free Cakes, Macarons and Friands
Looma's is a specialist manufacturer and supplier of gourmet quality cakes and mini sweets. Their gluten free range of cakes, macarons and friands is hugely popular throughout Sydney's cafes, restaurants, hotels and tea houses. Every product is made from scratch by Looma's highly skilled chefs and only the best ingredients are used such as Fonterra New Zealand butter and Belcolade chocolate.
When you order from Looma's, your gluten free goodies will be delivered anywhere in Sydney by professional drivers in HACCP certified refrigerated vans.
With Looma's, you can count on quality, professional presentation, consistency and outstanding flavour.
Gluten Free Macarons
Looma's macarons are available in more than a dozen classic flavours. They are a real treat, packed with fabulous flavour and of course, completely gluten free. Supplied in packs of 1 dozen, enquire about packs of assorted macarons too.
Vanilla Macarons – Rich and addictive, filled with vanilla ganache – superb!
Pistachio Macarons – A smooth, natural ganache.
Salted Caramel Macarons – Divine caramel with bursts of Maldon sea salt.
Passionfruit Macarons – A crisp, refreshing passionfruit sensation.
Chocolate Macarons – Callebaut dark chocolate ganache for chocolate lovers.
Butterscotch Macarons – Rich, classic caramel buttercream, sweet and splendid.
Hazelnut Macarons – A superb flavour using the best quality gianduja with roasted hazelnuts.
Lemon Macarons – Refreshing and flavoursome lemon zest.
Light Pink Macarons (Strawberry) – Perfect for your little girl's birthday party.
Redskin Macaron – Authentic redskin flavour jam packed in this very popular macaron.
Light Blue Macarons (Vanilla) - Perfect for your little boy's birthday party.
Gluten Free Cakes
These cakes are all gluten free but you'd never guess it! Each cake is 8" and serves up to 14.
Chocolate Truffle Cake - Almond meal dacquoise base, chocolate mousse throughout.
Vanilla Sponge & Raspberry Cake - Vanilla bean mousse with fresh seasonal raspberries is the perfect marriage of ingredients.
Chocolate Mud Cake - Rich, classic chocolate mud cake which also happens to be gluten free!
Chocolate Raspberry Mud Cake - Moist chocolate ganache cake with scattered raspberries throughout.
Tiramisu Cake – A timeless classic, always delicious!
Black Forest Cake - Velvety texture that will leave your taste buds dancing and craving more.
Gluten Free Friands
Dainty little ovals of gluten free baked deliciousness made with almond meal mix. Friands are always popular with the gluten free crowd and even those who are not gluten intolerant.
Berry Friands – Juicy little berries add colour and sweetness.
Orange & Poppy Friands – Classic flavour pairing, excellent with a cup of tea.
Almond Friands – Golden and scrumptious, topped with flaked almonds.
Pistachio Friands – Flecked with crushed pistachios.
Retailers
The Looma's range of gluten free wholesale macarons, cakes and friands is suitable for supermarkets, convenience stores, delicatessens and other outlets where quality foods are available to grab and go. Stock them in your greengrocer store, bakery or homewares store. They make entertaining easy and are also ideal as take-along treats for dinner parties, picnics and barbecues.
Foodservice
Serve Looma's high quality gluten free macarons, cakes and friands in your café, hotel, restaurant, gluten free outlet, tea house, canteen, tuckshop or other foodservice outlet. You can count on consistency, beautiful presentation and gluten free peace of mind.
For more information or to place an order, contact Looma's today.
---
More information about Looma's
Interview - Michael Khatib - Looma's
Looma's is a Sydney based patisserie wholesaler specialising in a wide range of products – cakes, croquembouche, macarons, pies, tarts, pastries and more – all baked daily at their commercial kitchen in Bankstown, Sydney. Recently, we spoke with Managing Director Michael Khatib and learned a little more about the wholesale pastry business and how Looma's customers happily come back for more. Click here