Protea Foods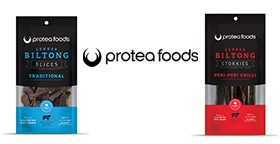 More Images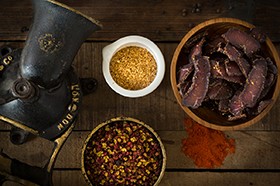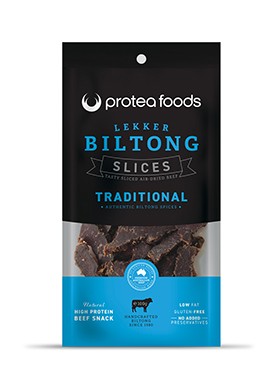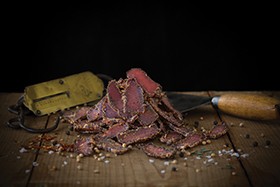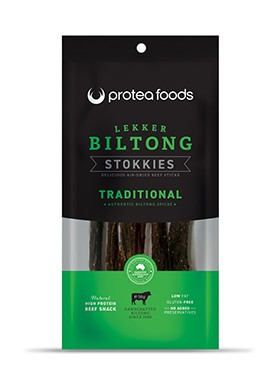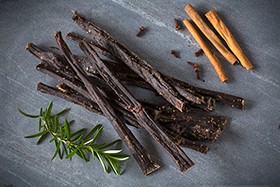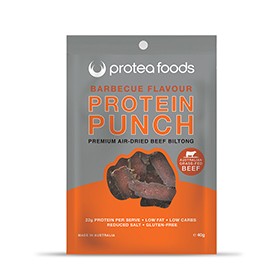 Protea Foods
Wholesale Traditional South African Biltong - Made in Australia
Protea Foods have offered handcrafted biltong since 1980 and supplying South African expats and Aussie converts for forty years. From its humble beginnings in a small deli in Brighton, Victoria, it's now Australia's premier and leading supplier of biltong.
It's not jerky, it's better! Biltong originates from South Africa and is the country's favourite snack. Premium cuts of beef are hand-sliced and marinated in a simple blend of spices then air-dried and cured over several days. The result is a delicious, premium beef snack that's high in protein, iron, zinc, magnesium and vitamin B12.
Australians are quickly taking to biltong, with many converting from beef jerky to biltong as it is tastier and healthier. Whilst jerky is dehydrated over several hours to create a chewy, rubbery texture and contains high quantities of sugar or sweet sauces to enhance its bland flavour, biltong is air-dried. This helps retain more of its core nutrients and minerals.
Naturally air-dried premium Australian beef
High in protein, iron, zinc, magnesium and vitamin B-12
Low in fat
Low in carbohydrates
Gluten-free
Paleo-friendly
No added preservatives
Australian-made and owned
Premium Range Biltong
Made from grass-fed beef from prized cattle raising areas in Australia, Protea Foods' Premium Range Biltong goes where it's never been taken before, with high quality ingredients used to create unique flavours. Available in 35g sizes.
Classic – Traditional flavours of spices, sea salt and cracked pepper.
Spanish Paprika – Paprika and spices and just a hint of smokiness.
Spicy Sichuan – Sichuan pepper and chilli for a little kick of heat.
Lekker Biltong
Biltong made in the traditional way that South Africans have enjoyed for generations.
Traditional – Authentic Biltong spices for a satisfying snack available in...
Mini-sticks -30g
Stokkies beef sticks – 50g, 100g, 200g and 500g sizes
Slices – 40g, 100g and 500g sizes
Peri-Peri Chilli – Flavoured with birds' eye chilli and spices available in…
Mini-sticks -30g
Stokkies beef sticks – 50g, 100g, 200g and 500g sizes
Slices – 40g, 100g and 500g sizes
Protein Punch
Protein Punch is biltong with a lower sodium content, specifically created for fitness and diet-conscious consumers. It's high in protein which helps in muscle growth and recovery. Loved by AFL teams Western Bulldogs and Port Adelaide as part of their training and diet regime. Available in 40g sizes.
Barbecue– All the flavour of juicy meat straight off the barbie in a convenient, easy format.
Original – Chewy and satisfying with reduced salt.
Retailers
Sell Protea Foods alongside other snacks such as crisps and nuts so your customers have a healthier alternative to choose from. They can be sold in health food and nutrition sections of supermarkets, convenience stores and delicatessens or in dedicated health food stores. Great for butchers, greengrocers, canteens and bottle shops too.
Foodservice
Protea Foods' biltong is a brilliant impulse-buy product that will help to create extra sales. Tradies love Protea Foods and purchase them to keep on hand during the day when hunger and cravings kick in. Position at point of sale in snack bars, burger shops, pizzerias, bakeries and cafes.
For more information or to place an initial order, contact Protea Foods today.