Small Batch Food Company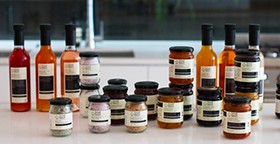 More Images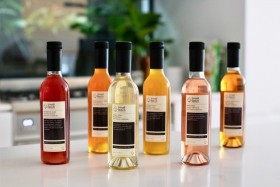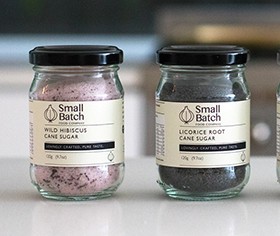 Small Batch Food Company
Small Batch Food Company's wholesale condiments are made for the pure enjoyment of food. Free from additives, colourings and artificial flavourings, every product is a lovingly-crafted jar or bottle of good taste. Using locally sourced ingredients, each product is made in small production runs to ensure freshness and quality.
Explore the range of savoury chutneys & relishes, sweet jams, marmalades, artisan cordials, dressings and flavoured garnishing salts and sugars to add a level of creativity and difference to your cooking.
Chutneys and Relishes
Just the trick for adding pizzazz to leftover roast meats, fancy up a cheese board with colour and tons of flavour, or for turning a sandwich or roll into something really special.
Caramelised Onion & Cranberry Relish – Sweet, caramelised onions combined with tart cranberries. Enjoy with ham, roast turkey or chicken, cheese or on sandwiches.
Caramelised Onion Jam – Tangy, sweet and rich, cooked slowly to allow the onions' natural sugars to develop. Serve with meats or cheeses or toss through a fresh salad.
Chermoula Spiced Beetroot Chutney – The earthy flavours of beetroot are enhanced with North African spices. The chutney is sweet and spicy and an ideal pairing with roasted vegetables and cold meats.
Pineapple & Ginger Chutney – The freshness and sweetness of tangy pineapple, spiced with fresh ginger. Try it with a curry, on a sandwich or with cold meats.
Red Pepper & Onion Relish – Cooked slowly to allow the natural sugars to develop, it's rich, sweet and tangy. Perfect to enjoy with sharp mature cheeses, on a toasted cheese sandwich or with cold roast meats.
Spiced Stonefruit Chutney – This sweet, slightly spiced blend of apricot, blood plum and peach even has a hint of cherry. It boasts a little warmth from chilli and black pepper and is superb with cold meats, cheese or on sandwiches.
Jams & Marmalades
The jam sandwiches of your school days have nothing on what you can create with Small Batch Food Company's extraordinary gourmet jams and marmalades. Don't stop at spreading them on your favourite bread. Try them out in other ways too!
Acai Berry Jam – Whole, plump blueberries are combined with South American acai to create this superfood jam, brimming with antioxidants. Enjoy with warm croissants, scones or buttered toast.
Apricot Vanilla Jam – Fragrant apricots are enhanced with Madagascan vanilla bean in this outstanding breakfast jam which you can enjoy with toast, scones or croissants.
Blueberry & Ginger Jam – Whole blueberries are cooked with ginger and lemongrass for an exotic twist on the usual fruit jam. Explore this one with creamy cheeses.
Chai Spiced Orange Marmalade – Like sunshine in a jar, vibrant oranges are infused with exotic Indian spices for the flavours of a traditional chai spiced tea. Use it to glaze your next roast ham or duck.
Mango & Passionfruit Jam – Open the jar and smell tropical summer! Queensland mangoes and fresh passionfruit make this jam the sweetest, tastiest treat - spoiling you for other jams lurking in the back of your fridge.
Pineapple & Coconut Jam – The classic flavours of a Pina Colada are here in this jam jar. Juicy pineapple and tantalising coconut make it a jam you'll want to enjoy all year round.
Strawberries & Cream Jam – This luxurious, silky jam is made with fresh strawberries and a tisane blend that adds a creamy note. The best jam ever for scones served straight out of the oven.
Triple Berry & Hibiscus Jam – Whole summer berries are cooked with wild Australian hibiscus flowers for a sweet, sharp, floral jam.
Dressings
Never underestimate the value of a really good dressing to bring out the true enjoyment of a salad!
Caramelised Balsamic & Olive Oil Dressing – A classic handmade blend of extra virgin olive oil and balsamic vinegar. Its hint of syrupy sweetness makes it irresistible and is perfect for any salad.
Dill Tip & Dijon Dressing – Extra virgin olive oil and mustard are set off to perfection with a hint of dill and honey for sweetness. Use this dressing to enliven a leafy salad or serve it alongside fresh prawns or crab.
Yarra Valley Honey & Tarragon Dressing – French flavours with an Aussie twist. This dressing is a classic combination of Dijon mustard, local Yarra Valley honey, extra virgin olive oil and fresh tarragon. At its best as a chicken marinade or to dress your favourite salad greens.
Garnishing Salts
The glint of quality Australian sea salt combined with intriguing flavours makes these Garnishing Salts a must-have in any gourmand's pantry.
Activated Charcoal Garnishing Salt – For high drama on the plate, use this incredible garnishing salt for maximum flavour and appearance. It's made with Australian sea salt and activated charcoal made with coconut husk.
Chipotle Chilli Garnishing Salt – A touch of red gives the hint of heat. This is a blend of Australian sea salt with dried chipotle chilli and a little paprika.
Dill Tip Garnishing Salt – Herbaceous and unique, it's Australian sea salt blended with dried dill tip for colour and distinctive flavour.
Saffron Garnishing Salt – Beautifully balanced and aromatic, it's a combination of Australian sea salt with Spanish saffron.
Flavoured Sugars
Basil & Lime Cane Sugar – Australian cane sugar, blended with dried basil and kaffir lime creates an aromatic garnishing sugar. Dip your cocktail and mocktail glasses for an extra zingy kick.
Licorice Root Cane Sugar – Australian cane sugar is blended with dried licorice root in an aromatic garnishing sugar, perfect for baking, tea, desserts or cocktails.
Rose Petal Cane Sugar – A divine blend of Persian rose petals with Australian cane sugar, perfect for topping baked goods, particularly shortbread.
Wild Hibiscus Cane Sugar – Hibiscus flowers are blended with the best of Australian cane sugar, perfect for baking or in cocktail mixes.
Retailers
Line the shelves of your delicatessen, supermarket, store, greengrocer or butcher shop with quality wholesale condiments from Small Batch Food Company. The attractive packaging and all-natural contents will make this a range your customers come back for again and again.
Foodservice
Flavour is the most important ingredient of all, and when you can add loads of flavour via a simple spoonful of Small Batch Food Company's condiments and dressings, it doesn't get any easier than that. Your customers will think you've been hard at work in the kitchen preparing all your condiments from scratch.
Private Label & Contract Manufacturing
Speak to us about creating your own private label range of products. Our HACCP approved production kitchen has seen products developed for both small and large clients all over the world. We are committed to working closely with our clients to create a quality range from beginning ideas through to production.
To place an order or to find out more, contact Small Batch Food Company today.