The Muesli Bar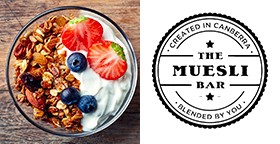 More Images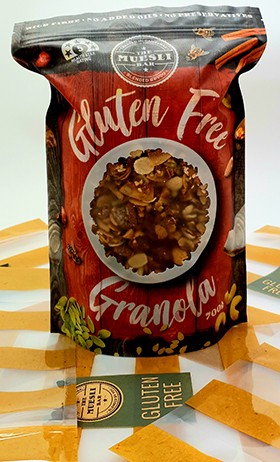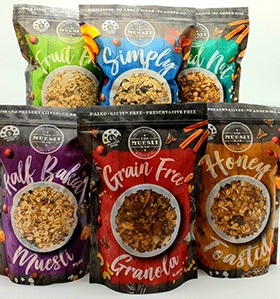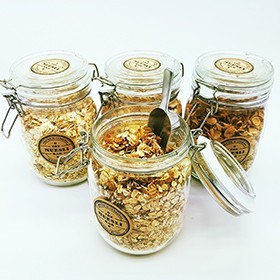 The Muesli Bar
Wholesale Gluten Free Muesli and Granola
For Coeliacs and others adhering to a gluten free diet, it can be challenging to find breakfast foods that are tasty and truly enjoyable to eat. Thanks to The Muesli Bar, you can choose from a variety of scrumptious gluten free mueslis, granolas and porridge products. Lovingly crafted with top quality local ingredients, every pack contains fresh, nutritious ingredients. You can choose nut free, fruit free, honey-toasted, untoasted and half-baked.
Everything is made without oils or preservatives and no matter what you order, it will always be fresh. The Muesli Bar whips up new batches every week.
The range
Bagged Gluten Free Muesli and Granola
Aside from boasting addictive flavours and textures, The Muesli Bar's bagged mueslis and granolas are highly nutritious too. Every product is packed in a stay-fresh resealable stand-up pouch.
Grain Free Granola – Paleo-friendly, grain free, gluten free and preservative free. Enjoy a delicious, protein-rich blend of nuts, seeds and coconuts, sweetened with local honey. Ingredients: cashews, hazelnuts, almonds, sunflower seeds, pumpkin seeds, sesame seeds, coconut flakes, honey, cinnamon, nutmeg.
Gluten Free Granola – A delicious blend of toasted gluten free bases and totally grain free granola for the ultimate tasty, crunchy, satisfying breakfast. Ingredients: cashews, hazelnuts, almonds, sunflower seeds, pumpkin seeds, sesame seeds, coconut flakes, rice bran flakes, quinoa, rice bran straws, honey, cinnamon, nutmeg.
Low FODMAP Muesli – The friendliest brekkie ever for those on a low FODMAP diet, it's available with a gluten free base. Ingredients: Almonds, coconut, cinnamon, pecans, quinoa, rice bran straw, toasted buckwheat and be sure to select the gluten free option of rice bran straws, rice flakes and quinoa.
Porridge Topping – If you like to embellish your brekkie bowl with fruits and nuts but don't want to make up your own mix, then you simply must have this on hand! There are no oats in it. Ingredients: cranberries, apricot, apples, pumpkin seeds, sunflower, walnuts, toasted coconut, quinoa.
Porridge Topping with Chocolate – It's the Muesli Bar's 'Bressert' offering, with wonderful dark chocolate chips plus a decadent blend of fruits, nuts and coconut. Ingredients: dark chocolate, cranberries, toasted almonds, hazelnuts, coconut flakes.
Nut Free Muesli – For those days when you just don't need nuts in your life, Nut Free Muesli still has tons of flavour to keep you happy and satisfied. Ingredients: cranberries, currants, dates, sunflower, coconut, pumpkin seed, bran, cinnamon.
Retailers
Stock The Muesli Bar's gluten free mueslis, granolas and toppings for your Coeliac and gluten intolerant customers. They'll love the freshness, the variety and the flavours! Perfect for gluten free retailers, health food stores, delis, supermarkets and pharmacies.
Foodservice
The Muesli Bar makes it easy to serve your customers a real, superstar breakfast, completely gluten free. Every bag has been created with the perfect combination of taste, texture and goodness in mind. Perfect for your café, restaurant, hotel or resort.
For more information or to place your first order for top quality gluten free muesli and granola, contact The Muesli Bar today.