Vicky D's Kitchen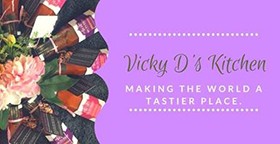 Vicky D's Kitchen
Gourmet Jams, Sauces, Relishes and Chutney
Using a host of beautiful, Australian-grown produce, Vicky D's Kitchen produces an amazing array of gourmet condiments including jams, sauces, relishes and chutney. By using Nana's traditional cooking style and old recipes, owner Jodie Pollock is able to make these mouthwatering condiments without any artificial preservatives, flavourings or colours.
Based at Victoria Downs Station in Northern Queensland, Vicky D's Kitchen produces a mouthwatering array of gourmet jams, sauces, relishes and chutneys and adds a modern twist – adding the latest flavour combinations or power foods to give them a unique taste all their own.
Jodie is passionate about "making the world a tastier place" using her Nana's old style cooking methods and recipes with Australian-grown produce.
Vicky D's Kitchen condiments contain absolutely no added colours, flavours or preservatives.
Sweet Jams
Blueberry & Chia
Mango & Hibiscus/Rosella
Peach & Lavendar
Pear Sage & Whisky
Strawberry & Coconut Blossom
Pina Colada
Savoury Relishes and Chutneys
Mango Chutney
Roasted Capsicum Relish
Spicy Tomato Relish
Tomato Relish
Savoury Sauces
Sweet Chilli Sauce:
Made with Australian chillies, this punch-packing sauce makes a great dip or a wonderful addition to your crumbed stead.
Tomato Ketchup:
Made from Australian-grown tomatoes, this ketchup is great as a base for homemade pizzas and of course it tastes great on your steak.
BBQ Ketchup:
Made from Aussie-grown tomatoes, you can taste the juicy plums and the sweetness of the apples in this sauce.
Hot Spicy Ketchup:
It's regular tasty tomato ketchup, but with a bit of heat added to tingle the tastebuds.
The condiments are available in various sizes, ranging from 55ml jars to 300ml jars, and 250g bottles.
Retailers
Stocking Vicky D's Kitchen condiments and hamper range will ensure your customers can pick the perfect gift for any occasion and any recipient – or just treat themselves to a delicious, unique delicacy. From 55ml jars to impressive hampers and combinations, there's no scenario that Vicky D's Kitchen products can't fulfil.
Foodservice
Offering this unique range of sauces, relishes, chutneys and jams for a special twist to dishes and recipes will make sure your food really stands out from the crowd. From delicious Pina Colada Jams for those with a sweet tooth, to Hot Spicy Ketchup for those who prefer a little bit of fire, your huge variety of customers are sure to find something to suit their tastebuds.
For more information about stocking Vicky D's Kitchen products or to place your first order, simply fill out the contact form below.
---
More information about Vicky D's Kitchen
Interview - Jodie Pollock - Vicky D's Condiments
On a mission to 'make the world a tastier place', Jodie Pollock established Vicky D's Kitchen. Her range of sweet and savoury wholesale condiments makes it easy to add extra flavour with ease. We spoke with Jodie about the brand's history and where her products are now being served. Click here