Belladotti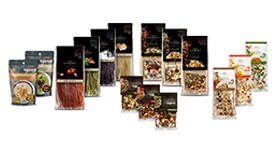 More Images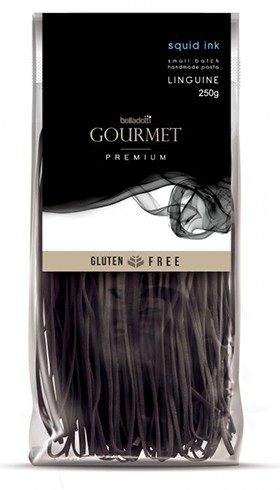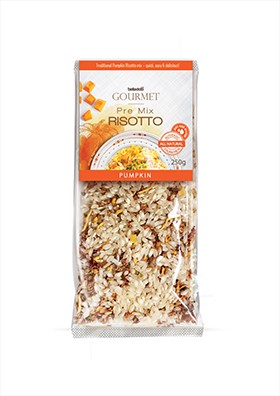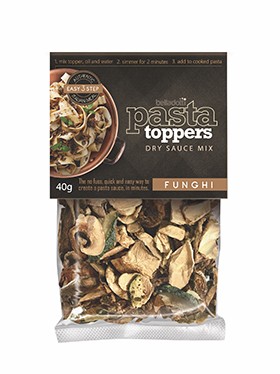 Belladotti
Gluten Free Foods
Belladotti make it easy for you to create delicious, nutritious gluten free foods at home. Their range includes gluten free pasta, risotto pre-mixes, pasta toppers and salad seeds, all designed to add extra inspiration to your usual recipes. Produced on exclusively gluten free equipment and using the highest quality ingredients means you can be sure that what you're eating is clean, safe and good for you.
Keep Belladotti's gluten free foods on hand so you can prepare a meal even at short notice for gluten free visitors without worrying about contamination. Even for those who are not avoiding gluten, the products make a wonderful addition to the pantry for when a gourmet meal would go down very well, even when you don't have a whole lot of ingredients on hand.
Belladotti Gluten free pasta
Belladotti's gluten free pasta is handmade in small batches then extruded through traditional bronze dies and hung to dry for 48 hours. Using this method results in a porous surface that helps to absorb sauces. Gluten free, nut free, egg free, dairy free, GMO and soy free, the pastas are suitable for a wide range of consumers. The gourmet flavours will tantalise your customers and keep them coming back for more. All are vegan except for the Squid Ink.
Squid Ink Linguine – Exotic black pasta for dramatic dishes, perfect for dinner parties to impress the guests.
Tomato & Garlic Linguine – Dazzling red pasta with subtle flavour. Serve with rich tomato sauce or top with warm seafood and fresh herbs.
Spinach & Nutmeg Linguine – The lovely green hue is the perfect backdrop for creamy, cheesy sauces or to act as a bed for rich, buttery mushrooms.
Roasted Garlic Fettuccine – Ribbons of handmade pasta enlivened with garlic. Serve with extra virgin olive oil, chopped herbs and Parmesan or make a robust ragu and stir through.
Belladotti Risotto Pre-Mixes
Rice is always a welcome option for gluten free consumers and Belladotti's Risotto Pre-Mixes are a fabulous way to create gourmet Italian risottos, even at short notice. With all the ingredients included, all that's required is to add water and hey presto, a satisfying bowl of authentic risotto, loaded with flavour! Not just gluten free but also nut free, egg free, dairy free and vegan-friendly.
Country Style Pre-Mix Risotto – A lively blend of zucchini, peas, carrots, garlic and herbs. Simplicity on a plate! Add freshly cut herbs and some shaved Parmesan before serving.
Pre-Mix Risotto with Porcini – Mouth-watering mushroom risotto, without the time-consuming complexity. Serve with a little grated Parmesan and freshly chopped basil and parsley.
Pumpkin Pre-Mix Risotto – No pumpkin-hacking required! Simply add water and follow the instructions for a beautifully balanced pumpkin risotto with delicate herb flavours.
Belladotti Pasta Toppers
Made with only natural ingredients, Pasta Toppers bring colour and life to your pasta dishes with minimal effort. Not only that, they're also low calorie, gluten free, dairy free and vegan-friendly. Rehydrate with water and a little olive oil then toss through cooked, drained pasta for instant deliciousness worthy of your favourite Italian restaurant.
Funghi – Earthy mushrooms blended with garlic and onion and natural herbs. This will be a favourite in your quick meals repertoire.
Arrabbiata – A warming, fiery Italian dry sauce mix comprising lush sundried tomatoes and red capsicum. Onions, garlic and a little dried chilli add extra personality.
Puttanesca – The piquancy of olives and capers blends beautifully with the rich tomato flavours for a satisfying puttanesca accompaniment to your favourite pasta.
Belladotti Salad Seeds
Belladotti's Salad Seeds provide an instant and convenient way to add extra nutrition, flavour and texture to your salads. They are dairy free, all natural, vegan-friendly, gluten free and very nutritious.
Red Bell Pepper & Chilli – Dry roasted, chilli-infused sunflower and sesame seeds are combined with bell peppers, celery bits, flaxseed, onions and chilli flakes. A good source of additional fibre plus magnesium, selenium and Vitamin C.
Garlic & Zucchini – Add this crunchy blend to your salad with its lovely dry-roasted and garlic-infused sunflower and sesame seeds. Also contains zucchini, onions, chia seeds, garlic and parsley flakes.
Honey & Goji Berry – Dry roasted and honey-infused sunflower and black sesame seeds blended with golden flaxseed, Goji berries and coconut flakes. Add to smoothies or sprinkle over yoghurt.
Retailers
Belladotti's gluten free foods will go well in your delicatessen, health food store or gluten free outlet. They are also suitable for convenience stores, supermarkets and gourmet food halls. Made with quality ingredients and designed to be easy to use, they will be popular with your customers looking for innovative food products.
To discuss your requirements or to place an order, contact Belladotti today.