JT's Essence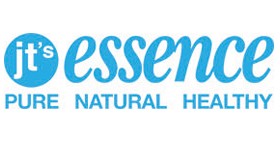 More Images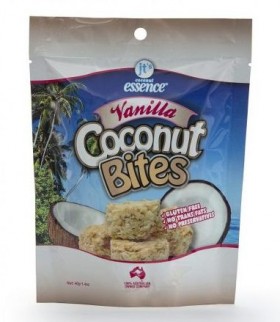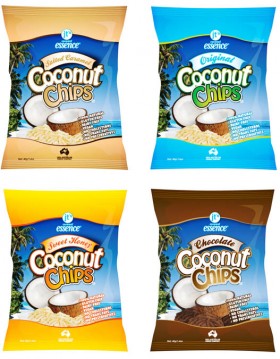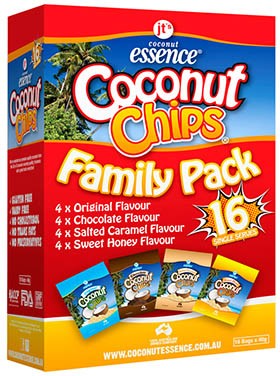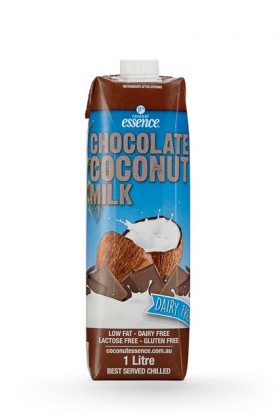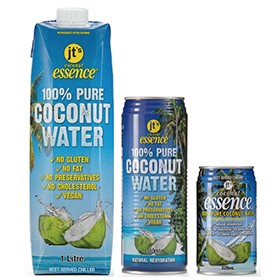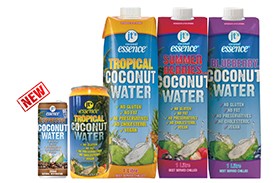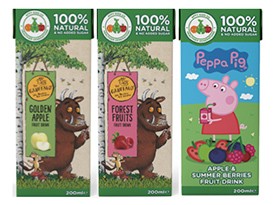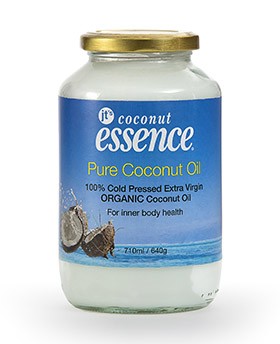 JT's Essence
JT's Essence
The team behind JT's Essence travelled to many locations around the world, sampling different types of coconuts, searching for the perfect flavour and of course, the highest quality product. Ironically, they found that the world's best coconuts are actually cultivated in the country where their journey began; Thailand. With perfect growing conditions and abundant rainfall, the coconuts were naturally sweet tasting and JT's were able to source from the same plantations each time to ensure consistency in their products.
The wholesome coconut products JT's makes with them are high in antioxidants, minerals, caprylic and lauric acids and they are gluten free. Enjoy wholesome snack foods and fresh-tasting beverages that will enhance your well-being and add variety to your diet.
Gluten free coconut snack foods
Coconut Bites
JT's delicious NEW Coconut Bites combine the tropical flavour of coconut with vanilla to make a healthy snack you can enjoy at any time of the day! Best of all, they are a 100% natural product and contain no cholesterol, trans fats or preservatives.
Coconut Chips
These delicious snack chips come in four sensational flavours. They are baked and not fried to give the perfect crispy bite every time, without the guilt. But beware; they are seriously addictive!
Original
Chocolate
Salted Caramel
Sweet Honey
Gluten free coconut milk
Coconut Milk
JT's Chocolate Coconut Milk is a great tasting, low fat milk alternative that can be enjoyed on its own by the glass, as a creamy addition to your morning smoothie or in cooking. It is also lactose and dairy free. JT's have selected premium quality coconuts and mixed with premium ingredients to create this refreshing product.
Gluten free coconut beverages
Coconut Water
JT's Coconut Essence Coconut Water is the pure essence of nature providing a great tasting, incredibly healthy, preservative and additive free sports and energy drink. Literally plucked from nature, coconut water is biologically pure and full of natural electrolytes and vitamins.
JT's Coconut Essence is 100% produced from fresh green coconuts, harvested and canned on the very same day. This ensures the wonderful taste, quality and benefits are captured that only JT's can deliver to you. Not only does it taste great but as self-confessed health nuts, JT's are pleased to tell their customers that it is free of fat, cholesterol, additives and preservatives, not to mention totally unsweetened and gluten free.
Available in:
1L carton
510ml cans
320ml cans
Flavoured Coconut Water
For a flavour burst like no other, try JT's delicious NEW 'Tropical' and 'Summer Berries' flavoured Coconut Water products!
Summer Berries Coconut Water - The newest addition to the JT's range, Summer Berries Coconut Water features the subtle flavours of blueberries and strawberries while incorporating all the health benefits of their famous coconut water. It contains no fat, preservatives or cholesterol and is entirely gluten free.
Tropical Coconut Water – JT's have combined their famous coconut water and blended it with fruit juice to create their brand new Tropical Coconut Water product, a refreshing and hydrating drink that contains no preservatives and is entirely gluten free.
Gluten free juices
Kids' Juices
Appy Kids Co multi-award winning school-approved fruit drinks come in a convenient three-tetra-pack, perfect for school lunch boxes and drinking on the go. The plant stevia-based range is 100% natural, contains no GMOs or artificial ingredients and is vegetarian approved. Featuring beloved kids' characters, the nutritionist-approved drinks contain 50% less sugar and calories, making them kinder to little teeth and a healthier option for children.
The Gruffalo Forest Fruits Fruit Drink – Spring water, apples, raspberries and strawberries.
Peppa Pig Apple & Summer Berries Fruit Drink – Spring water, apples, sour cherry, blackcurrant, raspberry and strawberry.
Coconut Oil
Coconut oil is one of the few foods that can be classified as a 'superfood'. The unique combination of fatty acids can have profound positive effects on your health, body function, wellbeing and weight loss.
100% Cold Pressed Organic Extra Virgin Oil 640g glass jars
Mineral Water
From the pristine forest ranges of New Zealand, JT's Essence are excited to bring to the Australian market, a refreshingly PURE experience – clean, natural, untreated, alkaline, mineral water … One Pure. See the website for more information.
Retailers
Stock JT's Essence products for your coconut-loving customers. Keep plenty of coconut water and milks nicely chilled in your fridges and consider positioning the snack foods close to point of sale for those wonderful impulse purchases. Ideal for health food stores, supermarkets, vending machines, hotel mini bars, gyms, over-the-counter purchases, sports clubs and convenience stores.
Foodservice
Why not make up a children's meal deal with JT's kids' juices, or add coconut water or coconut milk-based drinks to your beverages menu? With everything gluten free, you get to attract those additional and increasingly important gluten free dollars.
To discuss your requirements or to place an order, contact JT's Coconut Essence today.