Casa Del - Desserts of Indulgence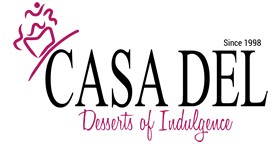 Casa Del - Desserts of Indulgence
Distributors Wanted
Casa Del Gelato, makers of quality biscuits, ice cream and ready-to-serve desserts are seeking Distributors to introduce their products into retail outlets and foodservice businesses across Australia.
The company was established over 29 years ago and have built a reputation for quality by using the freshest ingredients and handcrafting their products daily. Their production facility is HACCP certified. Everything they supply is presented beautifully so that you can serve your customers impressive foods, knowing the taste will be as spectacular as the appearance.
Gelato and Ice Cream
Available in 250ml retail cups and 5L foodservice tubs. Choose from: Bacio Gelato, Bubble Gum, Hazelnut Dream, Mango Tropical Gelato, Pannacotta Caramello, Smartie Ice Cream, Salted Caramel, Vanilla Bean Classic, Vanilla Choc Chip, Lemon Sorbet and others.
Gelato Desserts
Casa Del Gelato's ready-to-serve desserts look stunning and taste incredible. You can dress them up with your choice of accompaniments or simply serve with a swirl of fresh cream. Choose from: Super Hazelnut, Tiramisu, Gushing Heart, Tartufo, Bacio Romantic, Cassata and Noble Lemon.
Gelato Cakes
Award-winning, gorgeous and ready to serve, every gelato cake in the range will utterly delight your customers. Choose from: Gelato Tower Log, Brazilian Tango Gelato Cake, Vanilla & Bubblegum Ice Cream Tower, Going Nuts Gelato Cake, Caribbean Gelato Tower and others which can be viewed on the website.
Desserts of Indulgence
The company's extensive cake menu really does offer something for all tastes, from light and airy sponge cakes and silky mousses to dense mud cakes and the always popular red velvet cake. There are also cheesecakes in a rainbow of colours and flavours including Baked Ricotta, Passionfruit, Marble Chocolate, Double Baked Butterscotch, Casa Del Mars Cheese Cake, Bacio and Strawberry Cheese Cake.
Cupcakes, Cake Slices and Flourless Cakes
Select from an array of cake slices and cupcakes, ready to be served to your customers. They include Red Velvet, Carrot & Walnut Slice, Chocolate Cupcakes and Vanilla Cupcakes. The Flourless Cakes Include Flourless Lemon Coconut Cake, Flourless Chocolate Mud Cake, Flourless Mud Teardrop and Flourless Chocolate Fudge Brownie.
Individual Portions
Convenient dessert portions for your sweet-toothed customers! Some of the selections include: Raspberry Ricotta Tarts, Friands, Mini Sticky Date, Mini Charlotte Rouge, Portuguese Tarts and Profiteroles.
Biscuits
For scrumptious shortbread and gluten free biscotti and brownies, Casa Del have a range your customers will love. Choose from Almond Hazelnut Biscotti, Almond Orange, Almond Pistachio and more. The shortbread biscuits are available in Choc Chip, Raspberry, Half Dipped Butterfinger and other varieties.
Retailers
These ranges suit supermarkets, convenience stores, delicatessens and other retail outlets that stock quality desserts, cakes, biscuits and ice cream.
Foodservice
Ideal for dessert cafes, restaurants, ice cream outlets, hotels, bars, pubs, cafes and caterers. With such a wide variety of products, you can satisfy your clients across several requirements.
To express your interest in becoming a Distributor, contact Casa Del Gelato today.