Enchanted Chocolates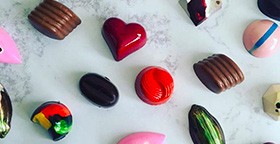 More Images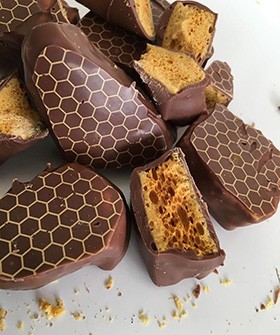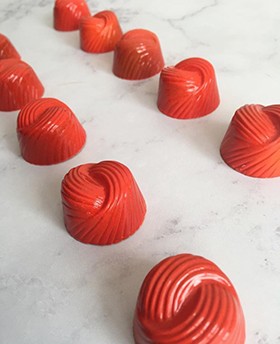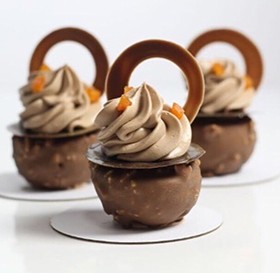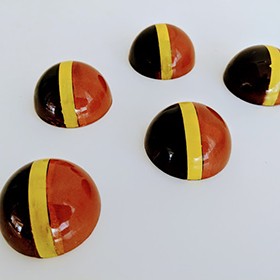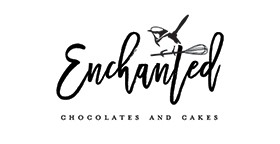 Enchanted Chocolates
Wholesale Gourmet Chocolates
By name and by nature, Enchanted Chocolates make an outstanding impression on customers and gift recipients. Their incredible gourmet wholesale chocolates are hand-crafted from premium quality milk, dark and white Belgian couverture and filled with delicious ingredients.
Stunningly presented for maximum visual impact, Enchanted Chocolates are ideal for gifting, to surprise a loved one or to treat corporate clients.
Some of the flavours include:
Pina Colada – A beautiful pyramid featuring a pineapple ganache layer over coconut ganache with a hint of Mambo rum and desiccated coconut.
Strawberry and Champagne – Strawberry ganache with a dash of Moet Champagne.
Lemon and Mint – Ganache made from mint-infused lemon puree.
Caramel and Butterscotch Schnapps – Soft, smooth caramel with a dash of butterscotch Schnapps.
Caramelised Hazelnut Praline – Hazelnut praline and caramelised hazelnut dipped in chocolate.
Passionfruit – Soft, tangy white passionfruit ganache in moulded chocolate.
Lemon and Lime – Lemon ganache covered with a layer of lime ganache.
Hazelnut Cut Praline – Crispy feuilletine and hazelnut praline, cut and dipped in chocolate.
Coffee – Coffee-infused dark chocolate ganache.
Honey – Soft, luxurious honey ganache moulded in chocolate.
Honeycomb - Sweet, satisfying and covered in delectable chocolate.
Mint - A refreshing mint chocolate for after dinner or any time you like.
Check with Enchanted Chocolates about their monthly specials and seasonal chocolates.
Retailers
Talk to Enchanted Chocolates about stocking their beautiful array of hand-crafted chocolates in your delicatessen, gift shop, food hall, confectionery outlet or other store type. The gorgeous presentation will attract your customers looking for something special to take to dinner parties or to treat themselves.
Foodservice
Enchanted Chocolates are perfect to include in High Tea and dessert buffets, to offer as complimentary welcome treats for hotel guests, to serve with tea and coffee and as a dessert amuse bouche. Explore the range of flavours today.
To discuss your requirements or to place an order, contact Enchanted Chocolates today.
---
More information about Enchanted Chocolates
Interview - Enchanted Chocolates
Handmade chocolates are always a welcome gift, and instore, they provide an attractive focal point. Enchanted Chocolates produce beautiful truffles and praline centres with gorgeous presentation to make a dazzling impression on customers. Click here