Stott's Delicacies of Queensland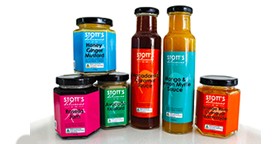 Stott's Delicacies of Queensland
Jams, Mustards, Chutneys, Sauces and Dressings
For more than 30 years, proud Queensland company, Stott's Delicacies have been churning out utterly luscious wholesale jams, mustards, chutneys, sauces and dressings that have become firm favourites for their customers. The company's tried and tested recipes are made with locally-sourced fresh produce including Queensland macadamias, ginger, rum, pineapples and mangoes. Every jar and bottle contains a good measure of Queensland sunshine which is always a welcome gift, anywhere in the world! Wonderfully suitable for gourmet gifting, these products, along with Stott's line of flavoured teas and coffees will be eagerly received by friends and loved ones on special occasions any time of year.
Stott's Delicacies' range is visually appealing and caters to broad tastes from the sweet tooth to the savoury lover. Pack a jam or two into breakfast or picnic-themed gift baskets, create a meat lover's gift with steak sauce, design a hot beverage selections hamper or delight corporate gift recipients with a selection of products from each category.
New packaging!
As part of their 30 year celebrations Stott's Delicacies have revitalised their packaging by using new bright colours that reflect the vibrant Queensland lifestyle and a simple nod to their Australian roots, a kangaroo.
Stott's Jams
One jar of jam is never enough when it's this good. Stott's Delicacies have created unusual flavours that become true favourites for those who try them.
Orange Cumquat Marmalade with Rum - A delightfully rich marmalade that goes beautifully on scones, muffins and toast.
Mango Jam – Just made for mango lovers, the flavours of that most summery of fruits – mangoes – bursts forth with every spoonful.
Mango Butter - The irresistible taste of mangoes is blended with a dash of limes in this traditional recipe. Spread on fresh bread, scones and muffins.
Rosella Jam - Made from the succulent crimson Rosella, a fruit that thrives in coastal Queensland, it is full-flavoured and works well on crusty bread.
Stott's Mustards & Chutneys
Transform regular sausages and treat your most expensive cuts of beef to a lick of extra flavour.
Mango & Ginger Chutney - Mangoes and ginger come together with spices to deliver this Queensland oriented chutney.
Horseradish Cream with Ginger – Horseradish, ginger and mustard will enliven your roast beef, gravy and horseradish sandwiches like nothing else.
Avocado Mustard - Stott's Avocado Mustard is mild and smooth and enhanced by the richness of avocado plus the aromatic flavours of fresh herbs.
Macadamia Mustard - A little piquancy plus the creaminess of local macadamia nuts, Macadamia Mustard complements grilled meats and is every bit as scrumptious with casseroles and baked dishes.
Mango & Chilli Mustard - A distant relative of American mustard, this one is nutty, a tad fruity and a little hot. Works very well with sausages such as bratwurst and frankfurters.
Queensland Special Mustard - Local products including pineapple, molasses, ginger and tamarind contribute to the complex flavours of this tasty condiment. Pair it with meatballs or a nice piece of barbecued fish.
Stott's Classic Sauces
Traditional and very versatile sauces that can be used creatively to add new twists to old favourites.
Hollandaise Sauce - Traditionally enjoyed with poached eggs and toast, this creamy sauce is also excellent with grilled tuna or lobster. Enjoy with beef, cold ham, chicken, asparagus, eggs, leeks and mushrooms.
Bearnaise Sauce – A herbed creamy sauce to serve with your choice of fish. Add a little dab to crab, scallops or fish cakes. Mix through pasta, pour over eggplant or steamed broccoli, or serve with roast pork and roast duck.
Blue Cheese Dressing - A versatile, creamy dressing to use on garden salads and cold meats. Try it in a rice or potato salad. Also excellent with deep fried calamari, baked cod or fried chicken.
Caesar Dressing with Parmesan & Roast Garlic – Aside from the usual Caesar Salad, serve with bacon and cheese dishes or with avocado, salad, and chips. This sauce is tasty mixed You can also try mixing it through pasta, and noodles.
Stott's Savoury Sauces
Addictive, fruity sauces that take steak, schnitzels, casseroles, ribs and vegie dishes to lofty new heights of flavour.
Mango Chilli Sauce - A tangy combination of plump, juicy mangoes and classic Asian spices. Serve with chicken schnitzels, spring rolls and your other favourite savoury dishes.
Spicy Steak Sauce - Loading with succulent fruits and tangy spices, this exotic sauce is versatile enough to use as a marinade for spare ribs, in casseroles, on steak and spooned over hearty meat pies and sausages.
Stott's Dressings
Dress vegetable, pasta, meat and rice dishes with any of Stott's Dressings for a new slant on the usual flavours.
Avocado Dressing – Spicy and loaded with tropical tastes, this one is spectacular on any fresh salad, as complements fish and chicken very well. Spoon it over fresh avocado or enjoy with cheese and crackers.
Macadamia Dressing - Add a creamy, nutty presence to your salads and cold meats or make a huge difference to chicken or turkey sandwiches.
Mango Mustard Dressing – Stir through tomato and cucumber salad or liberally pour over pork chops, chicken schnitzels or steaks. Also great in cheese and rice dishes.
Mango, Lime & Chilli Dressing - Fresh, zingy and fruity, this dressing is perfect for most salads and can be used over meat in the slow cooker or barbecue.
Lemon Myrtle & Ginger Dressing – A wonderful pairing of ingredients to create a dressing that complements most salads. Try it with barbecued fish, chicken and pork.
Stott's Dessert Sauces
Stott's Dessert Sauces use premium local ingredients to create these indulgent, liquid treats.
Chocolate Macadamia Sauce – Lovely and rich, with the taste of macadamia nuts. Ideal to serve with all kinds of traditional and innovative desserts.
Mango and Lemon Myrtle Fruit Sauce - Loaded with juicy mangoes, this tastebud-dazzling sauce is terrific over milkshakes and desserts. It can also be added to stir fries and used for basting roasts, especially ham.
Stott's Premium Flavoured Coffees
Stott's take quality, certified organic beans and infuse them with quintessential Queensland flavours.
Premium Coffee - The fresh air, fertile soils and plentiful rainfall of tropical Queensland make great coffee. Picked from the finest plantations to produce this blend.
Rum Coffee - Paradise in a coffee cup, the exotic taste of the coffee blends beautifully with the flavour of Queensland's own popular rum to create a dreamy moment of relaxed bliss.
Mango Coffee - Just a hint of mango transports the coffee drinker to an era reminiscent of sail boats, swaying palms and gentle tropical waves.
Macadamia Coffee - The most popular in the range, it exudes a nuttiness associated with Queensland's favourite native nut, the macadamia.
Stott's Premium Flavoured Teas
Tea is always a welcome gift thanks to its soothing attributes. Stott's take tea up a notch with their flavoured teas, infused with the tastes of Queensland.
Premium Tea - This special tea is grown in North Queensland and is perfect for all-day enjoyment.
Ginger Tea – With its fresh, soothing flavour, Ginger Tea is perfect as a pick-me-up on hot days.
Mango Tea - An established favourite of tea lovers in the tropics.
Macadamia Tea - The creamy qualities of macadamia are beautifully highlighted in this tea which is divine with scones.
Pineapple, Lemon & Ginger Tea – This one will send your senses to pineapple farms and tropical evenings. It's the perfect way to unwind and relax!
Mango & Lemon Myrtle Green Tea – These two ingredients are a delightful blend in green tea. Simply soothing!
Honey Tea with Bee Pollen - An ideal combination to black tea is honey. With the added benefits of all-natural bee pollen, this combination ensures you are absolutely stress-free, and provides other benefits too. Bee pollen is rich in vitamins, minerals, proteins, lipids and fatty acids, enzymes, carotenoids and bioflavonoids. It has powerful antibacterial, antifungal and antiviral properties.
Macadamia Teabox 10g - Take your favorite creamy Macadamia and have it on the go, or as a great gift!
Mango Teabox 10g - Featuring the taste of Queensland's king of fruits, the mango. Great gift!
Mango Green Teabox 10g - Queensland's finest mango's and the relaxation of green tea this will take you to a higher level.
Three Teas Gift Box - A perfect sampler of our favourites, Macadamia, Mango and Queensland Premium Tea.
Gift hamper businesses and retailers
All of Stott's Delicacies' products are beautifully presented for visual appeal. There is plenty of scope to include their jams, chutneys, mustards, sauces, dressings, teas and coffees in a wide variety of themed gift hampers. Ideal for 'Australian-made' baskets or to stock in tourism retail outlets or airport stores.
To discuss your requirements or to place your first order, contact Stott's Delicacies today.