Bunny Chow Down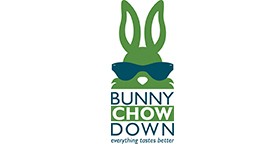 More Images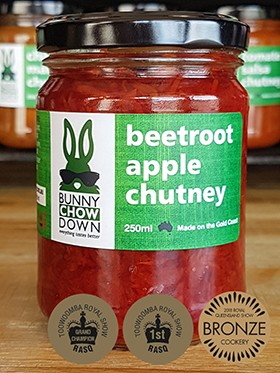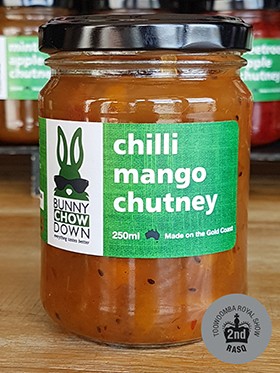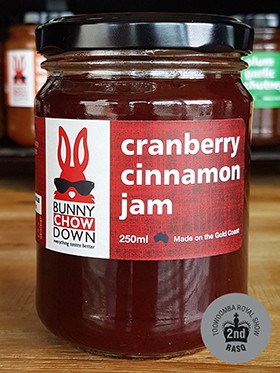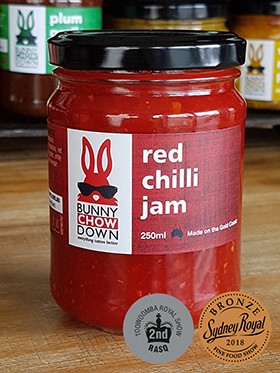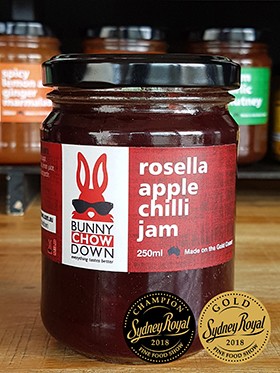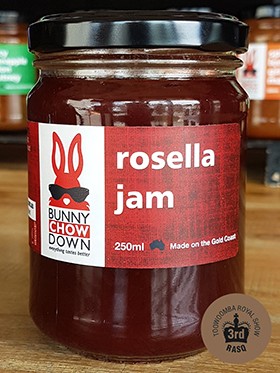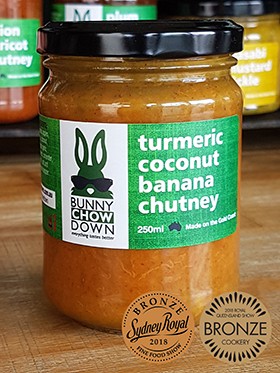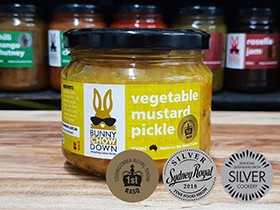 Bunny Chow Down
Award Winning Chutneys, Marmalades, Pickles & Jams
When an Australian and a South African got together and realised their shared passion for spicy food and unusual gastronomic flavour combinations, they initially set about introducing locals to the South African curry delicacy, Bunny Chow. But it was too soon for Aussies to embrace the heat and spiciness of the dish itself. The couple switched their focus instead to the spicy chutneys that accompany the dish and now they offer a large range of wholesale condiments that bring effortless flavour to a vast array of dishes.
The Bunny Chow Down range of chutneys, marmalades and pickles is stocked in delicatessens and butchers and is served in cafes and restaurants in Northern New South Wales.
Gluten free
Dairy free
Thickener/emulsifier free
No added preservatives
Bunny Chow Down Chutneys
Every jar of chutney has infinite potential to add personality and flavour to whatever it's paired with. Use them to lift any dish, to give it a new lease on life. Or, create something new and exciting with the chutneys as inspiration.
Beetroot Apple Chutney – A superb accompaniment for meats and cheeses, particularly lamb. Use on sandwiches or stir through thick Greek yoghurt to create a lovely dip. Ingredients: beetroot, carrot, apple, turmeric, cumin, sugar, white vinegar, salt, cayenne pepper and spices.
Onion Chilli Basil Chutney – Divine with grilled meats and sausages. Add a spoonful to a pan of roasted meat juices to make a full-flavoured gravy. Stir a tablespoon through Bolognese sauce for a twist. Ingredients: onion, chilli, basil, garlic, tomato, brown vinegar, black pepper sugar and salt.
Mango Mix Chutney – Smear it over crispy bacon in a sandwich. It also pairs incredibly well with lamb, duck and venison. Try it with your next curry. Ingredients: mango, *mix, garlic, sultanas, sugar, vinegar, coriander, cumin, ginger, cardamom & onions. *Can include: kiwi, pawpaw, dragon fruit, quince and or apple.
Tomato Salsa Chutney – Replace your usual tomato ketchup with this chutney on your next burger and chips. Pour a little over a warmed brie, camembert or chevre and scoop with crispy bread. Also excellent with roast dinner. Ingredients: tomato, onion, vinegar, chilli, garlic, ginger, salt, lemon, cumin, sugar and spices.
Turmeric Banana Coconut Chutney – Glaze your baked salmon or serve with smoked cheese or alongside a curry. Liven up an otherwise ho-hum sandwich. Ingredients: banana, coconut, apples, sugar, vinegar, garlic, turmeric, coriander, cumin, salt and cayenne pepper.
Plum Garlic Chutney – Superb with grilled pork chops or roast pork and is incredibly tasty with beans. Ingredients: plums, garlic, vinegar, sugar, ginger, salt, sultanas and cayenne pepper.
Spiced Pear Chutney – Delightful with mild cheeses, roast beef or lamb or even a great barbecued sausage. Ingredients: pears, dried mixed fruit, sugar, ginger, garlic, mixed spice, cayenne pepper, salt and vinegar.
Chilli Garlic Chutney – Try this tomato-y chutney as a base for pizza or stir through hot pasta. It's also excellent with grilled steak or pan-seared chicken breast. Ingredients: chillies, garlic, tomato, vinegar, sugar, lemon juice, red chilli nectar and coconut.
Extra Hot Chilli Garlic Chutney – A rich tomato blend with the heat of chillies. Try it as a pasta sauce or to smooth over your pizza bases. Ingredients: chillies, habanero chillies, garlic, tomato, vinegar, sugar, lemon juice, red chilli nectar and coconut.
Onion Apricot Chutney – An amazing sauce for slow cooked pork belly and also incredible on a roast chicken sandwich. Glaze a chicken breast before oven baking. Ingredients: apricot, onion, garlic, vinegar, sugar, cayenne pepper and spices.
Mint Apple Chutney –A tasty companion for lamb or roast pork. Use it as a dip for pork sausages or spread on bread rolls before adding sausages. Ingredients: apple, sugar, vinegar, mint, ginger, turmeric and mixed spice.
Tamarind Date Apple Chutney – A delicious dipping sauce for spring rolls and samosas. Also wonderful with baked camembert. Ingredients: dates, apples tamarind paste, sugar, vinegar, ginger, mustard seed, chilli powder, aromatic salt and garam masala.
Chilli Pineapple Chutney – Add to cream cheese and serve as a dip or partner it with a mild curry. Fantastic with pan-seared fish cakes or barbecue chicken. Ingredients: mango, apple, kiwi fruit, sugar, sultanas, garlic, chilli, coriander, cumin and ginger.
Bunny Chow Down Marmalades
Marmalades are sticky, sweet, divine fruit concoctions that work equally well in sweet and savoury dishes. There is no end to the number of ways you can use and enjoy them.
Orange Paprika Marmalade – Whip up a Breakfast Martini cocktail or stir through hot oatmeal and yoghurt. Great as a side accompaniment for duck terrine. Ingredients: orange, sugar, water and paprika.
Lime Chilli Marmalade – Smear on a melted cheese crostini or indulge with a baked camembert. It's wonderful when added to a Margarita too. Ingredients: lime, sugar, water and chilli.
Spicy Lemon & Ginger Marmalade – Sensational as a glaze for baked trout or roast chicken. Adds a lovely bitter twist to a Dark N Stormy cocktail. Ingredients: lemon, sugar, water, ginger, pectin and mixed spices.
Bunny Chow Down Pickles
Add a little pickle to your meats, cheeses, sandwiches, wraps, charcuterie plates and even salads.
Vegetable Mustard Pickle – Simply delicious with a cold meat sandwich or salad and pairs well with corned beef or a ham hock terrine. Ingredients: cauliflower, onion, carrot, cucumber, red capsicum, sugar, vinegar, corn flour, salt, mustard, mustard seed, turmeric, caraway seed and ginger.
Wasabi Mustard Pickle – Superb with pork sausages, cured salmon or venison charcuterie. Also try it on a homemade burger. Ingredients: cauliflower, onion, cucumber, sugar, vinegar, corn flour, salt, mustard, wasabi, turmeric, caraway seed and ginger.
Bunny Chow Down Jams
Not your average strawberry jam, Bunny Chow Down's jams are intended for greater things than a slice of white bread.
Green Chilli Jam – Combine with natural yoghurt to make a luscious salad dressing. It's fantastic with your favourite curry or as a dip for sausages and chips. Ingredients: green chillies, green capsicum, garlic, courgette, white wine, vinegar and sugar.
Red Chilli Jam – Blend with cream cheese for an excellent dip or sandwich spread. Drizzle over pizza for heat and more intense flavour. Ingredients: red chillies, red capsicum, garlic, tomatoes, white wine, vinegar and sugar.
Rosella Jam – Enjoy on a lightly toasted slice of seeded bread. Lovely on a scone with freshly whipped cream. Ingredients: rosella, sugar, lemon juice, pectin.
Rosella Apple Chilli Jam – The right mix of sweet and savoury, it's perfect to smear over cold turkey or chicken. Partner with a mature cheddar or smoked cheese. Ingredients: apple, sugar, rosella, lemon juice, chilli and pectin.
Cranberry Cinnamon Jam - Ideal for sweet and savoury dishes. Use it as a sponge cake filling or baste a traditional roast turkey. Ingredients: Sugar, apple, cranberry, orange juice and cinnamon.
Retailers
Bunny Chow Down's range will look fabulous on your shelves with their colourful labels and even more colourful contents! Offer them to customers to taste and consider positioning them with companion products such as meats, cheeses and breads. Ideal for supermarkets, delicatessens, food halls, butchers and greengrocers.
Foodservice
Rev up your sandwiches and wraps, change up your pizza toppings and get ready to glaze your hot meats with some amplified flavour! Bunny Chow Down's range of wholesale condiments will bring novelty and depth to your dishes. Excellent for caterers needing new ways to enliven canapes, cheese boards and sandwiches.
To find out more or to place an order, contact Bunny Chow Down today.