Crunch Preserves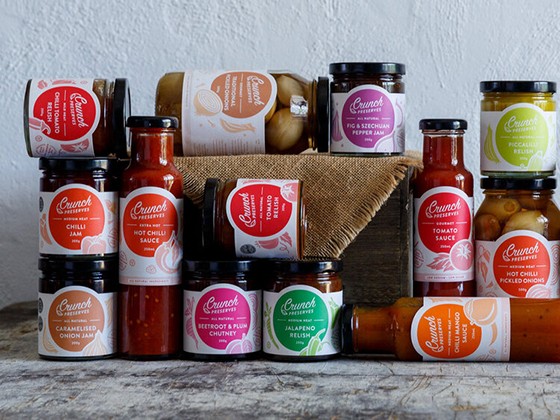 More Images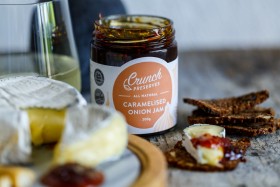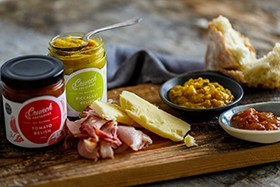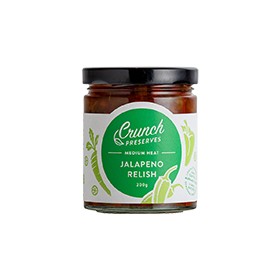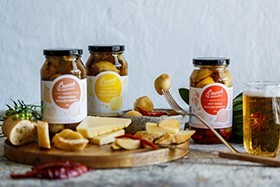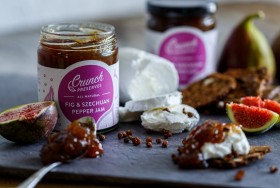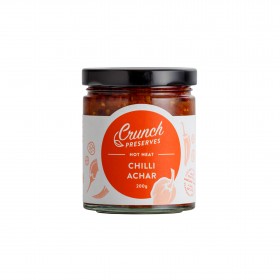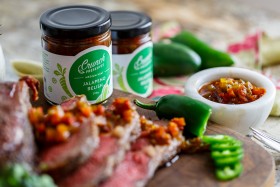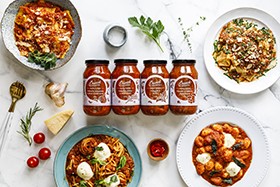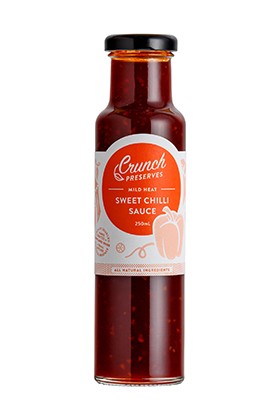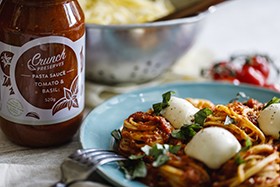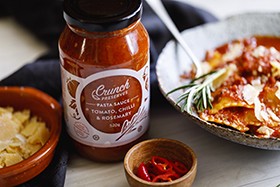 Crunch Preserves
Wholesale Relishes, Chutneys, Pickled Onions, Sauces and Savoury Jams
All natural and handcrafted in the Margaret River Region.
Small batch
No artificial preservatives
Award winning
Gluten free
Vegan
Free of preservatives.
Pickled Onions
Every succulent, crispy onion is a taste sensation on its own. Infused with flavour and boasting the perfect 'bite', Crunch Preserves' pickled onions are loved by onion lovers across Australia. 500g.
Traditional Pickled Onions – Super crunchy, traditional-style pickled onions. They'll go perfectly with your fish and chips or a good cheese.
Hot Chilli Pickled Onions – Super crunchy with just the right amount of heat and kick from whole chillies. Eat alongside fish and chips or with your favourite cheese.
Sweet Honey Pickled Onions – Super crunchy and naturally sweetened with honey for a lovely, smooth sweetness. Munch on one or two with fish and chips or cheese.
Relishes and Chutneys
There's no easier way to add oomph to a dish than to slip in a spoonful of relish or chutney. They add warmth, flavour and richness and thanks to Crunch Preserves, they are all-natural and brimming with goodness. 200g.
Beetroot & Plum Chutney – The earthy, fruity flavour pairs well with pâtés, terrines and meats.
Chilli Achar – Hot combination of habanero chillies and red cayenne, this versatile condiment can be stirred into a curry or stir-fry, mixed with sour cream, mayonnaise or yoghurt to make a dip / spread or used to marinate fish or meat.
Chilli Tomato Relish – Simmered and reduced fresh tomatoes are infused with spices and chilli. Ideal for toasties, burgers, pies, barbecued meats and to jazz up a cheese board.
Piccalilli – This mustard-based traditional pickle is loaded with finely diced cauliflower, zucchini and onion. Spread it over a ham or roast beef sandwich or add to a ploughman's platter.
Spiced Dukkah – An irresistible blend of toasted Australian almonds, sesame seeds and spices. Serve with olive oil and balsamic vinegar to dip crusty bread or use it to coat chicken or fish. Sprinkle through salads or over vegetables.
Jalapeno Relish – Medium heat and tons of flavour, it's excellent with cheese or used on grilled meats and fish, burgers or atop a pizza.
Tomato Relish – Ever-popular for its traditional-style recipe, Tomato Relish is made with simmered, fresh tomatoes and spices. Add a spoonful to a burger or serve with pies, barbecued meats or toasties.
Spicy Tomato Chutney – This medium heat rich chutney made with tomatoes, nigella seeds, lemon juice, chilli and spices is perfect to use in wraps and sandwiches or serve with cheese, fish or meats.
Sauces
Splash out on deep liquid flavour with Crunch Preserves' all-natural sauces. They were created to add a little extra personality to your favourite dishes. Blend with cream cheese or sour cream for a dip, stir through marinades, create luscious dressings or simply pour a little over your steak, eggs or chicken. 250ml.
Chilli Mango Sauce – Bursting with flavour from Australian Kensington Pride mangoes, this sauce is the ultimate accompaniment for grilled chicken or prawns. Create a luscious salad dressing or dip or add it to a marinade.
Sweet Chilli Sauce – The mild heat profile of this sauce makes it wonderful for stir fries or to serve with spring rolls.
Hot Chilli Sauce – Brace yourself for the fiery blend of Australian chillies and spices. Serve on the side with pies, drizzle over scrambled eggs or add it to marinades.
Gourmet Tomato Sauce – Healthier and tastier than your average shop-bought tomato sauce, it's low in sugar and salt and is made with 70 percent tomatoes. Gold Medal winner at the Sydney Fine Food Show 2018.
Savoury Jam
Thick, deeply satisfying spoonsful of flavour, Crunch Preserves' savoury jams can turn ordinary into extraordinary. Spread a little on a sandwich, wrap or burger, warm through and glaze a ham or lamb roast or blend with olive oil for an easy marinade. 200g.
Chilli Jam – A medium heat savoury jam that goes beautifully with cold meats and cheeses and is spectacular in sandwiches. Silver Medal winner at Sydney Fine Food Show 2018.
Caramelised Onion Jam – A slightly sweet, tangy savoury jam that works wonderfully with pizza, steak, burgers, cheese and toasties. Silver Medal winner at Sydney Fine Food Show 2018.
Fig & Szechuan Pepper Jam – Slightly sweet, slightly salty and with a hint of spice, it's the ideal accompaniment for your favourite cheese. Made with locally sourced figs from Margaret River.
Pasta Sauce
New addition to the range, 4 pasta sauce varieties. These premium pasta sauces are a pantry staple for any home. Packed with flavour and natural goodness, they are all-natural, gluten free and contain no preservatives.
Tomato & Basil Pasta Sauce – Bursting with tomatoes and fresh basil. Toss through hot pasta, layer in lasagne, spoon over pizza bases.
Tomato, Roasted Garlic & Red Wine Pasta Sauce – Made with local Margaret River red wine and fresh roasted garlic. A truly gourmet pasta sauce that you can also stir through soups and casseroles.
Tomato, Chilli & Rosemary Pasta Sauce – A favourite among chilli lovers, this sauce can be enjoyed on pizzas and even in pizza scrolls or as a sauce for baked chicken.
Tomato & Porcini Mushroom Pasta Sauce – Tomatoes cooked with porcini and field mushrooms to create a rich and flavoursome sauce. Add a little to your next risotto.
Retailers
Stock the Crunch Preserves range in your delicatessen, health food store, supermarket, convenience store, food hall, butcher shop or fruit and veg outlet. Position with companion foods such as breads, meats, cheeses or homewares and offer taste tests. The attractive packaging and array of flavours and products will look tempting on your shelves.
Foodservice
Add Crunch Preserves condiments to your store cupboard and use them to enliven your regular dishes. Perfect for roasts, sandwiches, salads, barbecued meats, dips, risottos, stir fries, pasta dishes and so much more, they are versatile and convenient, not to mention all-natural and full-flavoured.
For more information or to place an order, contact Crunch Preserves today.
---
More information about Crunch Preserves
Interview - Emma - Crunch Preserves
The versatility of condiments is undeniable and they pack a power punch of flavour in small quantities. When a European couple moved to Australia and found they couldn't satisfy their own tastes, they set about producing their own sauces, relishes, chutneys, savoury jams and crunchy pickled onions. We had a chat and heard the story behind the brand. Click here