Pippa's Kitchen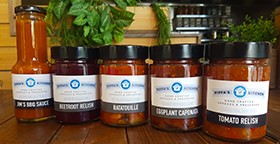 More Images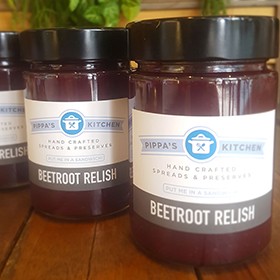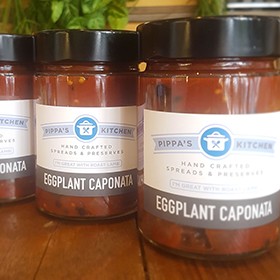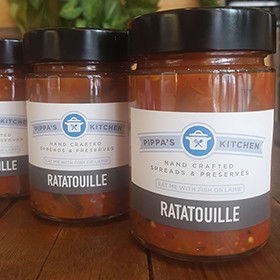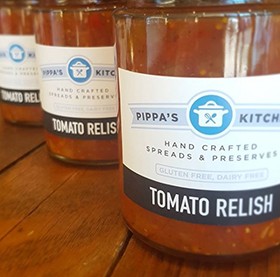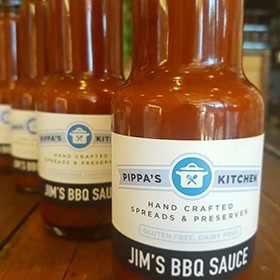 Pippa's Kitchen
Homestyle vegetable-based condiments
Pippa's Kitchen offers an array of handmade wholesale condiments that fit effortlessly into the Aussie lifestyle. Made from exquisitely fresh vegetables transformed into jars of rich, flavoursome preserves, they definitely bring 'something' to the table. The company itself is a catering enterprise and also offers ready meals but for those who don't live in the vicinity, the preserves and relishes bring a taste of Pippa's Kitchen to wherever they are.
All products are:
Dairy free
Gluten free
Vegetarian
The range
Pippa's Kitchen's wholesale condiments are vegetable-based and loaded with the flavours of sunshine and home-style cooking.
Beetroot Relish 350g – The wonderful earthy flavours and deep colour of beetroot make this a treat on sandwiches. Try a new slant on bruschetta and spread Beetroot Relish on the toast before topping with tomatoes.
Eggplant Caponata 350g – Caponata is an Italian vegetable stew. Pippa's Kitchen begins with plump eggplants and builds the recipe around them to create jars of intense flavour. Serve with roast lamb or pan-fried barramundi.
Ratatouille 350g – French vegetable stew traditionally made using all the abundant fresh veg from the garden. Serve atop a leftover lamb sandwich or spoon over barbecued fish, straight from the hot plate.
Tomato Relish 350g – The perfect accompaniment to a cheese board, crusty baguettes with ham or corned beef, or serve a spoonful on the side of a homemade curry.
Jim's BBQ Sauce 250g – Your new favourite barbecue must-have condiment! Fruity, sweet and savoury all at the same time, it goes beautifully with sausages, steak, rissoles and burgers.
Retailers
Stock your shelves with Pippa's Kitchen condiments, good, home-style relishes and preserves that bring the taste of Italy and France to home dining, and of course, good old Aussie relishes that were always made with the bumper crop from the garden.
Foodservice
Serve your customers good, honest, home-style relishes and preserves from Pippa's Kitchen. Instead of taking the time to make them yourself, simply open a jar and the job is done. Create dishes around these authentic products, made with love.
To discuss your requirements or to place an order, contact Pippa's Kitchen today.
---
More information about Pippa's Kitchen
Interview - James McLeod - Pippa's Kitchen
Two busy chefs looking to cook less at home came up with a brilliant idea. The result is Pippa's Kitchen which offers wholesome ready meals plus a line of preserves. We spoke with co-owner, James McLeod for the inside scoop. Click here